A group of local Cambodian companies are coming together for "HacKH The Crises" to come up with innovative solutions to combat the COVID-19 pandemic.
The initiative encourages participants to stay at home, as the event will take place online, and "create solutions to the challenges of COVID19 in 48 hours by joining HacKH The Crisis Cambodia!"
The idea is backed by Impact Hub Phnom Penh, Slash, and the National Institute of Posts, Telecoms and ICT with the backing of Cambodian Government Ministries.
What is a hackathon?
According to the organiser, "in a hackathon, people come together to create solutions and concepts from scratch in a short amount of time. Over the course of a weekend, people all over Cambodia will join forces to create innovative solutions to the corona crisis.‍"
The organisers will be using Slack as a communication platform for the teams and video conferencing for live webinars, Q&A sessions and daily check-ins.
You can find out more about how it works here.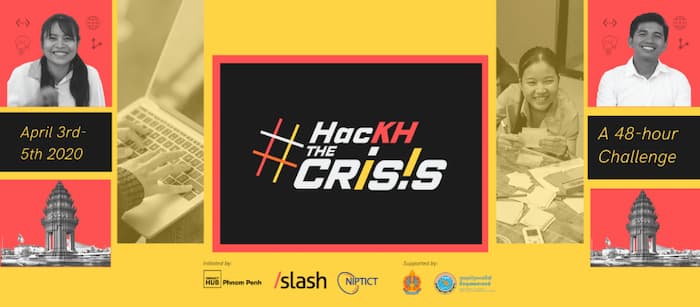 What does HacKH The Crises hope to achieve?
HacKH the crises is calling out for participants, mentors, challenges to be solved as well as potential partners (backers to solutions).
The application process started and the actual hackathon runs from Friday, April 3rd to Sunday, April 5th 2020. On Monday the 6th, the ideas will be announced.
Participants: Apply to join this hackathon and create a team
Mentors:

Work alongside a selection of teams by offering guidance, support and advice

Challenges to solve: Submit a problem you or your community has experienced as a result of the COVID-19 crisis.
Partners: Who can support the solutions afterwards (either financially, human resources or contacts). 
The hackathon will aim to deliver solutions that:
Can be prototyped in 48 hours and help solve the crisis.
Help save lives, business, and communities in Cambodia
Help Cambodia thrive in a post-COVID-19 era.
What is Impact Hub Phnom Penh?
Impact Hub Phnom Penh are a social enterprise and community for young, impact-focused entrepreneurs, innovators and leaders. Their goal to inspire and enable the next generation of leaders to build businesses that contribute to the Sustainable Development Goals in Cambodia.
Who are Slash Cambodia?
Slash is a tech startup with a mission to build tech products that empower the people & planet. They also build and invest in their our own startups and commercialize them through joint ventures in ASEAN and Europe.
National Institute of Posts, Telecoms, and ICT
NIPTICT (National Institute of Posts, Telecoms, and ICT) is a research and training institute founded by the Cambodian Ministry of Posts and Telecommunications of Cambodia (MPTC).