Iconic global beer brand Heineken® today launches a stylish new look in Cambodia – a taller and sleeker can that delivers the same refreshing taste, same 330ml quantity.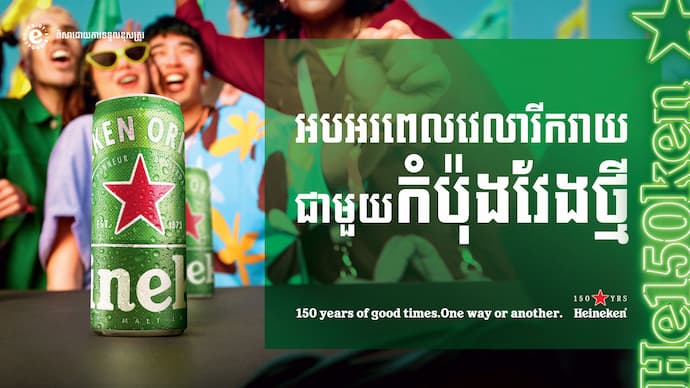 Today, Heineken®'s rich heritage spans 150 years since the day the brand was first brewed in Amsterdam. This milestone highlights a remarkable duality in its long-standing legacy: 5-star quality that has stood the test of time, while continuing to be at the forefront of innovation in more than 190 countries worldwide. 
Loic de Laubriere, Marketing Director of HEINEKEN Cambodia, remarked, "Heineken® is raised by the world, always rising to the occasion to fill our consumers' lives with more enriching moments of joyful connection. This renowned essence will continue in our Tall Can in a more elevated way, a stylish and more premium look that will allow it to stand out even more, both on the shelves and in the hands of our consumers."
This latest unveiling follows Heineken®'s illustrious '150 Years of Good Times' campaign launch worldwide, including in Cambodia. As part of the anniversary celebrations, Heineken® worked with academics and behavioural scientists to be the first beer brand to officially have "Delivering Good Times" as part of the way it measures success at a global level – focusing not just on the volume of beer sold. This shows the brand's commitment to double down on delivering Good Times to customers and consumers, one way or another, for the next 150 years and beyond.
Loic de Laubriere added, "The spirit of Good Times will bring more excitement to Cambodia soon this month with our new look. While how we enjoy good times may continue to evolve, the need for good times remains the same and consistent, just like our beer."
Keep an eye out for Heineken® outlet activations nationwide this August and stand a chance to win a Heineken® Experience trip to Amsterdam! Special promotions will also run all-month long at AEON malls, Makro, Chip Mong supermarkets, Lucky supermarkets and S-Liquor stores:
For more information on how to experience 150 years of good times with Heineken® in the Kingdom, follow the brand on social media:
This press release was supplied.