The Transnational Alliance to Combat Illicit Trade (TRACIT), in partnership with the EU-ASEAN Business Council (EU-ABC), launched a new report on the impacts of illicit trade on the ASEAN Community Vision 2025. The report presents actionable recommendations for ASEAN leaders to prioritise effective measures to combat illicit trade.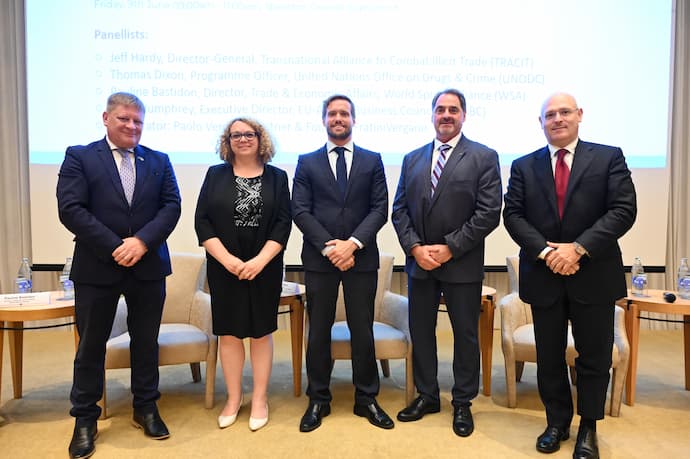 The report illustrates the impacts of illicit trade that is prevalent throughout the ASEAN region and it is damaging several key economic sectors such as agri-foods, alcohol, fisheries, forestry, petroleum, pharmaceuticals, precious metals and gemstones, pesticides, tobacco, wildlife, and counterfeiting across multiple sectors.
TRACIT and the EU-ASEAN Business Council co-hosted an event titled "Assessing the Impact of Illicit Trade in the ASEAN Region & Pathways for Joint Action" to launch the report.
The event featured several speakers from organisations such as the United Nations Office on Drugs & Crime, World Spirits Alliance, TRACIT, and EU-ABC. Representatives from ASEAN government agencies, foreign embassies, UN missions, and the private sector attended the event held in Bangkok, Thailand, with support from the Asia Pacific International Spirits & Wines Alliance (APISWA).
TRACIT Director-General Jeffrey Hardy said in a press release that illicit trade is driving the region away from its economic development goal.
"Illicit trade is derailing ASEAN's objectives to drive sustainable economic development, boost job creation and incomes, reduce poverty and achieve better standards of living throughout the region," he said.
He added, "It is our hope that this report can serve as a roadmap to help policymakers identify areas that merit greater attention and to formulate effective strategies to address the serious threats posed by illicit trade."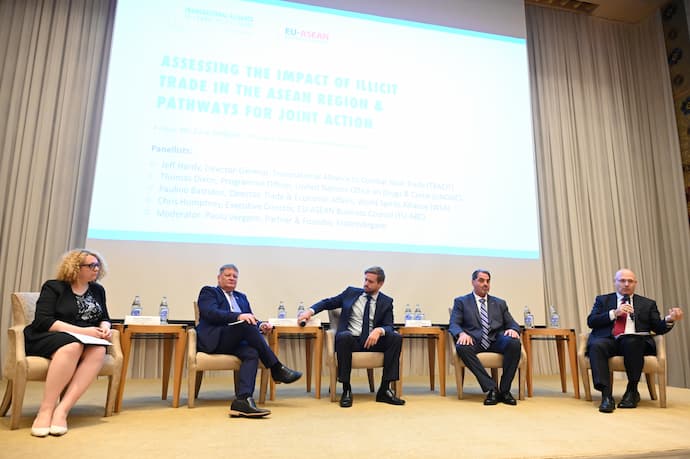 EU-ABC Executive Director Chris Humphrey described that illicit trade in ASEAN is a "persistent" problem, which this new report would help ASEAN to construct stronger and more resilient economies securing their Vision 2025, adding:
"Governments in the region need to act now, and work closer and smarter with the private sector, in order to reduce and eliminate the adverse impacts of illicit trade on public health and safety, government revenues, jobs and livelihoods." 
In order to help ASEAN governments better understand illicit trade as a potential barrier to holding back progress and to derailing away from ASEAN Community Vision 2025, the report highlighted three points:
The ASEAN Political-Security Community is at risk because illicit trade is notorious for nurturing violence, feeding organised crime, and undermining trust in institutions and the rule of law.

The ASEAN Economic Community is at risk because illicit trade undermines economic growth, legitimate job creation, tax collection, and can pose risks to consumers.

The ASEAN Socio-Cultural Community is also at risk due to the repercussions of illicit trade on the environment and its links to human trafficking and forced labour.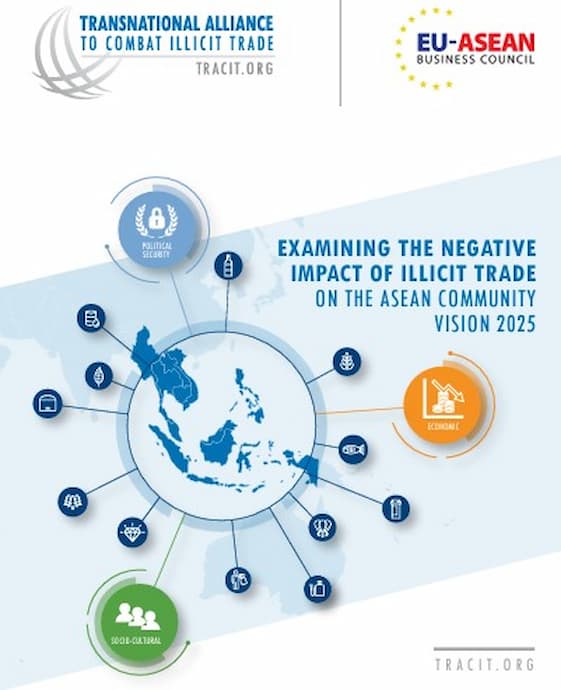 Overview – Impacts Of Illicit Trade On The ASEAN Community  
The "Examining the Negative Impact of Illicit Trade on the ASEAN Community Vision 2025" report highlights how illicit trade is a major obstacle to achieving ASEAN's goals, and affects several important economic sectors, including falsified medicines, illegal alcoholic beverages, fraudulent food, counterfeiting, and wildlife trafficking.
The market for counterfeit products in Southeast Asia is valued at approximately USD $35 billion annually.

The annual value of falsified medicines purchased in ASEAN nations is estimated to be up to USD $2.6 billion.

The threat of illegal, under-reported, and unregulated fishing in ASEAN has increased, resulting in economic losses of about USD $6 billion per year.
Cambodia and Illicit Trade
In February 2023, the European Chamber of Commerce (EuroCham) hosted the first-ever Counter-Counterfeit and Illicit Trade Forum in collaboration with the Consumer Protection, Competition and Fraud Repression (CCF) department under the Ministry of Commerce of Cambodia bringing together public and private stakeholders to discuss methods on tackling the issue together. 
The two parties signed an MoU that will set the stage for collaboration on regulation and policies to further ensure a fair playing field for businesses in Cambodia. Furthermore, the CCF would soon embark on a nationwide tour to spread information about counterfeit products and consumer protection laws. 
What Are the Policy Recommendations In The Tracit Report?
The report recommends that ASEAN member states take a coordinated and comprehensive approach to combat illicit trade and protect their economies, consumers, and the environment. 
Key measures would be improving governance, enforcement, deterrence, and the digital environment, strengthening cooperation with neighbouring countries, creating a specialised task force, rationalising regulations and policies, and promoting public awareness. 
The report also recommends tightening enforcement measures on goods in transit, strengthening intellectual property rights enforcement, and holding online intermediaries accountable for removing illicit content.
Parts of this press release were supplied.