Turf & Irrigation (JJ T&I), a division of the Technology business unit of industrial conglomerate Jebsen & Jessen Group, has signed an exclusive agreement with irrigation firm Netafim to offer its agricultural solutions in Cambodia, Thailand, Myanmar and Laos.
Under this agreement, JJ T&I will use its distribution network to the region's agricultural producers and offer access to Netafim's range of "industry-leading irrigation and fertigation systems".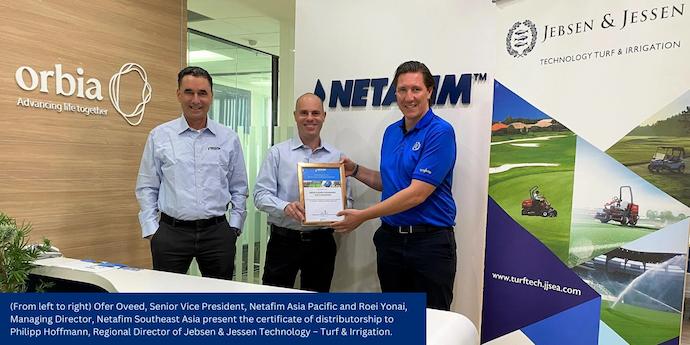 Netafim's industry-leading irrigation solutions are suitable for greenhouses, net houses, field crops and orchards, and the solutions could "help increase crop yield, improve crop quality and save cost by optimising the use of fertiliser, water and energy", said the company.
Philipp Hoffmann, Regional Director of Jebsen & Jessen Technology – Turf & Irrigation said: "We are honoured to be named the exclusive partner for Netafim's agricultural projects in select countries within South East Asia. The partnership will strengthen our broad portfolio of high-quality solutions alongside our exceptional service and technology expertise, placing us in a unique position to serve the needs of the agriculture sector."
Turf & Irrigation (JJ T&I) say that with the looming challenges of changing consumer demands, climate change and food security, farmers are turning to technology to improve their processes and enable optimal crop growth.
JJ T&I is a leading player and distributor of turf care and irrigation solutions in South East Asia, with an extensive portfolio of products and services from turf & landscaping maintenance equipment, buggies and utility vehicles to irrigation systems and fertilisers.
"The agriculture industry is at a unique point in its history – faced with changes in consumer behaviour, technological advancements, climate change, concerns over food security, and the pressing demand to meet the increasing need for nutritional food for a growing world population."
The push for modernisation in SEA and Cambodia is seeing a shift towards commercial crops and away from traditional farming methods and farmers are increasingly adopting technological tools such as fertigation systems.
These are deemed to be more efficient in delivering water and nutrients directly to the plants' root zone, in the right amounts at the right time, to enable optimal crop growth.
Netafim is the world's largest irrigation company and a global leader in precision agriculture solutions and has more than 50 years of agronomical experience.