Meridian International Holding and Thalias Hospitality Group have formally announced a strategic partnership in 2021. The hospitality Group will provide the dining experience, at the Flatiron by Meridian in Phnom Penh.
In a press release from the two Cambodian companies, it was confirmed that Thalias Hospitality Group will be the "sole provider of a holistic dining experience to all consumers" at the Flatiron by Meridian.
Flatiron by Meridian is a new 41-storey building in the Central Business District area and located in Phnom Penh City Centre.
Murray Ko, CEO of Meridian Group said "Having a renowned F&B group like Thalias partner with us is further affirmation of the formidable reputation Flatiron by Meridian has accrued. We are delighted to embark on a new milestone together by sharing the same strategic planning, which has further deepened our collaboration now and in the future.
It surely helps us enrich our businesses as well as provide newer services together by enhancing Meridian International Holding's competitive edge in Cambodia and allowing us to contribute to the continued economic growth in this Kingdom."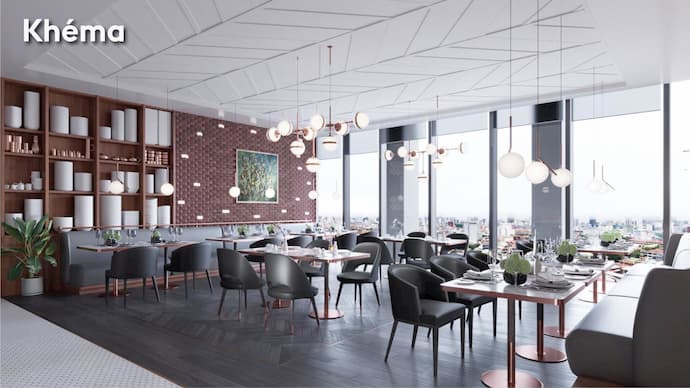 Khéma & Khéma Go
Thalias already operates several food and beverage outlets in the capital of Phnom Penh and will add a Khéma, "famous for its free flow offerings", as well as Khéma Go, "which will offer a bakery, viennoiseries, savouries and beverages."
Siena Restaurant Wine & Bar
A new restaurant concept, Siena Restaurant Wine & Bar, will debut in Flatiron by Meridian in the Phnom Penh City Centre.
The companies say "this new upscale food collective, will surely be the top choice for diners looking for quality cuisine in a social and relaxed atmosphere."
In addition, guests staying at the Apart'Hotels managed by Citadines, will also enjoy the food and beverages through a range of breakfast choices and room service dining options.
Arnaud DARC, CEO of Thalias Hospitality Group added "Partnering together through the Flatiron by Meridian project was obvious almost from the first day we met. Together, we are confident that our collaboration will delight discerning travellers and guests who want the best in dining matched with outstanding hospitality.
To a wider extent, I believe that this new partnership will flourish with new opportunities for both our groups."