Just before the close of 2020, the Cambodian government signed an MOU with MKI Media AS Norway for the firm to produce educational entertainment ("Edutainment") for the Cambodian market from 2021-2023.
Edutainment is produced in the form of video games, television programmes, or other material, intended to be both educational and enjoyable.
The Memorandum of Understanding signed on December 29, 2020, between Cambodian Ministry of Education, Youth and Sport, Dr. Hang Chuon Naron and Ms. Mary K. Evjen Olson, Founder and Managing Director of MKI Media AS Norway.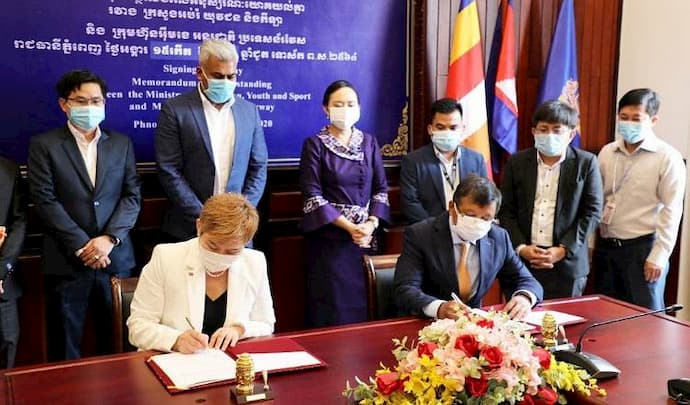 The agreement will see MKI Media AS Norway produce educational content and distribute a total of 72 audiovisual presentations in the Kingdom. Ms. Olson said the content will be developed exclusively for Cambodia, she added that it is hoped the content will "improve the general knowledge among the Cambodian population aged 12 years old and over with no or limited opportunity for advanced education."
Ministry spokesman Ros Soveacha told The Phnom Penh Post: "The focus of this cooperation is on producing and distributing a total of 72 audio-visual presentations in an entertaining form during the next three years, between 2021 and 2023."
The range of educational information is broad and has been named the "Knowledge Project", and will cover topics such as health, nutrition, natural science, technology, economics, finance, medicine, geography, history etc. The company is reported to be investing USD $1.8 million for the programmes.
In addition, the content will be made freely available on various social media platforms such as Facebook and YouTube, in addition to the ministry's E-Learning Digital TV channel.
Wing is one of the key corporate sponsors for the project, and are part of the Royal Group of Companies (RGC). Cellcard, which also is part of RGC, also rolled out the iKnow iKnow educational App in 2020.
The iKnow iKnow App can be used on smartphones (both iOS & Android). Cambodian students and youths, ideally in high school from grades 9-12, can use the App to access school lessons anywhere, anytime, as the content on iKnow iKnow follows the Cambodian educational curriculum.