NagaCorp Ltd. this week confirmed it was proceeding with its ambitious plans of constructing the provisionally named, "Angkor Lake of Wonder", a non-gaming resort in Siem Reap, Cambodia. The integrated resort will be built on 75 hectares of land near the world-renowned Angkor Wat archaeological site.
Integrated Resorts (IR)
News first broke of NagaCorps plans in September 2020, when they announced they were interested in developing Integrated Resorts (IR) Siem Reap and Sihanoukville.
Integrated resorts are "commonly used in the gaming industry to describe a large-scale complex featuring a casino as well as tourism and conference facilities. The term is sometimes also used to describe a resort with the latter features, but no casino".
Angkor Lake of Wonder – Siem Reap
NagaCorp Ltd says its plans to develop a US$350 million integrated resort in Siem Reap is "aimed at promoting NagaWorld and UNESCO world heritage-listed Angkor Wat as twin tourism icons of Cambodia".
This is made possible after the Cambodian government granted NagaGroup Global Limited a 50-year lease on 75 hectares of land located just 500 meters south of the outer restricted zone surrounding Angkor Wat.
The land has a total area of 75 hectares (187.5 acres), with a seven-year, rent-free period, subject to a further mutually-agreed extension of another three years. Once the rent-free period expires, the company will pay an initial lease rental of US$0.60 per square metre every year with an increase of 5 per cent every five years reports GGR Asia.
Angkor Lake of Wonder will be designed by US-based Steelman Partners, who also designed NagaWorld, and Gensler. The master planning is based on the concept of 'generating as much fun and play as possible in the resort'.
"The Group intends to implement strategies of working with on-line and physical travel agents in China and elsewhere to offer tours based on a more complete set of facilities based in Siem Reap and Phnom Penh," NagaCorp said.
The Angkor Lake of Wonder is set to be completed by 2025 and "incorporate high-end hotels, a water theme park, indoor hi-tech theme parks, a canal, water cruise attractions, and MICE (Meetings, incentives, conferences and exhibitions) facilities."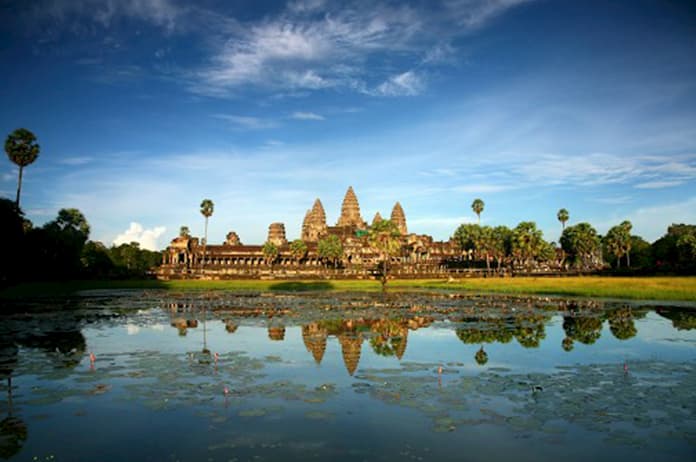 Seam Reap China Town
The press release also mentions an entertainment district called Seam Reap China Town, which will offer street food, pubs, music and shopping. These will be integrated with gardens and water features and protected by an all-weather roof covering that promotes natural ventilation and soft natural light."
NagaCorp expansion
NagaCorp has been developing a casino resort at the Primorye Integrated Entertainment Zone, near Vladivostok. They aim to "commence operations by 2022."
The company is also expanding its NagaWorld complex with Naga 3, which has a US$3.52-billion cost. NagaWorld has a Phnom Penh casino monopoly that extends to a 200km radius from the capital of Cambodia.