The OCIC (Overseas Cambodian Investment Corp Ltd) previously announced it will spend up to $2.5 billion to develop the Koh Norea Peninsula in the capital of Phnom Penh, and on October 26th 2020 held the groundbreaking for the bridge construction.
The new satellite city of Koh Norea will cover 125ha, and accommodate 50,000 residents upon completion. Reports of the development were initially released in early 2019, and the OCIC announced it would invest 2 billion US Dollars.
OCIC is a multidisciplinary investment company in Cambodia, founded in 2002 and is a part of the Canadia Integrated Enterprise Group. They have already been involved in major Cambodian developments such as the Chroy Changva satellite city, Diamond Island Development city, Olympia City and Canadia Tower.
New Koh Norea Development in Phnom Penh
OCIC chairman of the board of directors, Pung Kheav Se, said $550 million of the initial capital investment will be spent on infrastructure development in the satellite city of Koh Norea.
Kheav Se said the satellite city is estimated to contribute about $225 million per annum to Cambodia's gross domestic product (GDP) in its first three years.
Bridges linking Koh Norea
According to the Phnom Penh Post, the OCIC confirmed the news of the new development as it broke ground on "two bridge projects in the capital– one connecting Koh Pich in Chamkarmon district's Tonle Bassac commune to the Koh Norea Development Zone in Chbar Ampov district's Niroth commune, and another linking Koh Norea to National Road 1."
The OCIC was given approval in principle from the Cambodia government in May 2020 to build the bridges and at the time, the company said it plans to "transform Koh Norea into a luxurious commercial development stretching over approximately 100 hectares."
In total, $39.6 million will be spent on the two bridges. The bridge linking Koh Pich to Koh Norea will be 824m long and 24.5m wide and feature two 60m high cable-stayed pillars and will 35 months to complete. The second smaller bridge, linking Koh Norea to National Road 1, will be cable-stayed, measuring 60m long and 21m wide and will take 12 months to complete.
Both bridges will have three lanes in each direction and two pedestrian lanes.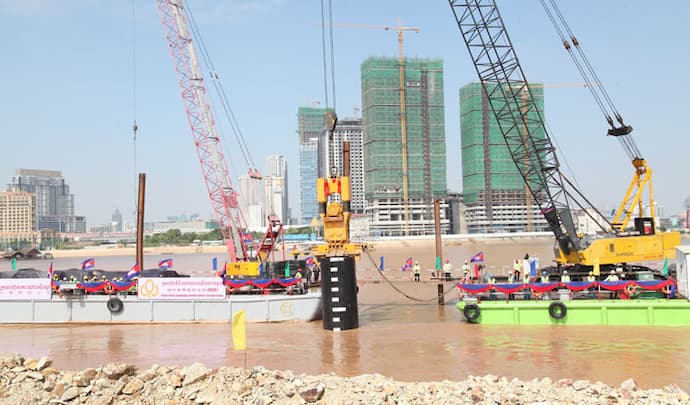 OCIC Projects 2020
In June 2020, the Overseas Cambodia Investment Corp (OCIC) Chairman, Neak Oknha Pung Kheav, confirmed they were building a 500-hectare industrial park in Kampong Speu province.
In October 2020, the soft launch of the use of Choam Chao underpass also went ahead, the underpass is intended to east traffic for those visiting the capital via the National Road 3 and 4. The completed Choam Chao roundabout will have a flyover and underpass and is expected to completed in 2021.
The Khmer Times reports that the Choam Chao flyover and underpass, developed by the Overseas Cambodia Investment Corporation, is costing $22 million and will have a 100-year lifespan.