The Philippine Chamber of Commerce in Cambodia (PhilCham Cambodia) has held its official launch in Phnom Penh on the 21st January 2021. 
PhilCham said on their new Facebook account that "After months of preparation, PhilCham is the newest representative and advocacy body for businesses and professionals is now ready to serve the business community in Cambodia."
The first board of directors of PhilCham were also in attendance at the launch which was also attended by HE Penn Sovicheat, Undersecretary of State, Ministry of Commerce and Vice-Consul and Third Secretary Ms Frances Louissa Cleofas of the Philippine Embassy in Phnom Penh.
PhilCham first formed in the Kingdom in 2016 as a business network, and it claims its main mission is to promote the Philippines-Cambodia commercial relations and to serve its members as a key resource for information and business networking reported the Khmer Times.
It is believed there are more than 50 Filipino-affiliated companies in Cambodia as well as in excess of 6,000 Filipino expats in Cambodia. In October 2020, the 'Developing Global Filipino Teachers' program was launched in Phnom Penh to equip and assists Filipino teachers in Cambodia.
The formation of PhilCham is timely, with more Filipino companies interested in investing in Cambodia. These companies are mostly engaged in property, business consultancy, healthcare, aviation, tourism, education and similar enterprises.
The Philippine Chamber of Commerce in Cambodia founding board includes:
Executive Director: Ms Sundee M. Vinas
President of the Board: Ms Benilda Custodio-Fernando
Vice-President: Mr. Ronald C. Almera
Secretary: Mr. Jay Ian L. Capungan
Treasurer: Mr. Romyr A. Libo-on
Board Member: Ms. Maria Rowena Medina
Board Member: Ms. Ninja Flor Ricafort-Hesita
Board Member: Mr. Ben Betonio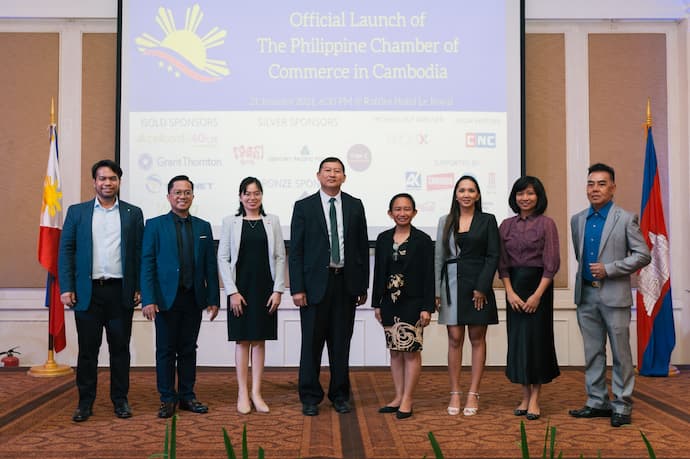 Benilda Custodio-Fernando said at the launch: "All of you who have come to this event are valued and are welcomed by the Philippine Chamber, and we will be happy to work and grow with you. By becoming a member of PhilCham Cambodia, you benefit from business intelligence from leaders of the Philippine business community, the promotion of your firm, networking, access to business and political leaders, social activities and issue advocacy."
PhilCham has also rolled out a PhilCham App which operates on Android or iOS devices which offers discounts for PhilCham activities.
You can read more about the business chambers in Cambodia and what perceived benefits they bring in conducting business in the Kingdom.