Realestate.com.kh has entered into a strategic partnership with property technology companies, KE Holdings Inc. (Beike) it has been announced.
Beike is one of the world's largest property technology companies and is listed on the NYSE (NYSE:BEKE). They have agreed on a technology-sharing deal with the Cambodian based online property portal. The agreement may extend to include other aspects of the property ownership journey.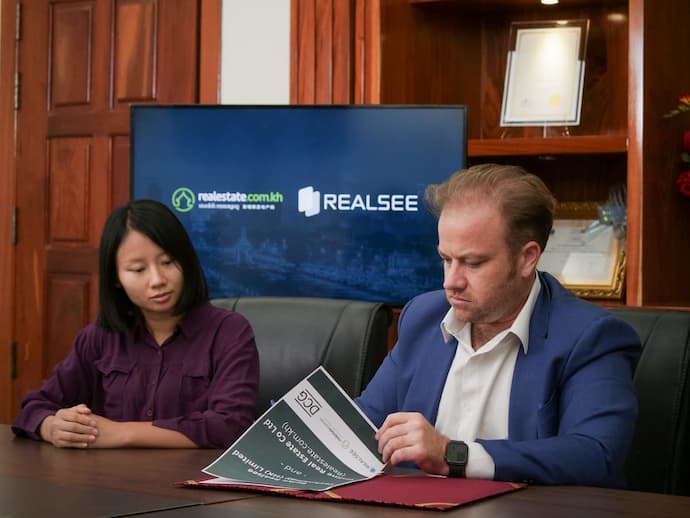 Realestate.com.kh is backed by Australia-based Digital Classifieds Group (DCG), a rapidly growing digital marketplace business with operations in Cambodia, Laos, Papua New Guinea, and Fiji.
Tom O'Sullivan, CEO of Realestate.com.kh, said "Realestate.com.kh and Beike have the vision to transform the property ownership experience leveraging technology, and Beike is the clear global leaders in this endeavour.
This world-first partnership will bring tangible improvements for property seekers on the Realestate.com.kh platform, ultimately bringing huge benefits to our real estate agent and property developer customers. It will also help Beike better understand the Cambodian market and allow Realestate.com.kh to gain valuable experience from a global PropTech leader. We are very much looking forward to working together."
VR in the Cambodian property market
The first product launched is Beike's Virtual Tour technology – developed by the firm's Realsee division; "Realsee's Virtual Tour facilitates high-quality, low-cost virtual tours for the benefit of property developers, agents, and most importantly, property seekers."
The three-dimensional rendering, scale, and room details allow for online VR (Virtual Reality) viewings that are comparable to real-world viewings.
O'Sullivan added "Realestate.com.kh is at the forefront of adopting technology and using virtual reality for marketing; Realsee's virtual site visits will bring our user experience to the next level. Given the pandemic, customers often feel safer viewing properties remotely, the VR showcases allow us to work effectively with local and international clients whilst still delivering ultra-immersive property viewings."