Leading Cambodian property and real estate portal Realestate.com.kh is holding an exclusive property showcase at their showroom from 18-19 November 2022.
The location for the showcase is on the 1st floor of their office in BKK1 and five of the most popular property and real estate projects on the Cambodian market will be available with special discounts and prices available to the exclusive attendees on selected units from 𝐑𝐞𝐚𝐥𝐞𝐬𝐭𝐚𝐭𝐞.𝐜𝐨𝐦.𝐤𝐡 & 𝐅𝐚𝐳𝐖𝐚𝐳 𝐂𝐚𝐦𝐛𝐨𝐝𝐢𝐚.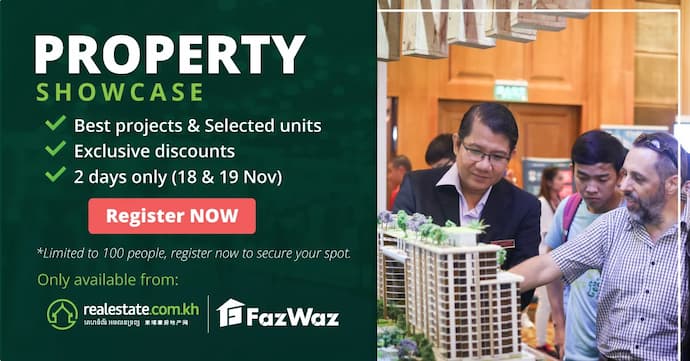 Tom O'Sullivan, the Realestate.com.kh CEO, said: "We attract more clients than any other platform in Cambodia, and generate hundreds of buyers each year. This puts us in a unique position in the market; we have huge negotiating power with developers.
Thank you to our partner developers who provided these deals, on the back of our record sales in 2022!"
The property developments at the showcase event are:
𝐋𝐞 𝐂𝐨𝐧𝐝𝐞 𝐁𝐊𝐊𝟏
𝐌𝐨𝐫𝐠𝐚𝐧 𝐄𝐧𝐌𝐚𝐢𝐬𝐨𝐧
𝐕𝐮𝐞 𝐀𝐬𝐭𝐨𝐧
𝐓𝐢𝐦𝐞 𝐒𝐪𝐮𝐚𝐫𝐞 𝟑𝟎𝟔
𝐑𝐨𝐬𝐞 𝐀𝐩𝐩𝐥𝐞 𝐒𝐪𝐮𝐚𝐫𝐞
Sothavatey (Vatey) Mom from FazWaz added "We have overachieved the sales targets for our partner projects in 2022, so they were more than happy to provide us with units for this event at prices never seen before in the market".
Realestate.com.kh Expo 2022 generated more than UD $30 million worth of property sales and the showcase event this week is a scaled-down version of the popular Expo, inviting only select developers and limited to just 100 attendees.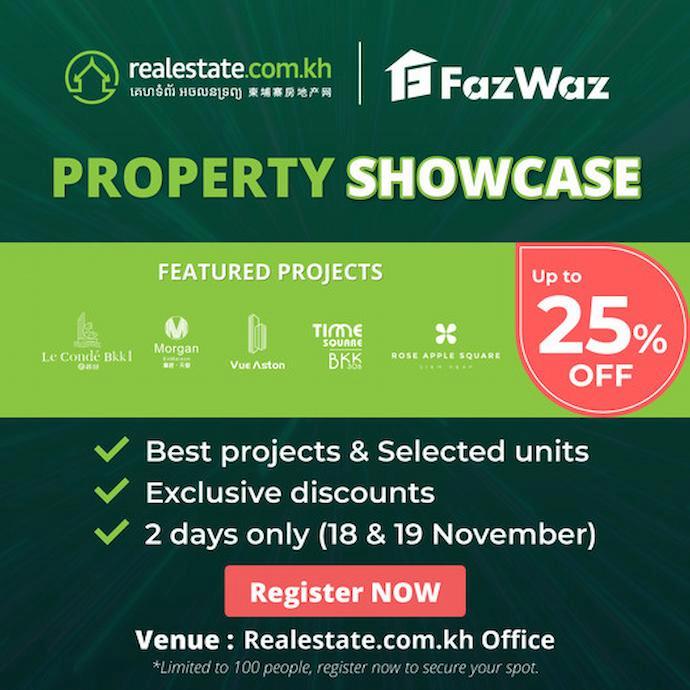 Why Attend Realestate.com.kh Exclusive Property Showcase 2022?
The event will feature a limited number of the best developments in the market, and only a limited number of units at exclusive discounted prices for this event only.
The showcase is for anyone interested in buying property, which includes Cambodian nationals and foreign expats and if you are currently in the Cambodian property market or someone looking for a great deal.
There are limited tickets left & you sign up today –
register now
to secure your spot.
𝐃𝐚𝐲 𝟏: Friday 18th November, 10:00AM – 7:00PM

𝐃𝐚𝐲 𝟐: Saturday 19th November, 10:00AM – 5:00PM

𝐕𝐞𝐧𝐮𝐞: Realestate.com.kh Office, Level 1, Corner Street 302 & 63, BKK1.