Seeking its piece of the pie in the luxury segment of the local hospitality industry, 5-star hotel Rosewood Phnom Penh will opened its doors to guests next week.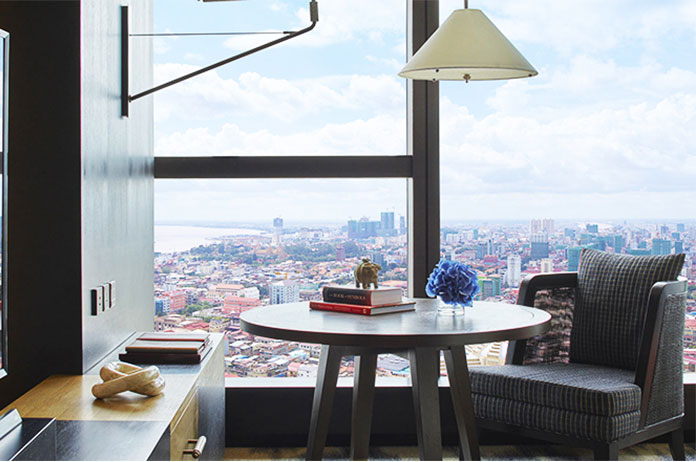 Daniel Grau, Rosewood Hotels & Resorts' managing director, said Rosewood Phnom Penh will come online on February 12.
Rosewood Hotels & Resorts – a management company responsible for a range of highly individual, luxurious, residential-style hotels around the globe – has been appointed by local property developer Vattanac Properties Limited to manage the hotel.
"We do not invest in the property. We do invest, however, on the great manpower needed to run this property and to provide the nuanced and personalised service that our affluent guests deserve," Mr Grau said.
"We offer a different kind of luxury style that we hope will be well received by the market. We believe that we can attract more clients and expand the visibility of Phnom Penh as a destination for business and leisure internationally."
The hotel will occupy the top 14 floors of Phnom Penh's Vattanac Capital Tower, one of the most recognisible elements of the city's skyline, located along Monivong Boulevard.
Rosewood Phnom Penh features 175 rooms and suites which are amongst the largest in the city.
Dining options include a bistro, a lobby lounge, two specialty restaurants and a sky bar on a cantilevered terrace.
It will also have a spa with five treatment rooms, a 20-metre swimming pool and a fully equipped fitness center.
The hotel will also offer guests a wide range of facilities to conduct business meetings.
"We are excited and proud to bring the ultra-luxury Rosewood to our capital," said Sam Ang Vattanac, executive director of Vattanac Properties.
"This collaboration will redefine ultra-luxury hospitality in the kingdom, whilst reaffirming the upscale positioning of Vattanac Capital as Cambodia's most exclusive commercial complex.
"We look forward to welcoming international investors and travellers to this hotel in Phnom Penh."