The Sihanoukville International Airport has marked the completion of its runway upgrades today with a blessing ceremony.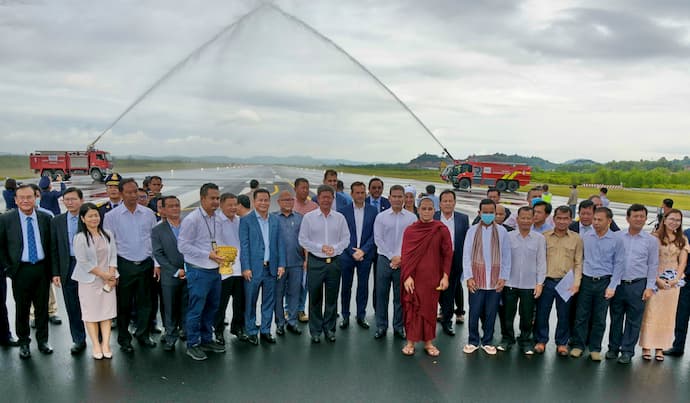 In a statement, Cambodia Airports said the international airport serving Cambodia's main seaside resort and the port city had entered a new development phase. The commissioning of the runway, a US$ 58-million investment program, is scheduled for Q4 2020.
"The runway has been fully upgraded including its extension to 3,300 meters from 2,500 meters, the strengthening of the current airstrip, and the installation of a LED airfield lighting system to reduce the carbon footprint."
Alain BRUN, CEO of Cambodia Airports, said: "To sustain the development of Sihanoukville, an efficient airport system and increasing air connectivity are critical. Upgrading the runway capacity provides new growth opportunities as airlines can operate bigger aircraft flying from/to more remote markets such as the European one."
The runway project was launched in July 2018 and aims at accommodating larger
aircraft (Code E) such as B-777-300ER or A-350-1000 operating long-haul direct flights to/from Sihanouk International Airport.
Cambodia Airports claims that between 2015 and 2019, passengers grew from 94,000 to 1.6+ million passengers at the Sihanouk International airport, and the airport had been experiencing triple-digit growth nearly every year.
COVID-19 has severely disrupted the travel industry globally and in Cambodia. The Cambodia Airports Public Relations Director, Khek Norinda, said: "At Siem Reap International airport, there are one to two weekly flights while no international flights have been operating there since March."
Cambodian airport growth
In 2019, the number of passengers going through Cambodia's international airports totalled nearly 11.6 million:
6+ million passengers for Phnom Penh Airport.
3.9 million passengers for Siem Reap Airport.
1.6+ million passengers for Sihanoukville International Airport.
Combined, all three airports served 55+ destinations and welcomed 700 regular flights per week.
A number of new airports are being constructed in Cambodia with the government investigating opening more regional airports too. You can read more here about Cambodian airports.
Sihanoukville
According to provincial governor Kuoch Chamroeun, Sihanoukville province has attracted nearly $4 billion in investment since 1994 and companies have developed 11,637ha of beaches and islands, with a total capital investment of $3.9 billion.
Chamroeun said more than 60 companies plan to invest a total of $10.74 billion in tourism and hotels in the province.
However, it has previously been reported that between 2017-2020 construction project investment was valued at more than $7 billion in Sihanoukville, with approximately 1,355 construction projects approved, occupying 13,107,209 square meters.