Lacklustre trading on the Cambodia Securities Exchange (CSX) has prompted it to propose new initiatives to the Securities and Exchange Commission of Cambodia (SECC) to boost trading volumes.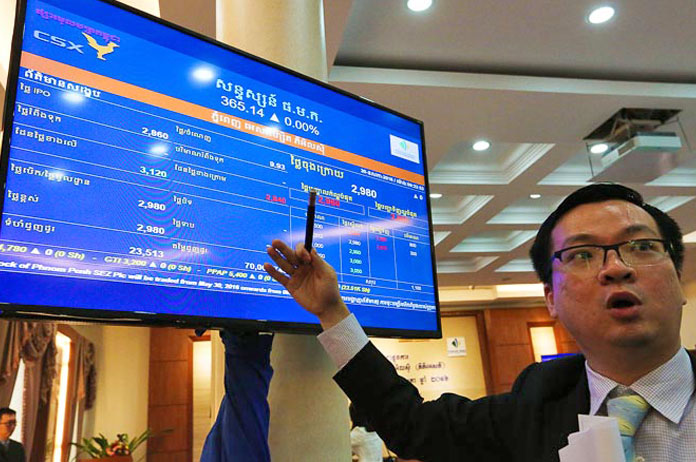 "The market needs a bit more fluctuation to attract more investors, particularly speculators, in order to ramp up market liquidity," Lamun Soleil, director of the market operations at the CSX, told Khmer Times yesterday.
Soleil said the CSX had proposed new rules to boost trading and had submitted them to the SECC several months ago. "We expect the SECC to approve them soon and we hope it can be next month," he added.
Since its inception in 2012, the CSX has only attracted five companies and the latest to be listed on the bourse, in May, was the Sihanoukville Autonomous Port (PAS) – joining Phnom Penh Special Economic Zone Plc., Phnom Penh Autonomous Port, Grand Twins International (Cambodia) Plc. and the Phnom Penh Water Supply Authority.
Soleil said the new proposed initiatives included a form of block trading termed as a negotiated trading method (NTM) that allows a pair of big investors, with orders of over 50,000 shares or $50,000, to easily trade in a secure manner outside the order book. This trading follows their successful negotiation on the terms of trade.
Technically, a block trade is an order or trade submitted for the sale or purchase of a large quantity of securities. Block trades are typically executed by large investors and offer a number of advantages to selling shareholders. It allows a party to access a different and often larger investor base than regular electronic trading. Soleil said that in the NTM, bid and ask orders (negotiated orders) will be executed separately from the auction order book.
An order book is an electronic list of buy and sell orders for a specific security or financial instrument, organised by price level. The order book lists the number of shares being bid or offered at each price point, or market depth. It also identifies the market participants behind the buy and sell orders, although some choose to remain anonymous. "Securities firms will play an important role in helping their clients find the counterparties in the NTM," said Soleil.
He said the NTM had two main purposes, besides providing confidentiality to large investors on their orders. "The first is to avoid the impact of big trade on market prices that could lead to market instability. The second is to help secure investors' trade in a single large transaction – one that is not partially executed with numerous small orders."
Soleil also said the CSX had initiated a mechanism where investors could make market orders. "An investor makes a market order through a broker to buy or sell an investment immediately at the best available current price," he added.
A market order is the default option and is likely to be executed because it does not contain restrictions on the price or the time frame in which the order can be executed. At the same time, Soleil said, CSX also proposed to the SECC to increase the daily price limit of shares to 10 percent from the current 5 percent, to provide more leeway and confidence to investors in their day-to-day trading.
Price limits are the levels that securities values are allowed to rise or fall in a day and have direct effects on price changes and margins. Svay Hay, president and CEO of brokerage firm ACLEDA Securities, welcomed the three initiatives by the CSX. "I would say they're good as investors would see something creative, coupled with movement in the market," he said.
Sok Dara, deputy director-general of SECC could not be reached for comments.
This article was originally published in the Khmer Times.
[democracy id="38″]