The fifth edition of the SmartStart Young Innovator Program (YIP) has seen five teams progress to the incubator and internship stage after completing the "Hatch" and "Digithon" challenge activities.
The SmartStart Young Innovator Program, initiated by Smart Axiata in collaboration with Impact Hub Phnom Penh, claims to be "Cambodia's leading digital talent development programme identifying and nurturing the Kingdom's future leaders in digital entrepreneurship."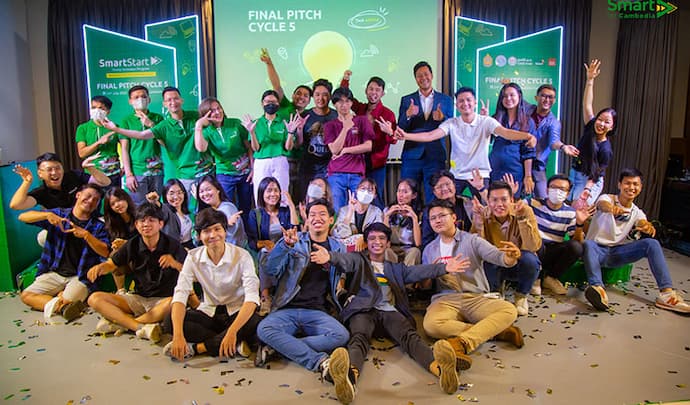 CEO of Impact Hub Phnom Penh Mélanie Mossard said: "This programme not only gives them a platform and professional guidance but also sets them up for a brighter future."
The five teams are:
Acting CEO of Smart Axiata Feiruz Ikhwan said: "We congratulate all the teams that have made it to this exciting incubator stage. We would also like to send our appreciation to all those who have taken part in this year's programme. YIP aims to expand the minds of our future generations through technology and entrepreneurship by giving them the opportunity to express, develop, and create their futuristic ideas."
The 5 startups enter three-month paid internships with incubation at local tech startup companies to "better understand business processes and expand their knowledge base" reported the Phnom Penh Post.
Following the internships, the teams will provide a Grand Final Pitch, and have a chance to win the $10,000 grand prize as well as a fully sponsored trip to a regional technology conference.
There are a number of angel investors, startup initiatives and other talent programmes operating in Cambodia, often offering cash and mentorship promises to the winners but we rarely hear what happens to the winners post-event.
Previous Winners –
SmartStart Young Innovator Program Cycle 4
Adero was chosen as the winner of SmartStart Young Innovator Program Cycle 4 earlier in 2022 –  a smart-moving advertisement system, while Kela, a platform that allows users to search for sports venues, and the 3rd place went to FlexFloc won a regional tech trip for their innovative fish farming system using an IoT solution that sends fish farmers phone updates and alerts.
(When searching these winners from 7 months ago, there is hardly any active social media activity and only one active website between them, we have reached out to SMART and Impact Hub to get an update on their current status and will update accordingly).