Svay Rieng town is set to have a green SEZ (Special Economic Zone) developed by QiLu (Cambodia), which is expected to cost up to $1 billion US Dollars.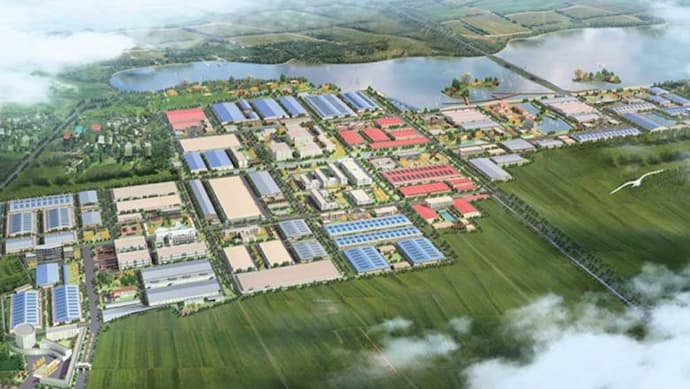 SEZ Svay Rieng town
Chinese industrial park developer and operator, QiLu (Cambodia) Special Economic Zone Co Ltd, announced the plans last week and media reports said the SEZ will cover 450 hectares. The site will be developed in partnership with the Environmental Protection Industry Associations of Cambodia (Epiac).
(The QiLu website only makes reference to 360 hectares).
The site of the Special Economic Zone will be 4 kilometres from the Svar Rieng town centre, south of National Road 1, on the northern bank of a river.
QiLu Director Xing Baoguo said the zone would be built in three phases and partitioned into six areas:
Phase I: Will cover 215ha
Phase II: Will cover 145ha
Phase III: Will cover 90ha
The six areas will be for garments, textiles, light industrial products, machine components, construction material and chemicals.
The QiLu director added, "With the fast development of Cambodia's economy, there is the focus on ecology and environment as keys for the country's sustainable economic growth. To ensure Cambodia's natural resources are managed more appropriately and act as a compass in additional industrial zone projects, QiLu has put ecology and environment at the top of our development plan agenda.
Epiac director, Choon Yik Thong, added that the SEZ will be a cooperation between QiLu and Epiac, with support from the Ministry of Environment and Svay Rieng [Provincial] Governor Men Vibol.
SEZ Cambodia Tax benefits
The QiLu website claims that businesses in the green SEZ will enjoy a tax holiday for 6-9 years as well as exemption from import tariffs of production facilities, construction materials, raw materials for production.
In addition, there will be an exemption of added-value tax and export tax from products exported to overseas market. and no taxes on profits or for distributed profits.
Cambodian Special Economic Zones
Exports from the Cambodian SEZs were values at $2.688 billion in 2019 while 465 companies were operating in the Kingdom's 54 SEZs employing more than 100,000 workers.
Earlier in 2020, a 500-hectare industrial park was also announced to be developed in Kampong Speu province.
Read more about the major industries in Cambodia and the impact of Special Economic Zones here.