CBRE has announced that The Phnom Penh Megamall opening has been postponed until the fourth quarter of 2020.
CBRE Cambodia, who is the leasing agent for the mall, said via their Managing Director Ann Sothida, that The Phnom Penh Megamall was delayed due to delays in interior design.  The mall was due to open its doors to the public in Q3 2020.
In a press release in February 2020, Sothida said that that the latest postponement was unrelated to the market situation. "The delay has nothing to do with market issues. Companies have expressed their interest and have leased about 70-80 per cent of the building's retail space, with the ninth floor entirely leased out."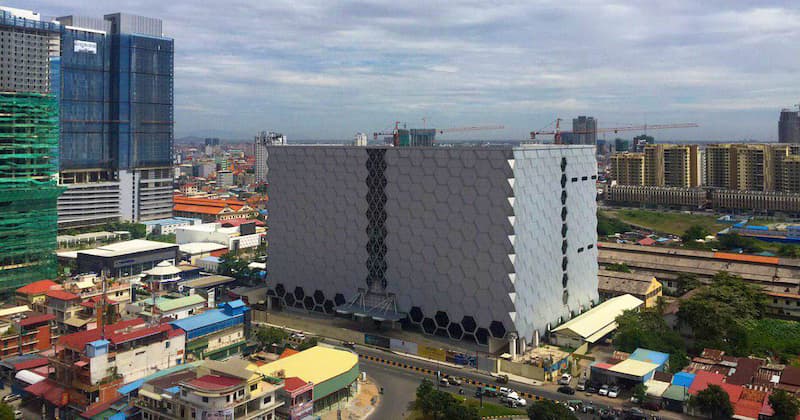 The Phnom Penh Megamall
The Megamall, located on Russian Boulevard in central Phnom Penh district, has a total floor area of 47,000 sqm and will be used as a mixed-commercial centre. The building comprising 11 storeys, including two floors below ground.
Some of the outlets are said to include, supermarkets, a food court, cafes, fashion, jewellery, cosmetics stores, restaurants, electronic stores as well as child-oriented shops.
Upper floors are believed to include educational institutions, bank branches, health and fitness centre, and entertainment options such as a cinema (operated by Golden Screen Cinema, who owns the largest multiplex cinema in Southeast Asia), bowling alley (managed by Megabowl with more than 30 lanes), karaoke and an arcade. A large parking lot will be able to accommodate up to 1,500 cars and 3,000 motorbikes.
CBRE says that 200 international companies have reached out to CBRE Cambodia to open shops at The Megamall in Phnom Penh. In 2019, Sothida said that 400 businesses in total will be operational at the mall.
The Phnom Penh Megamall is being constructed on the site which was previously known as Parkson Mall. The project is being developed by Hassan (Cambodia) Development Co Ltd.
In recent years more than a dozen malls have opened in Phnom Penh, including Aeon Mall 2, The Park, Chip Mong Noro Mall, Prince Plaza Mall, Eden Garden, and Olympia Plaza Mall.