In a recently held "The Potential of Investing in Cambodia Sustainable Bond" workshop, leading figures from the financial sector and government aimed to raise awareness about the benefits of issuing and investing in sustainable bonds in Cambodia.
The workshop was co-organised by H.E. Dr. Aun Porn Moniroth, Deputy Prime Minister, Minister of Economy and Finance and the Chairman of Non-Bank Financial Services Authority (FSA), the Securities and Exchange Regulator of Cambodia (SERC), the Ministry of Environment (MoE) and the Asian Development Bank (ADB) and held under the presidency of H.E. Sou Socheat, Delegate of the Royal Government in Charge as the Director General of the SERC, H.E Sum Thy, Deputy Director General of the General Directorate of Policy and Strategy and Mr. Kosintr Puongsophol, the Financial Sector Specialist, Economic Research and Regional Cooperation Department, ADB.
The workshop urged enterprises and potential investors to pay attention to these bonds and to share the ADB's technical assistance in supporting sustainable bond issuers.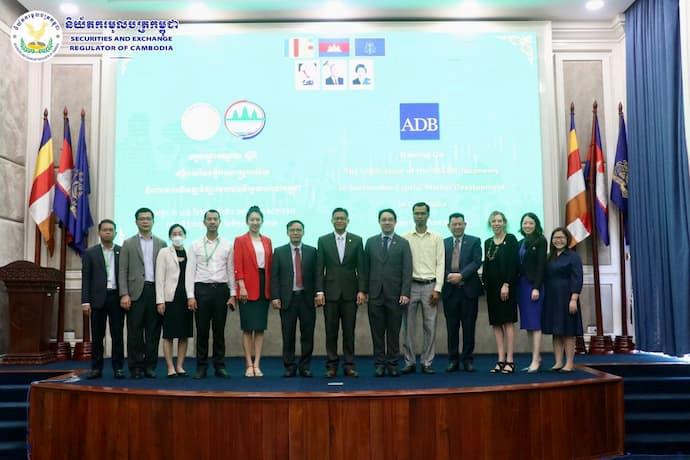 What To Know About Investing in Cambodia Sustainable Bonds
The delegation said the "issuance of and investment in sustainable bonds are a testament to our commitment to giving back to our community."
Cambodia is still in the early stages of sustainable development with a small number of investors and they encourage potential investors to invest in sustainable bonds in Cambodia – the issuance will have the technical assistance from the ADB.
Impacts of Climate Change
H.E. Sum Thy added, "As a developing country, Cambodia is more vulnerable to the effects of climate change. We cannot increase our climate resilience without investing in climate change adaptation. The support of international and development partners is essential to climate change mitigation. Therefore, we are discussing today why we should invest in sustainable bonds in Cambodia."
He added "We need investors who see the value and opportunities of investing in sustainable development and have a long-term perspective. I am heartened to witness the issuance of green bonds in Cambodia, and I anticipate that more companies will issue these bonds in the future."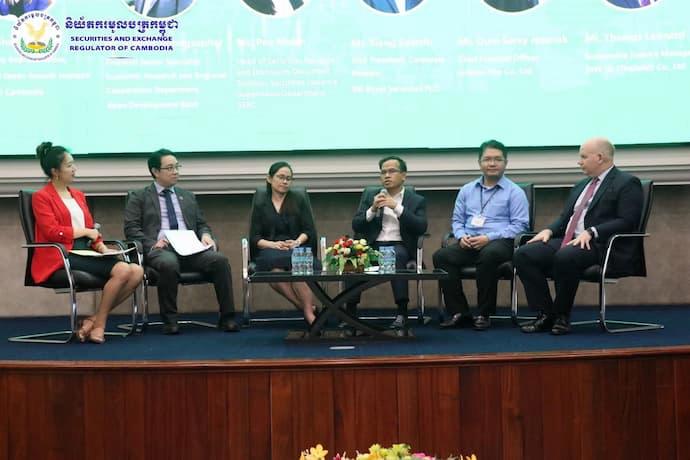 Mr. Kosintr Puongsophol expanded on the challenges of climate change. 'Developing Asia will lose up to 24% of its Gross Domestic Product as a result of climate change. ASEAN is expected to lose more than 32% of GDP under a High Emissions Scenario by 2100. We need to therefore mobilise funds urgently and at scale to fill in the massive gaps in climate infrastructure financing."
The channels for this, according to Mr. Puongsophol, are:
Securities market through the issuance of green and other thematic bonds.
Financial institutions can play a critical role in mainstreaming climate finance.
Promoting local knowledge and talent.
Strengthen collaboration with international development partners to promote the development of a sustainable finance ecosystem to facilitate fund mobilisation.