It takes a village to clean a village. This is the principle that guides TONTOTON in creating an innovative community-based solution that is able to remove thousands of tons of post-consumer non-recyclable plastic from the natural environment and prevent it from ever reaching the ocean.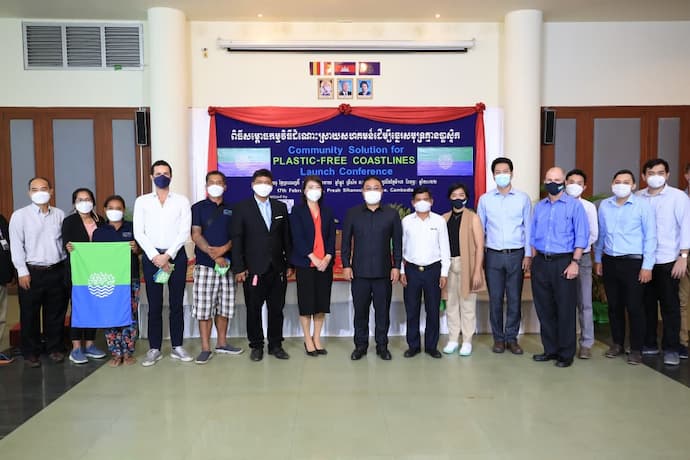 Supporting the clean-up efforts is an inclusive awareness and education campaign comprised of villages and school meetings, waste collector social gatherings, poster and flyers distribution, and visibly impactful branding through flags and stickers bearing the emblem of clean land and water in bold green and blue.
"Community ownership is key to the success of our projects. It is important that the villagers are the primary steward of their own clean environment and that they understand the benefits and have the proper tools and incentive to sustain it," said Barak Ekhstein, Founder and CEO of TONTOTON. "Because of this, we created a system where everyone's voice and everyone's actions are accounted for, because we cannot do it alone," he added.
With its successful operations in Vietnam and now in Cambodia, the plastic credit program, TONTOTON, which started the collection and clean-up at three villages in Sihanoukville, cleaning and treating 180 tons in the first three months of operation, showcases the success story and presents the holistic plan of connecting villages and communities under one goal of "Plastic-Free Coastline" through a launching event on 17 February 2022 in Sihanoukville.
Called the "Community Solution for Plastic-Free Coastlines Launch Conference", the event is joined by the Ministry of Environment, Provincial Government of Sihanoukville, Japan Embassy, United Nations Development Programme (UNDP), UN-Habitat, Global Plastic Action Partnership, supporter ClimeCo, solution partner Chip Mong Insee, various NGOs, private companies, partners, the media, and most especially the community members.
"As part of the Global Plastic Action Partnership, we recognize innovation as a key enabler to tackle plastic pollution. Through our Global Plastic Innovation Network, we are committed and thrilled to work with inspiring innovators, including TONTOTON, which are making impactful solutions at both the national and global scale," said Kristin Hughes, Director, Global Plastic Action Partnership.
Plastic-Free Coastlines closes the loop in plastic waste management while empowering local communities. By focusing on post-consumer, non-recyclable plastic waste, everything that the recyclable market cannot take back will be handled by TONTOTON's system. It targets the most polluted coastal locations that are typically unmanaged by private resorts or businesses and out of the tourists' eyes. Along with it are community-based activities from awareness-raising to eventful community meetings, visual branding, waste collector engagements, and multi-stakeholder cooperation amplifying and sustaining the impact of the program.
Out of sight, out of mind – this is the unfortunate reality when it comes to rarely heard of vulnerable communities who in fact are the first sufferers of the ongoing plastic waste pollution. This reality inspires the plastic credit program, TONTOTON, to expand its operations to Cambodian coastlines starting from three (three) remote villages of Tomnup Rolork, Oh Vietnam, and Phum Thmey in Sihanoukville. From here, the program will commence its search for more villages in urgent need of plastic waste management intervention. By the end of 2022, at least five collection centres are actively receiving plastic wastes from community collectors along Cambodian coastlines, leading to its target of removing 3,000 tons of plastic waste leakage.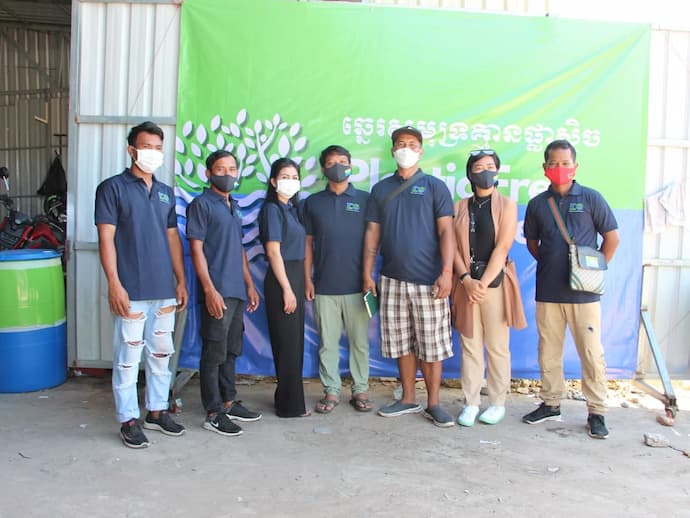 "The results are visible and fast. In Oh Vietnam, a village with houses on stilts, we can now see the water which used to be covered with thick layers of plastic wastes. In our collection center in Tomnup Rolork, from 200kg a day, we now receive up to 10 tons daily," Barak said.
The word has spread, and more community members are signing up to be regular waste collectors. Today, people from far villages come to TONTOTON's collection centre to exchange their plastic waste for cash. TONTOTON's collection truck also goes from village to village to pick up plastic waste from people who have limited logistics means.
TONTOTON's business model empowers the community by providing a tool for them to take charge of their own clean environment while earning stable income in safe working conditions. Literally, their trash in exchange for cash.
TONTOTON works under the Ocean-Bound Plastic Neutrality protocol by Zero Plastics Ocean, audited and certified by a third-party control body. This protocol provides a transparency order for the plastic credit claims and a code of ethics protecting all the labourers involved in the entire supply chain.
This press release was supplied.