Online travel website Travel & Leisure Asia has selected their top Cambodian hotels, restaurants, bars and other categories in their 2022 Awards, which also saw the capital Phnom Penh named among the top ten Southeast Asian cities.
(Feature Photo – The Attic – Hyatt Regency Phnom Penh)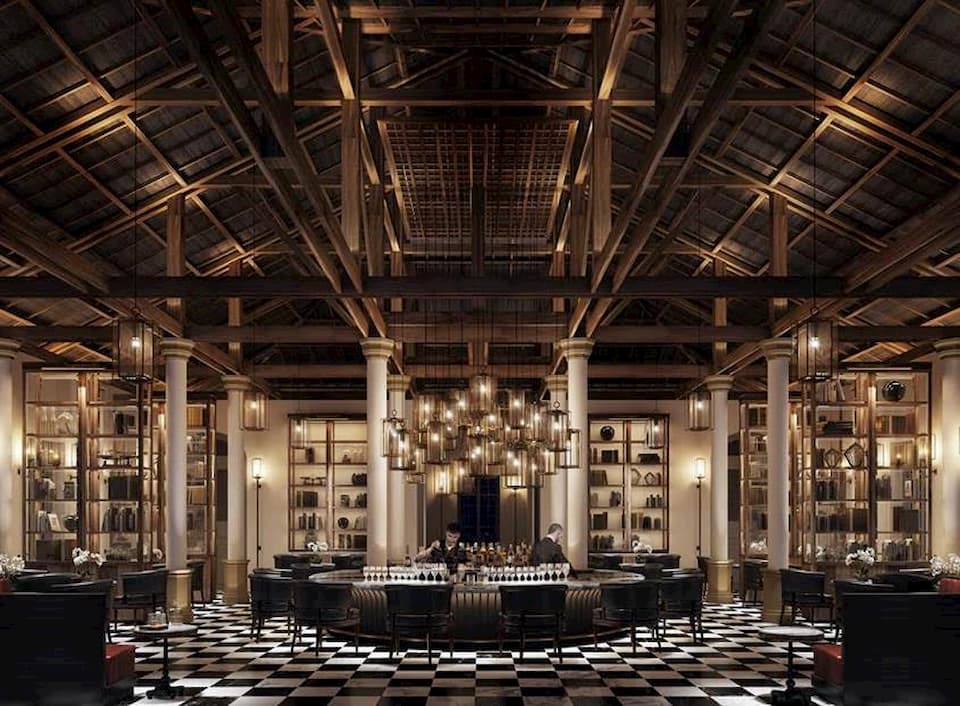 The online travel website added "Cambodia has been warmly welcoming a slow but steadily growing trickle of visitors….. In addition to having Angkor Wat pretty much to themselves, visitors can step off the well-trodden trail and explore a kaleidoscope of lesser-known gems, such as Southeast Asia's largest intact rainforest, the Cardamom Mountains, kayaking alongside endangered Irrawaddy dolphins in Kratie, and strolling in the shadows of retired elephants in the wild in Mondulkiri."
Phnom Penh came in 9th overall among the SEA cities, while Bangkok was rated as the best city among the Southeast Asian selection. (Editor – although Hong Kong appears on the list and isn't technically SEA?)
The Awards are based on reader votes and there is a wide selection from each category with Phnom Penh and Siem Reap the top city winners.
Asia's Best Awards 2022: – Best Of Cambodia
Best City Hotels in Cambodia
Among the top city hotels in the Kingdom, Travel & Leisure Asia selected the Hyatt Regency in the capital as their top choice, adding "The 247-key property burst onto the capital's lively accommodations scene in January 2021, stealing the title of Phnom Penh's largest luxury hotel."
Some of its standout features are the FiveFive rooftop restaurant and bar, central location, its large outdoor pool, and F&B outlets.
Among the top ten city hotels in the country, four were selected from Phnom Penh, while Siem Reap has six of the top placed hotels.
Hyatt Regency Phnom Penh
Rosewood Phnom Penh
Anantara Angkor Resort & Spa (Siem Reap)
Raffles Hotel Le Royal (Phnom Penh)
Amansara (Siem Reap)
Park Hyatt Siem Reap
Zannier Hotels Phum Baitang (Siem Reap)
Baitong Hotel & Resort (Phnom Penh)
Shinta Mani Angkor (Siem Reap)
Sofitel Angkor Phokeethra Golf & Spa Resort (Siem Reap)
Best Beach/Upcountry Resorts in Cambodia
Among the most luxurious resorts outside of the big Cambodian cities, the Song Saa Private Islands off the southern coast was awarded the top spot.
"The sumptuous private-island paradise is composed of two small islands connected by an ambling wooden walkway. The main island is home to scattered rustic jungle, ocean views or stilted villas that sit over the water. Each boasts its own private pool, deck area, and heaps of mesmerizing vistas."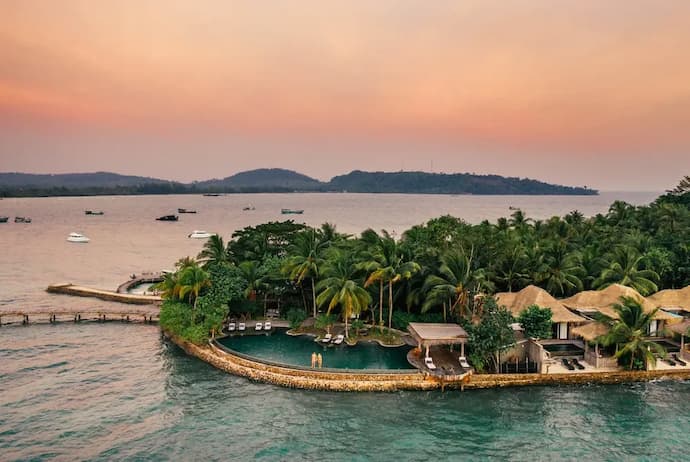 On the top-end of the coveted top ten beach/upcountry resorts, most destinations were unsurprisingly based off the coast of Sihanoukville but there were also winners from Kampot, Kep and Trapeang Rung.
Song Saa Private Island (Preah Sihanouk)
Six Senses Krabey Island (Preah Sihanouk)
Shinta Mani Wild (Preah Sihanouk)
Koh Russey Villas & Resort (Preah Sihanouk)
The Royal Sands Koh Rong (Preah Sihanouk)
Amber Kampot (Kampot)
Knai Bang Chatt (Kep)
Veranda Nature Resort (Kep)
Cardamom Tented Camp (Trapeang Rung)
Samanea Beach Resort & Spa (Kep)
Best Hotel Pools in Cambodia
Hotel pools across Cambodia are popular for in-house guests, locals, expats and travellers, especially as some pools at hotels and resorts are allowed to be used by outside guests for nominal fees or a certain amount spent on the F&B menu.
Weekends can be busy for that reason, especially with the year-round warm weather in the Kingdom, but always check with the hotels as some will run strict guest-only policy's for the pools, which is understandable for the fees paid by guests who are seeking privacy.
Many of these hotels with the best pools are also popular among business professionals within the country and those who are visiting.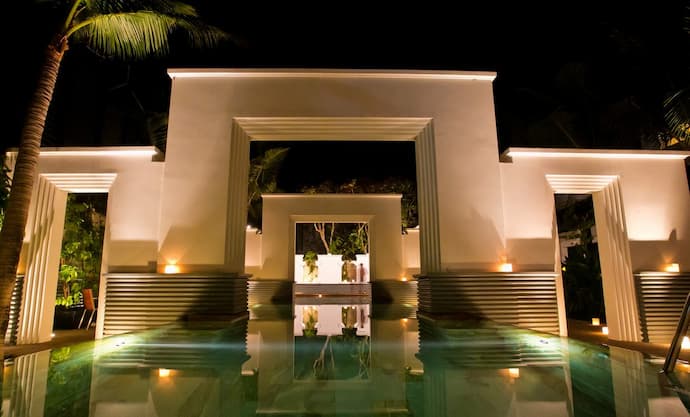 The Park Hyatt in Siem Reap won the best hotel pool in Cambodia for its ground floor splash and lap pool which has a lagoon-style and accompanying cabanas.
Park Hyatt Siem Reap
Raffles Hotel Le Royal (Phnom Penh)
Anantara Angkor Resort & Spa (Siem Reap)
Zannier Hotels Phum Baitang (Siem Reap)
Six Senses Krabey Island
Amansara (Siem Reap)
Koh Russey Villas & Resort (Preah Sihanouk)
The Royal Sands Koh Rong (Preah Sihanouk)
Templation (Siem Reap)
Belmond La Residence d'Angkor (Siem Reap)
Best Restaurants in Cambodia
Restaurant and food selections or preferences are probably the most subjective and certainly all of the top ten as voted by the readers serve excellent food but there are many fantastic restaurants not on this list.
Phnom Penh is again the big winner for its cuisine with a majority of the top ten best restaurants featured located in the capital, while the small but popular foodies haven of Kampot also is well represented.
Surprisingly no exclusive Siem Reap restaurants were voted into the list but there are certainly excellent restaurants in Temple Town.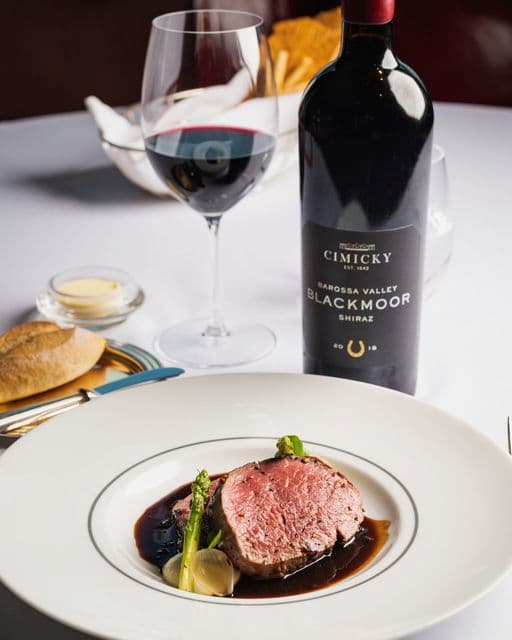 Cuts, which is renowned as an excellent steak house and is located near the top of the Rosewood Phnom Penh offers scintillating views and excellent service as well as a huge selection of wines and a gourmet menu.
Cuts at Rosewood Phnom Penh
Cuisine Wat Damnak (Phnom Penh & Siem Reap)
Topaz (Phnom Penh)
Backyard Cafe (Phnom Penh)
Malis (Phnom Penh)
Farm to Table (Phnom Penh)
Espresso Kampot
Brooklyn Pizza (Phnom Penh)
Khema Pasteur (Phnom Penh)
Twenty Three (Kampot)
Best Bars in Cambodia
Much like the restaurant selection, preferences in bars are highly subjective and lead to debates when the discussion point arises. Many of the selections in this top ten list are on the classier side of things when choosing a venue to have a drink but these are popular for business meetings and events too.
The Attic located at the Hyatt Regency in the capital was voted the best bar in the Kingdom and stands out for being an elegant but old-world speakeasy-style bar.
Venues in the capital and Siem Reap again dominate the list. Bassac Lane isn't technically a bar but an alleyway of different bars in Phnom Penh. Also absent are the many excellent craft beer bars as well as Japanese whisky bars that can be found in the capital in particular.
The Attic at Hyatt Regency Phnom Penh
Sora Sky Bar, Rosewood Phnom Penh
Elephant Bar, Raffles Hotel Le Royal (Phnom Penh)
Bassac Lane (Phnom Penh)
Miss Wong Cocktail Bar (Siem Reap)
Samai Distillery (Phnom Penh)
Juniper Gin Bar (Phnom Penh)
Seekers (Phnom Penh)
Sundown Social Club (Phnom Penh)
Expérimental Cocktail Lounge (Siem Reap)
Cambodia currently has relatively few restrictions for travellers and a visa on arrival was made available again earlier in 2022.
There are further selections available to be seen on the Travel and Leisure Asia website.