v-ETHOS is a selective program aiming to promote technology-based entrepreneurship to advance social and economic development, and is open to applications from Cambodia until March 19, 2021.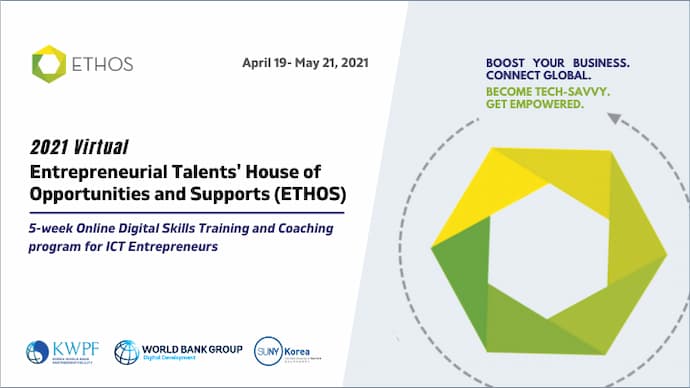 In a statement, V-ETHOS organisers said: "The World Bank Group and SUNY Consortium cordially invite you to recommend talented Information and Communications Technology (ICT) startup founders and aspiring entrepreneurs to participate in the World Bank's Virtual Entrepreneurial Talents' House of Opportunities and Support (v-ETHOS) program, which will be held in April 2021 and is being developed by the World Bank Group in association with The State University of New York, Korea (SUNY Korea) consortium."
The ETHOS program provides free, academic-quality advanced learning, development, and mentorship for entrepreneurs with products or ideas based on ICT innovations and/or ICT applications in business development. The program does not entail any travel or fees to the selected entrepreneurs.
The program is virtual (online) in 2021 due to the ongoing pandemic and "Selected participants will be learning best practices to develop ICT innovations and eventually take them to market."
The program is funded by the World Bank Korea Partnership Facility, and women entrepreneurs are encouraged to apply said v-ETHOS.
The Korean backed initiative also aims to "build a network among entrepreneurs, professionals, and investors from all around the world" and offers participants:
1:1 business mentoring with mentors currently working in the Korean investment fund industry.
Chance of having joint-venture support with Korean deep-tech startups.
Demo day with panellists from Venture Capital firms with opportunities to receive investment and feedback.
Who is eligible to apply for V-ETHOS?
The website says "Entrepreneurs, employees, and individuals who have entrepreneurship experience or aspiring to become an entrepreneur in ICT or ICT applicable fields are eligible to apply. Candidates must commit to participating in the v-ETHOS program.
Nationals of Cambodia are allowed to apply before 19th, March 2021(Korean Standard Time).
V-ETHOS Program Timeline
Orientation: April 19 2021
Knowledge Series: April 20 – 23 2021
Mentoring & Tech Partnership Sessions: April 26 – May 7 2021
Business Gallery: May 10 – 14 2021
Demo Day: May 17 – 21 2021
Inbound Tour in Korea for the Best Performing Team: Dec 2021 (subject to change due to COVID-19)