The Vue Aston, a high-rise residential development in Chbar Ampov district in the capital of Phnom Penh, is hosting an exclusive VIP sales event on August 1st 2020.
Vue Aston VIP sales event: August 1st 2020
The property sales event is organised by Peninsula Capital, in partnership with Realestate.com.kh, FazWaz, and HuiOne Pay.
The event will offer buyers the opportunity to purchase property at the Vue Aston with savings up to $40,000. In addition, buyers can win additional prizes such as iPhones and motorbikes.
The event will be held in the Vue Aston Sales Center on August 1, 2020, and will run from 14:00 to 20:00.
Benefits of attending the Vue Aston sale event
Save Up to $40000
Low Downpayment $3500
Lucky Draws
Huge Gift Giveaways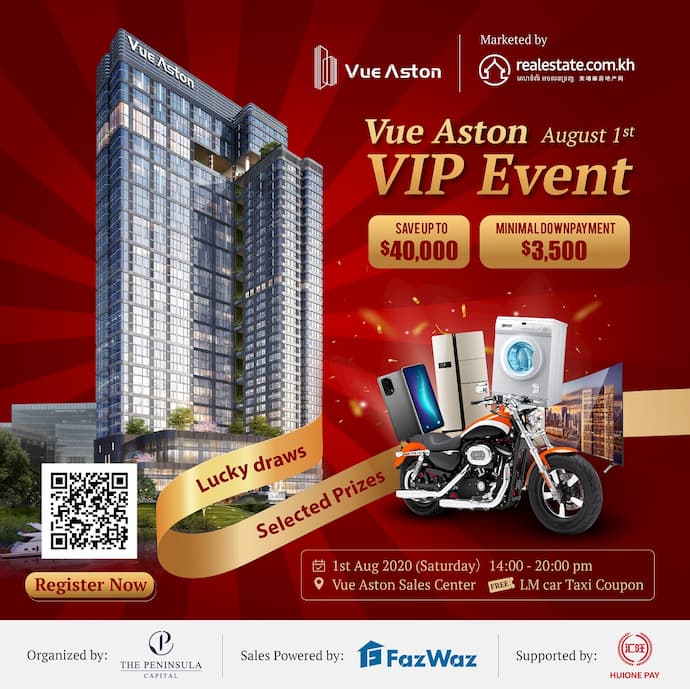 The Vue Aston – Phnom Penh
The Vue Ason is a 38-storey residential project developed by Peninsula Capital and was designed by HKS Architects and Golden Mantis Decoration Company. The new development in the Cambodian capital is located in Nirouth sub-district of Chbar Ampov.
The Vue Aston offers a total of 895 units and with space up to 101 sqm, offering a wide range of unit types and sizes that can accommodate the city's myriad of residential preferences.
There are studios, 1, 2, & 3 bedroom units still available at the new development. For more information, you can visit the leading online property sales website in Cambodia, Realestate.com.kh.
They say "at present, the project is surrounded by many cafes, shopping malls, banks and restaurants, and it has the geographical advantage of absolute convenience. The first phase of the project has a total of 38 floors, and the developer integrates the world's top hotel facilities and services into one, providing each owner with super first-class facilities and other comfortable living services".
The Vue Aston offers investors a guaranteed rental return (GRR) of 35% over the period of 5 years. Interested buyers can also avail of payment terms and bank loans to purchase property at the Vue Aston.
The Vue Aston's VIP sales event is open to all interested property buyers and investors.
To participate and get savings on purchase, participants are required to register on the official Vue Aston VIP sales registration site.