Web Essentials, a digital products & services company with its head office in Cambodia, has announced the appointment of two new co-CEOs as well as a change in its stakeholders.
Web Essentials have delivered over 200 digital solutions enabling social impact and business improvement. They employ over 60 staff and consider themselves as technology experts who promote the open-source tech and community.
Web Essentials has a team of developers and project managers in their Asian HQ in Phnom Penh, with another office in Basel, Switzerland.
CEOs – Web Essentials
The business announced in December 2020 that it had appointed two new co-CEOs, Visay Keo and Amy Hunt, to lead the business forward. They announced online "This is an exciting change for the Web Essentials team and partners, both in terms of having Khmer leadership at the very top of the organization, and the gender-balanced team approach, which underpins who we are as a company."
Visay Keo will serve as Co-CEO (Technical) and he has over 10 years' experience in software development, web applications, IT infrastructure automation, quality assurance and leadership with Web Essentials.
Amy Hunt will be the Co-CEO (Business) and has been with the digital company for four years. She has a  background in marketing, online marketing and Search Engine Optimisation. "Amy believes in the transformative power of technology to make people's lives easier and drive socio-economic development in Cambodia and beyond," says the company's website.
The acting CEO, Grant Butler, will remain in a Governance and Advisory capacity.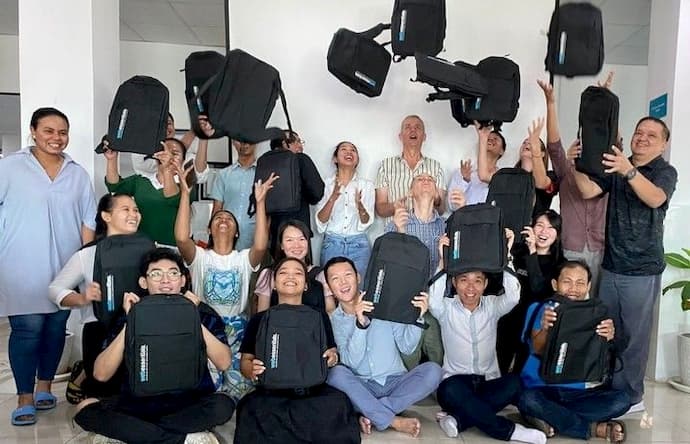 Web Essentials Stakeholders
In November 2020, Web Essentials announced it had a new majority shareholder in Accrescent. The company is a US-based group with a global portfolio in Management, Leadership, Technology, Legal, Financial and other consulting services. They purchased their shares from Web Essentials founder Dominik Stankowski.
Web Essentials said at the time that "Accrescent's involvement and investment increases our global network of experts, strengthens our team and provides additional opportunities for current and future customers in terms of consulting services available."
The company also distributed 12.5% of its shares to Cambodian staff who had been with them for 10 years.