EuroCham Cambodia, in partnership with ARISE+ Cambodia, other regional European chambers of commerce, and the EU-ASEAN Business Council, successfully organised the ASEAN-Cambodia Business Summit in Phnom Penh from September 28-29, 2023.

Held at the Sofitel Phnom Penh Phokeethra and Hyatt Regency Phnom Penh, the summit brought together key economic players and experts from Cambodia, neighbouring ASEAN countries and the European Union (EU) to promote integration and connectivity in the Mekong region.
Several distinguished guests were also in attendance, including H.E. Dr. Aun Pornmoniroth, Deputy Prime Minister and Minister of Economy and Finance, H.E Cham Nimul, Minister of Commerce, and Neak Oknha Kith Meng, President of the Cambodia Chamber of Commerce.

Watch the highlights from the ASEAN-Cambodia Business Summit and B2B Cambodia's Interview with Martin Brisson, Executive Director of EuroCham Cambodia:
On the first day of the summit, EuroCham Cambodia officially launched its White Book 2024, Advocacy Compass and Business Confidence Survey 2023. On the second day, EuroCham Cambodia signed a memorandum of understanding (MoU) with the Delegation of German Industry and Commerce (AHK) in Vietnam, pledging to attract more German investors to Cambodia.
Delivering his opening remarks, Dr. Pornmoniroth stated that while Cambodia has experienced robust economic growth over the past few decades, and has also successfully overcome the COVID-19 pandemic, the country continues to face uncertainties due to the global slowdown in economic growth. In this regard, he emphasised the importance of promoting more European investments in Cambodia.
"Leveraging EU investments in the region and the vast potential of the EU market is essential for Cambodia in promoting trade and economic growth," said the minister of economy.
Improving Cambodia's Business Environment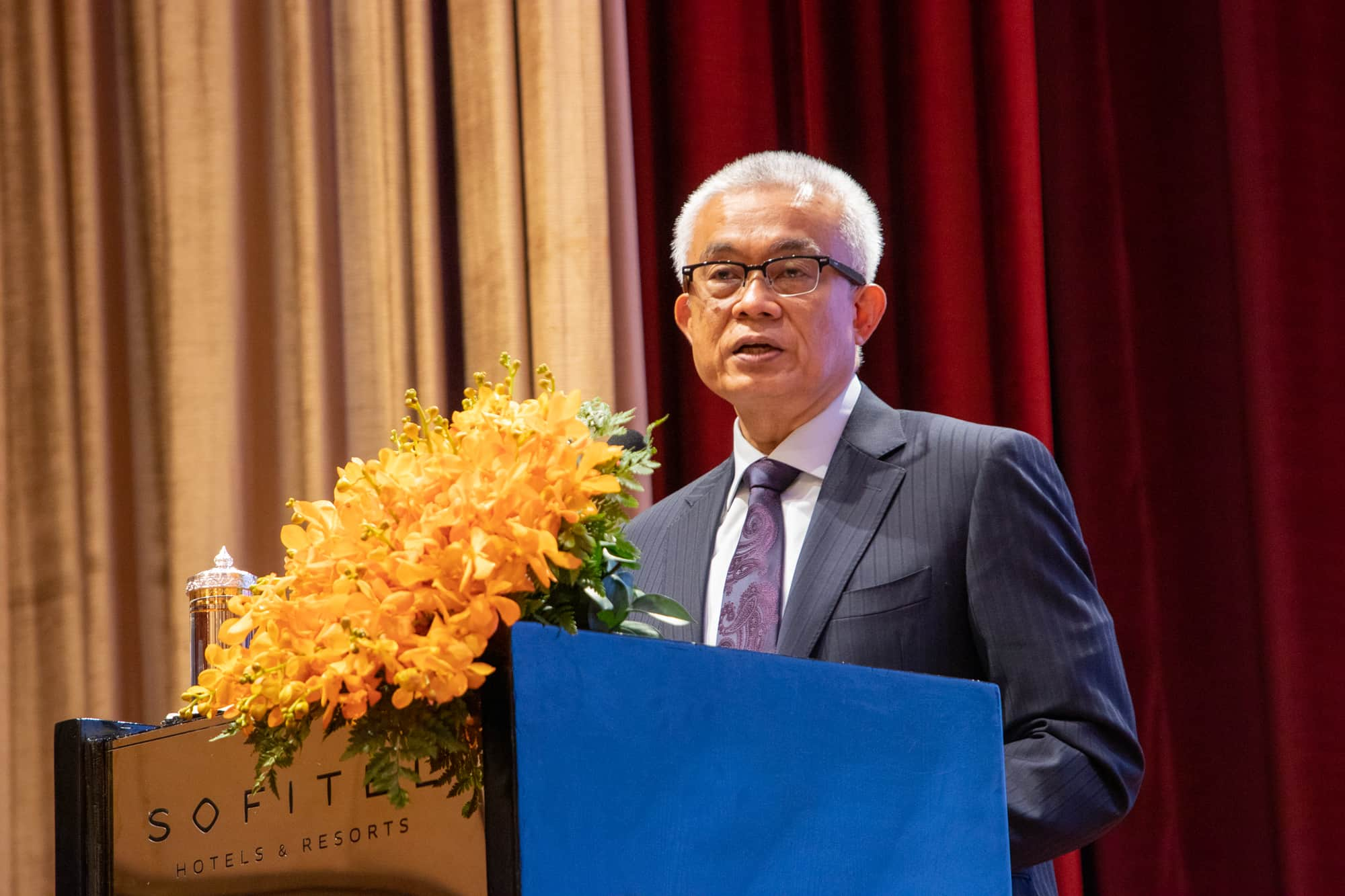 Dr. Pornmoniroth highlighted some of the main actions the Cambodian government has been taking to help improve the local business environment.
First, he pointed to the new government's launch of the Pentagonal Strategy – Phase 1, which will focus on implementing institutional reform and introducing new measures to address issues that businesses and investors face in Cambodia.
Second, Dr. Pornmoniroth stated that Cambodia has been able to enjoy better market access and integration to regional and global supply chains as a result of increasing multilateral and bilateral free trade agreements (FTAs), such as the ASEAN FTA (AFTA), the Cambodia-China FTA, the Cambodia-Korea FTA, the Cambodia-UAE Comprehensive Economic Partnership Agreement and the Regional Comprehensive Economic Partnership (RCEP).
Third, with recognition that the private sector plays a key role in enhancing the country's prosperity, the government is working to streamline administrative procedures, reduce transportation and logistics costs, promote vocational and skills training, and introduce modern investment laws that provide various incentives in priority sectors for investors in Cambodia.
Fourth, Dr. Pornmoniroth stressed that the government is paying special attention to improving connectivity, as it is key to improving competitiveness and attracting investment. In regard to physical connectivity, he explained that the government is focusing on building hard infrastructure, such as major bridges, deep water ports, new airports, road extensions, and more.
In order to promote digital connectivity, the government is working to adopt new digital business processes and payment systems to help ease the administrative burden faced by  private sector businesses. Most importantly, the government has laid out the Digital Economy and Society Policy Framework 2021-2035, which presents further opportunities for investments to be made in Cambodia's digital economy.
Lastly, Dr. Pornmoniroth said the government is dedicated to promoting more dialogue between the public and private sectors, in order to receive information and feedback on the challenges businesses face, as well as the concerns and suggestions national and international investors may have.
Using Cambodia As A Production Base To Access Larger Markets
Neak Oknha Kith Meng, the President of the Cambodian Chamber of Commerce, emphasised the immense potential for cooperation in the Mekong region, which is home to over 200 million people. He highlighted the opportunity for complementary exchange and advantageous utilisation of available resources, industries, and infrastructure between neighbouring countries.
In order to tap into this potential, he extended a warm invitation to EU investors, urging them to consider Cambodia as an ideal production base. By investing in Cambodia, he said companies can leverage their strategic location and gain access to markets in China, Australia, Japan, South Korea, and New Zealand through existing trade agreements.
Moreover, Kith Meng reassured potential investors that the Cambodian government is committed to fulfilling its promises and actively listens to concerns raised by the private sector.
European Trade With Cambodia
Bryan Fornari, Head of Cooperation at the EU Delegation to Cambodia, said the EU is the second largest export market for Cambodia, supporting more than three million people in the Kingdom.
Fornari identified the Everything but Arms (EBA) trade scheme with the EU as a major driver of development for the Cambodian manufacturing sector, including the production of garments, footwear, bicycles and more.
He added that European business involvement in the country has not only led to sustained growth and job-creation, but has also helped promote and enhance local environmental and social standards.
Beyond manufacturing, Fornari said Cambodia also has the potential to be an exporter of green agribusiness products, such as fruits and vegetables, to Europe, however, to do so, Cambodia will need to do more work to meet the EU's quality and safety standards. Cambodia can also apply for the EU's Generalised Scheme of Preferences Plus (GSP+) by demonstrating good governance and high compliance with environmental standards as well as international conventions on human rights.
A New Era Of Economic Development
Tassilo Brinzer, the Chairman of EuroCham Cambodia, remarked that the Kingdom is entering a new era of economic development, in which the country must compete with many other regional economies, such as Vietnam, Thailand, Malaysia, and Singapore, in various areas including investments, jobs, and trade.
At the same time, he stressed that Cambodia has the opportunity to improve economic relations with its neighbours by increasing cross-border interactions.
Brinzer further emphasised that Cambodia has been able to greatly benefit from decades of trade surpluses provided by the EU as a whole, as well as through individual bilateral partnerships with European countries.
EuroCham Cambodia's 2024 White Book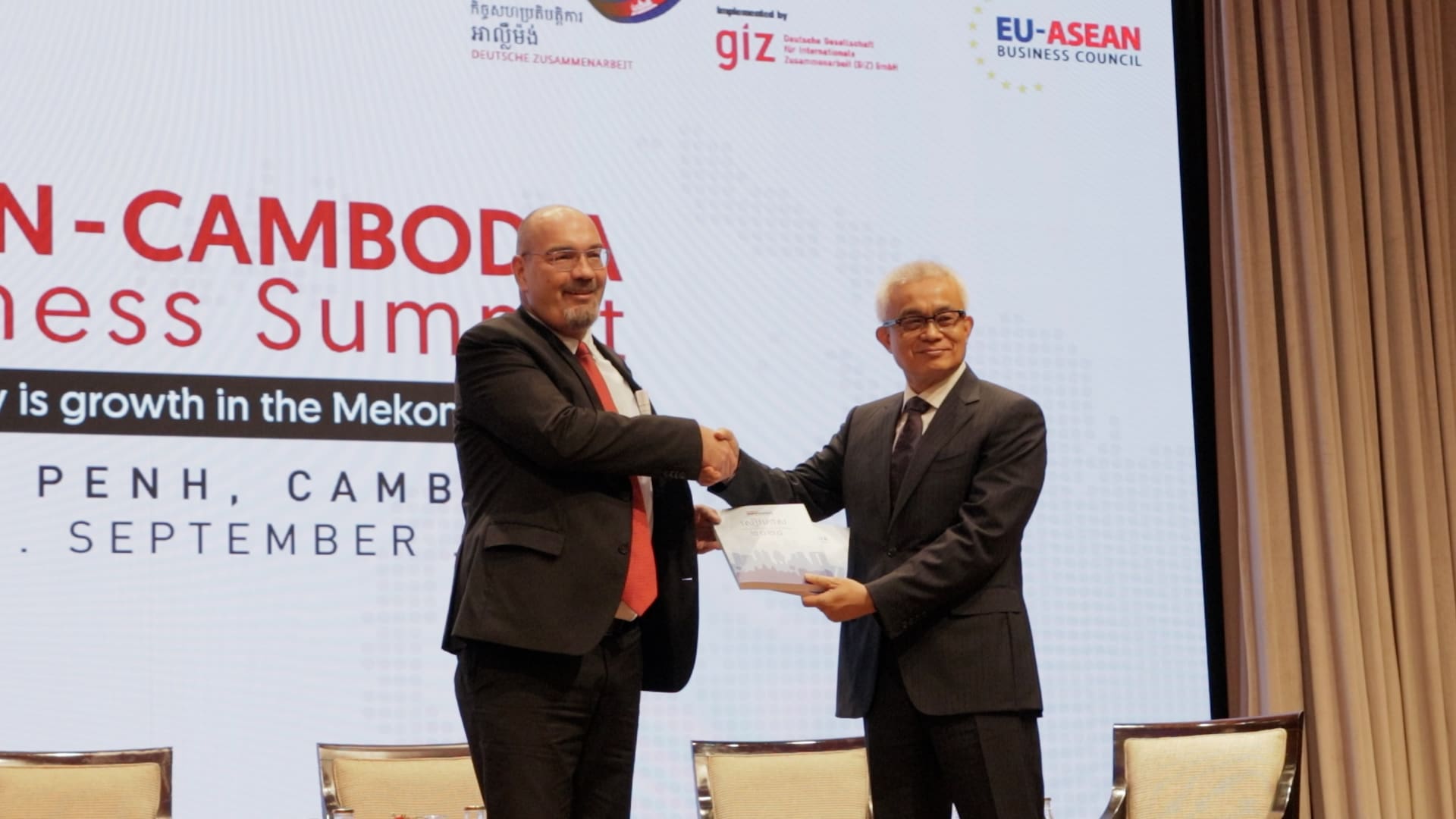 Every few years, EuroCham Cambodia publishes a White Book intended to represent and express the collective view of EuroCham member companies regarding specific aspects of Cambodia's business environment. EuroCham launched the latest edition of this publication, the White Book 2024, on the first day of the ASEAN-Cambodia Business Summit.
Speaking with B2B Cambodia, Martin Brisson, the Executive Director of EuroCham Cambodia, shared that the new White Book has 13 chapters and 78 recommendations contributed by 12 sectoral committees. This includes a chapter on trade policy, which focuses on RCEP, and another chapter on the preparations being made for the adoption of the ASEAN Digital Economy Framework Agreement (DEFA).
Brisson said that the White Book took six months to complete with significant participation from EuroCham's 400 members. The publication aligns with EuroCham's overall goals, which include promoting digital transformation, cross-border payments, data security, and fostering trust in the digital economy.
Another important aspect of the White Book that Brisson highlighted was its focus on sustainability; promoting the wide-scale adoption of rooftop solar, and advocating for stronger regulations under the new Environmental and Natural Resources Code.
The need to create a more liberal business environment and reduce bureaucratic obstacles is also a major focus point of the publication.
"The White Book also pushes for the cutting of red tape, which is what we need to do to enable a more liberal business environment, to enable European companies who are compliant but looking for less regulations to do business in the country," said Brisson.
The recommendations from the White Book are ultimately targeted to the Cambodian government, representing the voice of the European business community in the Kingdom.
EuroCham Advocacy Compass
In addition to the official release of the White Book 2024, EuroCham Cambodia also launched its brand new live Advocacy Compass website, which shares information from the White Book with the public.
Brisson said this new platform gives a live look into new government regulations and the implementation of recommendations, offering greater transparency to the public regarding dialogue with government officials.
"You will be able to see the replies from the Cambodian government on certain recommendations, as well as if there are areas that need to be further developed," said Brisson. "Whether we can move forward with our recommendations, or if there are some difficulties that still need to be addressed, all of this information will be made public."
Read More On The ASEAN-Cambodia Business Summit 2023: