Mr. Martin Brisson, Executive Director of EuroCham, provided an overview of the Cambodia 2023 Business Confidence Survey which was released at the recently held ASEAN-Cambodia Business summit in September.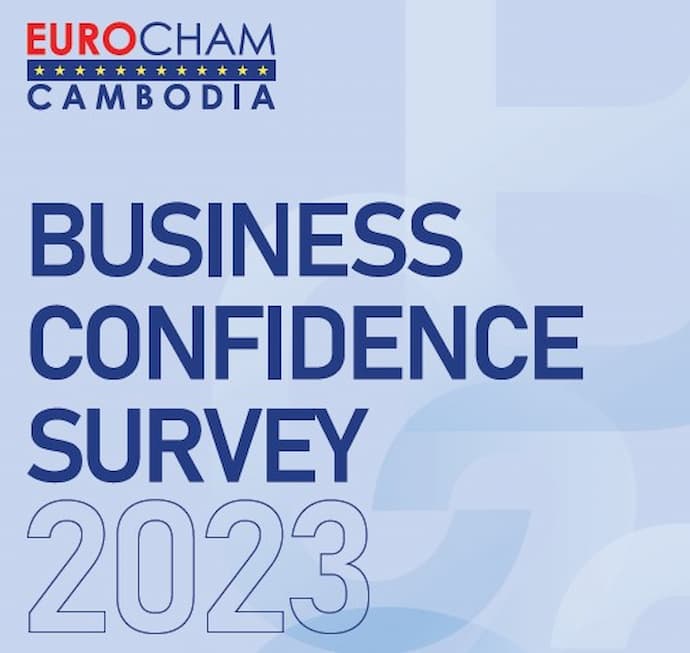 The downloadable EuroCham report sheds light on the optimism and fears of their business members about doing business in the Kingdom.
More than two-thirds (69 per cent) of businesses consider Cambodia to be competitively average compared to other ASEAN countries but 9 per cent feel that Cambodia's competitiveness is still strong (a drop from 2021 when the survey was last held).
Overall, the future outlook is positive with 62 per cent of businesses suggesting they plan to invest further in Cambodia in the next 12 months (marketing & communicators and HR are some of the areas expected to see further growth).
What Are The Positive Sentiments From Businesses In Cambodia
Among the positive sentiments expressed in the survey is the view that profitability is increasing post-pandemic, and there is a shift of businesses wanting to be more socially responsible.
Nearly three-quarters of businesses have met or exceeded their annual profitability goals and some companies are thriving post-pandemic. A third of respondents even signalled that they exceeded their profitability targets in 2023, while some taxation was also seen as a beneficial advantage.
Low-cost labour is becoming less of a focal point as there is also a shift in the types of industries and technical know-how as well as digitalisation of the sectors, so what is increasing is the demand for an upskilled labour force as there is less reliance on labour-intensive industries.
Overall, Cambodia is still viewed as being competitive but this is slightly waning compared to other ASEAN countries and there were mixed views on the ease of doing business in Cambodia.
ESG And CSR In Cambodia
There has been a visible shift towards ESG (Environmental, Social, and Governance) programs in Cambodia, but much like the many CSR initiatives which have been running for years, not all have been impactful and some are seen as PR initiatives.
Among the ESG programmes, greater focus is being paid to societal and environmental issues and strategies (from the government down) indicating that there might be more meaningful strategies that will be more sustainable.
More than 80 per cent of businesses are "currently implementing (48 per cent) or are planning (35 per cent) to implement CSR/ESG programmes and activities in their business."
67% of respondents take measures to reduce waste and recycle along with
turning off lights (65%).
The Business Confidence Survey 2023 states that "consumers are becoming more aware of the environmental and social impacts of businesses and adjusting their preferences accordingly."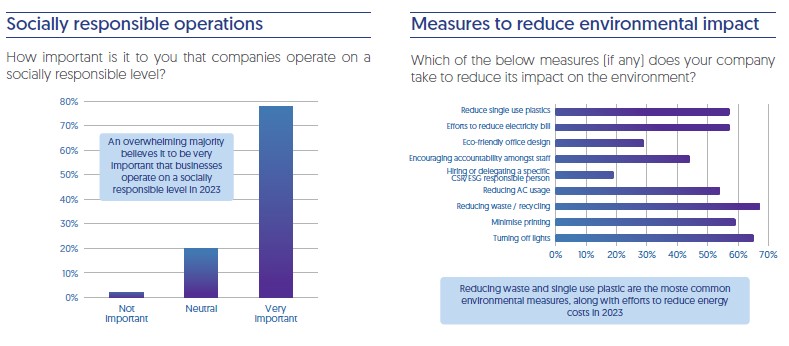 Everything But Arms (EBA) Trade Preferences
The findings from the report suggest that since the withdrawal of the Everything But Arms (EBA) trade preferences more than 3+ years ago, respondents indicated it had mostly no impact on businesses (71 per cent), with just under a quarter indicating it had a negative impact.
The indication from responses showed a growing appreciation of free trade agreements such as the Regional Comprehensive Economic Partnership (RCEP).
Other key aspects such as the Royal Government's policy support, tax breaks and investment incentives, help build a positive impact on businesses' outlook.
What Challenges Are Cambodian Businesses Concerned By
Internationally, inflation and the war in Ukraine still impact Cambodia and one of the key concerns has been the access to finance.
Other areas of concern for businesses in Cambodia are:
Challenges in human resources – the lower skills and educational levels among the Cambodian workforce are a challenge and the need for upskilling for growing sectors.
There is a perceived unfair competition in the market.
Suggestions included the need for greater transparency & simpler bureaucratic processes (31 per cent) and clearer taxation.
One-quarter of respondents asked for easier customs procedures.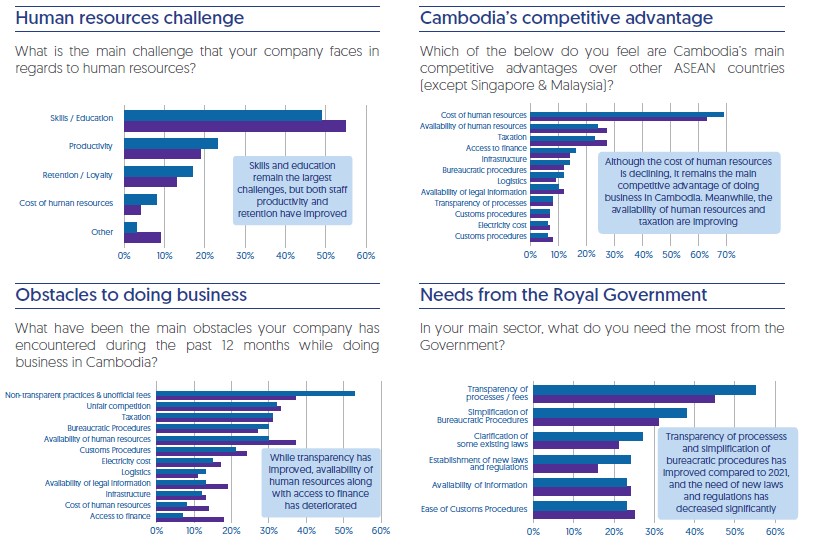 The full Business Confidence Survey 2023 which was conducted from 28 November 2022 to 22 August 2023, is available for download.
Read More About Cambodia Business & Investing News