The Asian Venture Philanthropy Network (AVPN) organised its first Cambodia Impact Roundtable on September 19, 2023 at Raintree in Phnom Penh, gathering together top leaders and players in the local and regional entrepreneurial ecosystem to discuss key topics related to Cambodia's impact investments landscape.
A total of 93 participants attended the roundtable, including investors, entrepreneurs, ecosystem builders and development organisation representatives. As this was AVPN Cambodia's inaugural event in the Kingdom, 31 AVPN members also flew in to attend from overseas.
Watch B2B Cambodia's Interview with Kevin Teo, Chief Operating Officer of AVPN:
"AVPN's mission is to move capital towards impact, and we do this by assembling the largest community of social investors in Asia," explained Kevin Teo, AVPN's Chief Operating Officer (COO), while speaking with B2B Cambodia.
"By social investors we are referring to grant-making foundations, impact investors, and organisations that build capacity for the social impact ecosystem in all these different countries. What we do, essentially, is to have many convenings, bringing the different stakeholders together, to understand how these different members and stakeholders can collaborate and partner more effectively to deliver on social and environmental impact."
Activating Social Impact In Business
The roundtable featured three main sessions divided across short breaks to give participants a chance to network and connect with one another. The first session was an interactive Activation Lab loosely led by Teo, who had flown in from Singapore, and Dini Indrawati Septiani, the AVPN Southeast Asia Regional Director, who had flown in from Indonesia. Participants were encouraged to speak with their peers, share the work that their organisations or businesses were doing, and both provide and receive consultation from one another.
A notable participant speaker during this session was Hok Kang, Founder and Managing Director of Urbanland Asia Investment, Co-Founder of Raintree Development, and Founding Partner of Cambodia's popular Brown Coffee chain. Hok spoke of his entrepreneurial journey, which began with a small dream to build a new library for his high school. He shared that he was not successful in this initial endeavour, however, he eventually found success in other ventures, which ultimately circled back to him building new schools and libraries in Cambodia as his way of giving back to the community.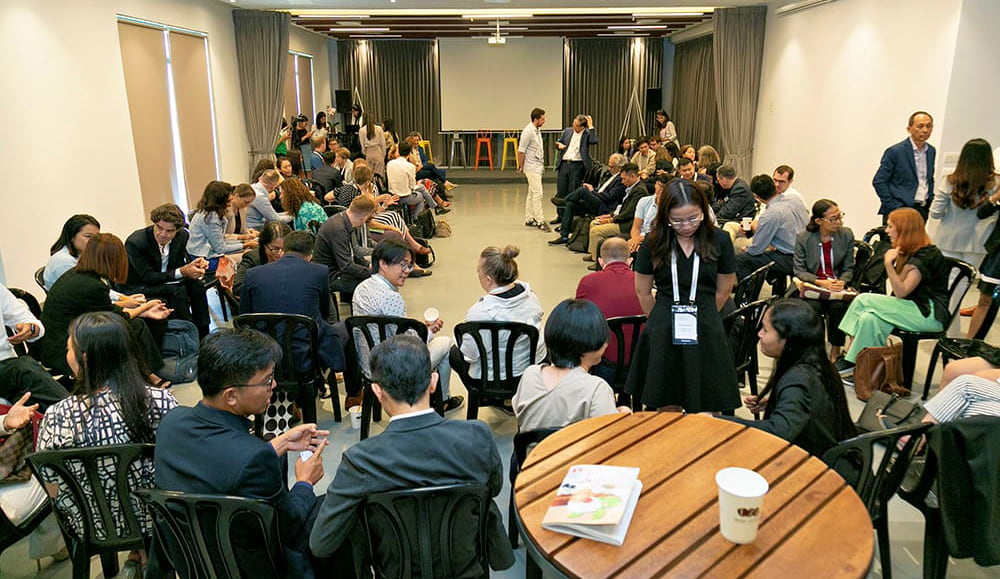 Investing In The Entrepreneurial Ecosystem
The second session was a panel discussion on Cambodia's venture and entrepreneurial ecosystem and support structure, moderated by AVPN Cambodia Advisor, Tommy Boukhris. The panellists each shared their thoughts on the Cambodian entrepreneurial landscape from their perspectives as entrepreneurs, impact investors or development agency funders. 
"From an investor's perspective, what the ecosystem is delivering, let's say, compared to five years ago, is a much stronger pipeline of early stage ventures," said Bradley Kopsick, Cambodia Country Director of Insitor Partners.
"The companies that we see are better trained, they have a firmer grasp of key business concepts, they understand their customer base better, they have stronger financial projections and business plans that they've been able to draw. There's an increase in quantity and quality of companies that we see that come across our desks that are looking for investment." 
Hassan Hajam, the Executive Director of Platform Impact, also noted a positive trend of 'patient capital' that impact investors are bringing to Cambodia, particularly to companies doing business in complicated areas addressing pressing social, environmental or poverty-related issues.
"They are trying to serve very marginalised communities, they are trying to do business where there is limited infrastructure, so we need a patient form of capital to give the time for these companies to grow and to reach financial sustainability," said Hajam.
Making An Impact As An Entrepreneur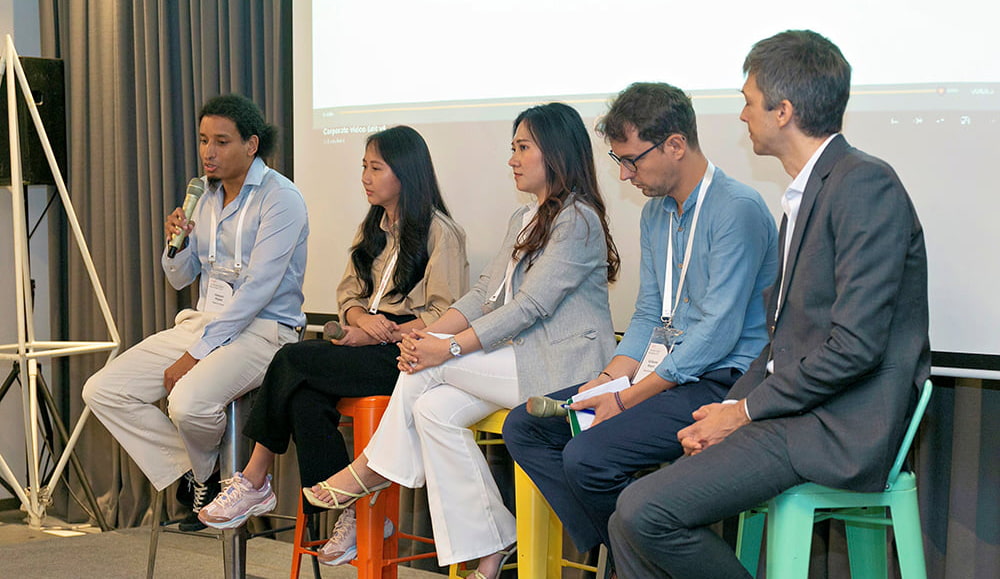 In a forum where 'impact' is seen as a central outcome of the entrepreneurial process, there was much discussion on how impact is approached differently by key stakeholders. Daneth Reasmey, CEO and Co-Founder of Tenbox, a Cambodian startup operating an online wholesale grocery platform for retail stores, drew attention to the limited types of funding available specifically to small businesses, and how expectations of impact from investors do not always align with the work entrepreneurs are doing on the ground. 
"If you talk to every startup, not [just] in Cambodia but everywhere, and you ask them, 'why did you start this business?', I think 99 per cent of the answers would be: I saw this issue or, I, myself experienced this issue [that] this group of people [are going through], and that's why I built something to help them," said Daneth. "We are not starting a business [while thinking of the] 'impact' [we can have], or if this 'impact' is part of our organisation,… or what indicators [we should meet]…"
"the impact that we want to [have] is why we started the business. It's not the 'core part' of our business, it's not our 'CSR', it's the reason why we do it."
Watch the highlights from the AVPN Cambodia Impact Roundtable 2023:
Gender Lens Investing
The third and final session of the roundtable was a panel discussion on Scaling Impact for Women Micro, Small and Medium Enterprises (MSMEs), moderated by Ian Jones, the Executive Director of Mekong Inclusive Ventures. The panel discussed how integrating gender considerations in investment decisions can drive positive social change, foster inclusive economies, and unlock new opportunities for sustainable financial growth.
Speaking on some of the challenges that come with gender lens investing, Keisha Gani, the Acting Country Manager of SHE Investments, highlighted the difficulty of navigating a fairly top-down investment chain and meeting the particular expectations of funders.
"…it's this line of the entrepreneur to us, to other partners, and then going higher and higher up the food chain trying to figure out what is the best thing for the entrepreneur," said Gani. "As an intermediary, that's where we can lend our prowess, our voice to entrepreneurs.… At the end of the day if we put the women entrepreneurs first, we won't face so many of these challenges."
Thinking Past Monetary Investments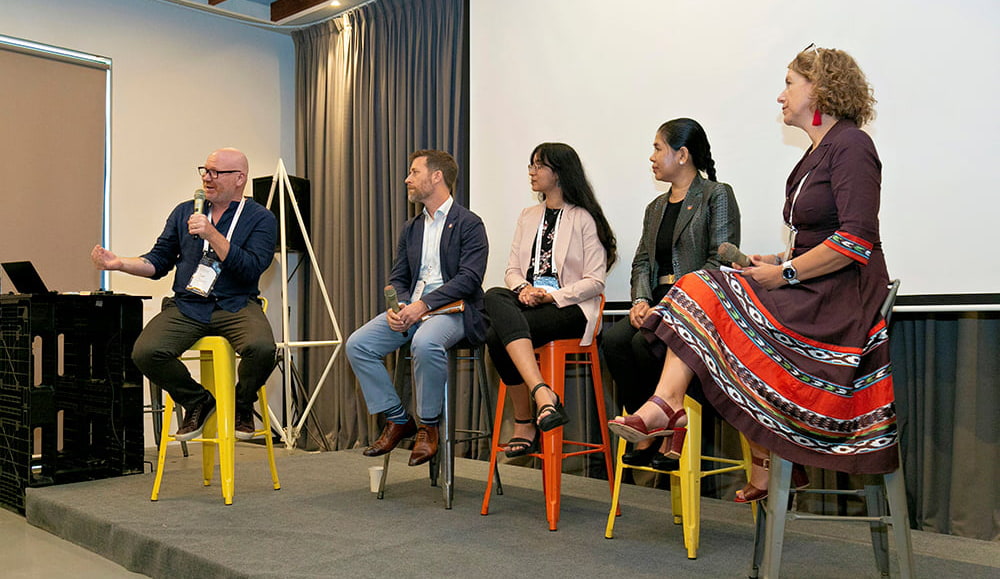 Supporting entrepreneurs does not only entail providing much-needed finance or capital, there is also a great demand for capacity building and knowledge-gain, as well as a crucial need for an enabling business environment. This is particularly true for women-led MSMEs, who face many barriers that go past a monetary level.  
Sopheap Chen, the Founder and Managing Director of Keiy Tambanh Khmer (KTK) Enterprise, made an appeal to all roundtable participants, especially those in leading positions to invest and establish support programmes, to not forget about the need for broader system-level change.
"…if you would like to help Cambodia, especially women who own micro, small and medium businesses, please do not think only in terms of capital or money," said Sopheap. "Think about how you can help them, like [forming] a good system to build their capacity. [Fostering] gender equality among families, [between] husband and wife – [think about] how they can collaborate together to grow their business. This is the main point [I would like to raise]."
Future Of Entrepreneurship In Cambodia
Overall, the roundtable established a shared positive consensus among participants about the future of Cambodia's entrepreneurial ecosystem.
"I'm, personally, really positive about the opportunities ahead for the country," said Teo. "Given the population and… government leadership, I think these two factors are quite substantial in terms of how they can impact the future direction. [They], in fact, constitute a very strong enabling environment for many ideas that can take root in this country, to grow in terms of their engagement, and then to scale for broader regional growth." 
Sabine Joukes, Chief of Party of the Women Entrepreneurs Act (WE Act) project under Pact, also spoke of the many positive changes she has been able to witness over the past five years of working in Cambodia.
"There is so much more interest, focus and investment in the ecosystem [today], it is incredible what it is able to do," she said. "Have faith in the ecosystem, it is really growing. There are a lot of very enthusiastic, passionate people who really believe in the power of this ecosystem."
The AVPN Cambodia Impact Roundtable 2023 was organised in partnership with Khmer Enterprise, Give A Day and Swisscontact.
Read More On Entrepreneurship In Cambodia: