As the Kingdom tries to catch and capitalise on the Industry 4.0 movement, we look at some of the local companies engaged in robotics and the opportunities that are arising.
Feature Image Credit: AI FARM Robotics Factory
Cambodia and Industry 4.0
Cambodia officials have openly been urging a move to Industry 4.0 since 2018, with the aiming of prioritising the adoption of new technologies in manufacturing and encouraging investment in sectors that are undergoing rapid technological innovation.
In reality, in terms of embracing and developing technologies such as artificial intelligence, robotics, virtual reality, blockchain technology and 3D printing there has not been wide-scale adoption but companies are starting to make inroads in the Kingdom.
In the field of robotics, university-run competitions have been held in Cambodia but relatively little industry adoption has been seen.
The Southeast Asian industry and service robot market is expected to witness a CAGR of 10.7% between 2021-2026 with the adoption of robots (industrial as well as service robots) increasing in Southeast Asian countries – suggested the Mordor Intelligence report on SEA Industrial and Service robots.
According to the International Federation of Robotics (IFR) estimate, the sales of robots in the region is expected to grow between 20% and 25%.
AZ Group
AZ Group announced it had signed a robotics and technology deal with Thailand-based firm TKK Corp to launch a new business unit of Hi-Tech Robotic Systems itwas announced on October 16 2022. The partnership also sees the launch of an integrated platform comprising Service Robot, Industrial Robot and Cira Core Technology.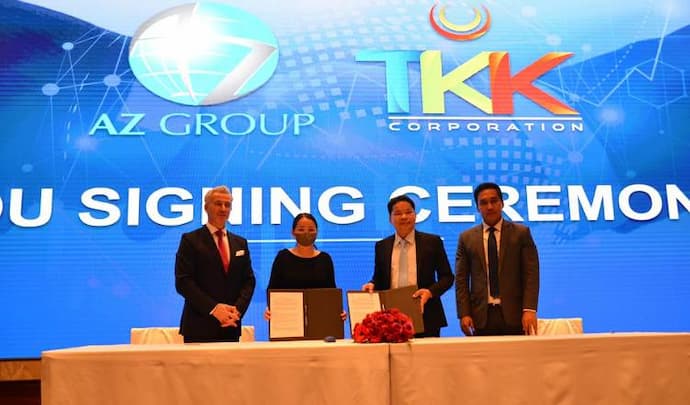 The Phnom Penh Post reported that AZ Group president and chairman Lim Bunsour said: "In order to transform Cambodia's manufacturing sector to become internationally competent with modern technology and solutions, the latest signing [of a memorandum of understanding] between AZ Group and TKK Corporation is now ready to come together to change the face of industrial and service sectors.
They plan to offer industrial solution technology that can be used in all types of industrial production and service sectors.
Although the actual tech was not expanded upon (and there is no information on the company website – and no active social platforms for AZ Group), Khoy Dara, personal assistant to the Chairman of AZ Group told Khmer Times: "The new technology will make factories and hotel owners smoother, reduce operating costs and make it easier to operate."
AZ Group has a wide array of business interests ranging from tech, equity investment, infrastructure, real estate, energy, finance, e-commerce and telecoms.
AI_Farm Robotics
The Cambodian company AI_Farm Robotics says it has a specific mission "Transform Cambodia to be a robotic Nation" and claims to be Cambodia's first robotics factory.
The firm recently announced it had been accepted into the "Angkor 500 of 500 Global program with the purpose to prepare ourselves to expand and scale our business to the international market, and also bring more investment capital to grow the company bigger and larger in the region."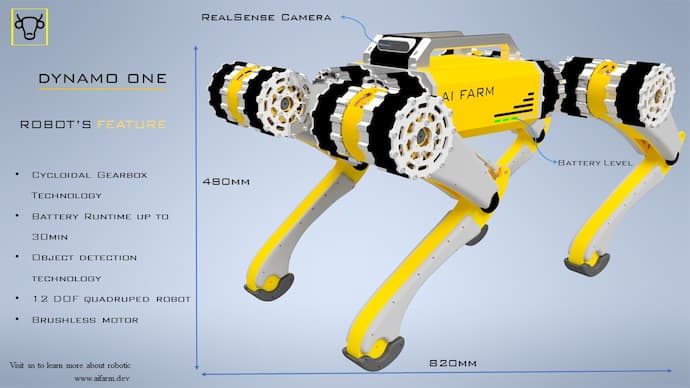 The firm says they have already invested more than one million USD into building the robotics and automation ecosystem and they claim to have '20 products for the market."
Their social media pages show they are already developing robotic dogs, the ones made famous by the TV show Black Mirror, and the US firm Boston Dynamics. The product called Dynamo One is set to release at some point in the near future.
Other products and prototypes also plan to be used in logistics, environmental and other target sectors. The team has even been building an educational curriculum with product prototypes for basic science, technology, engineering, art and mathematics classes for secondary and high schools in Cambodia.
In addition, they launched the dreamsLAB project – a blockchain ecosystem community building in Cambodia which has core goals including:
Boot camping
Hackathon
Incubating and investing services with $1M investment capital.
The company plans to "Tokenise intellectual property rights of every industrial patent around the world."
Confluences and ECAM LaSalle launched the first sustainable Manufacturing Engineering curriculum in Cambodia with the partnership targeting manufacturing 4.0 and will include the Institut de Technologie du Cambodge (ITC – the leading engineering University in Cambodia).