CBRE Cambodia held an online seminar to launch its report on the Kingdom's Q1 2023 Market Insights in April 2023.
Inflation and interest rate hikes remain two of the main economic headwinds, in what is shaping up to be a tricky financial year globally but Q1 still saw a range of properties added to the capital's portfolio, while tourism is showing positive signs spurred by major events being hosted in 2023.
Property & Retail Indicators – Cambodia Q1 2023
Some of the key Cambodian economic pillars are seeing resistance too with the volume of construction low and expected to persist in 2023.
Three major commercial and office buildings were completed in Q1 2023; these include Samaky Tower, Chip Mong Tower, and Prince International Plaza. In total more than 200,000 sqm is expected to be added this year for commercial property, and interestingly 40% of the total supply by the end of 2023 will have a Strata title.
For retail property, CBRE anticipates 119.000 sqm will be added in 2023, and the south of the capital remains a hotbed for retail and mall developments.
Five condo properties were completed in Q1 2023 adding a total of 1,300 units. By the end of the quarter, nearly 4,000 more condo units were expected to have been added to the condo supply, and 5,600 more will be added by the end of the year.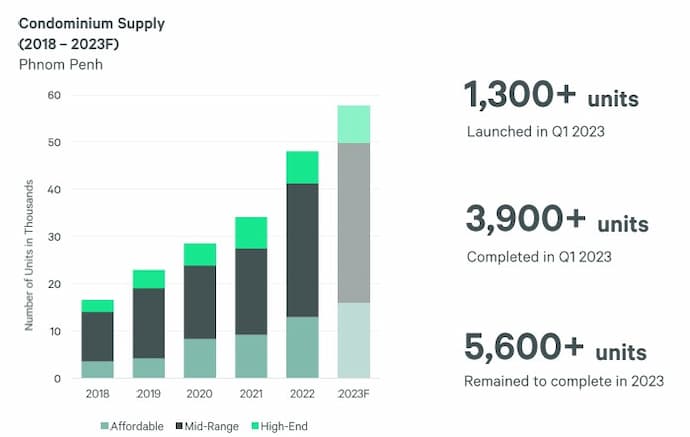 Among landed properties such as boreys, Q1 2023 saw four new property launches and sevens completions, with a staggering 60+ projects expected to be added in 2023. Developers are offering longer payment terms and extended handover time on landed properties.
Among the Cambodian residential property market, CBRE suggests that tightening financial conditions and slowing sales and demand mean developers are offering discounts and favourable payment terms.
High-end Condo Sales Price – $2,609 p/sqm
Average Shophouse Sales Price – $1,002 p/sqm
Office Occupancy (centrally-owned) – 72.7 per cent
Retail Occupancy – 70.2 % per cent
Prime Retail Mall Rents – $30.1 sqm/month
Tourism – Cambodia Q1 2023
Tourism has seen a favourable rebound thus far with international and domestic tourism on the rise says CBRE.
In total, 1500+ keys are expected to be added to the capital in 2023, and four new hotels were added to Phnom Penh in Q1 2023, these include Fairfield by Marriott, Capri by Fraser, Sun & Moon Riverside, Ibis Budget Phnom Penh Riverside. The signs are for 11 per cent year-on-year growth compared to 2022.
Average Hotel Price (Daily Rate) – $128 p/room/night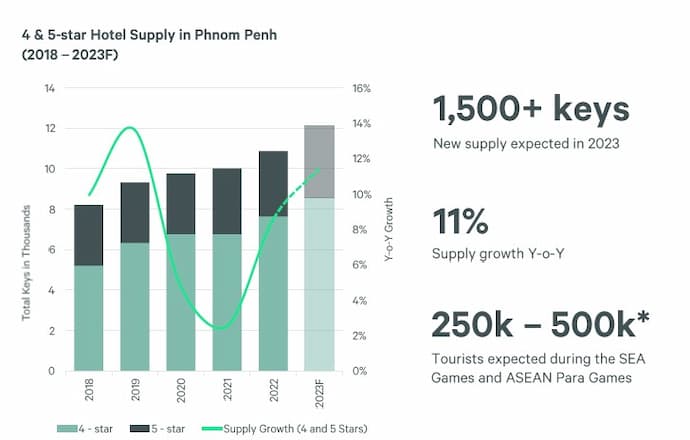 CBRE suggests that the SEA Games (5-17 May 2023) and ASEAN Para Games (3-9 June 2023) are expected to attract 250-500K tourists but we are not sure if this includes the travelling athletes.
Even though the SEA Games are free to attend for Cambodians and foreigners living in the Kingdom, the announcements and final schedule have been announced very late for a major sporting event, which we think will reduce the number of visitors that potentially could visit.
CBRE Cambodia speakers, CBRE Managing Director Mr Lawrence Lennon, Deputy Managing Director  Mrs. Kinkesa Kim and Senior Manager for Valuation & Advisory Services Ms. Daluch Chin, AssocRICS, shared their insights on the impact and changes of the real estate market in Cambodia in Q1 of 2023.

​
You can download the CBRE Cambodia Release Q1 2023 Market Insights Report here.