At the recently held Chinese Chamber of Commerce – Cambodia Chapter networking event, B2B Cambodia spoke with CCCA founder Dr Raymond Choi to hear about how they are promoting Cambodia to international investment.
The Chinese Chamber of Commerce Cambodia Chapter opened an office in the Flatiron building in the capital of Phnom Penh in 2022 and the organisation is registered in Hong Kong as an NGO.
The CCCA holds regular networking events with members and other associations said their President, Dr Choi. "This event is held with the Belt and Road Initiative to promote the "One Belt One Road" initiative."
"We help advise investors on understanding Cambodia to incorporate their company and do business here. There is also demand from Cambodia to expand to other countries such as in Southeast Asia and to Hong Kong China," he added.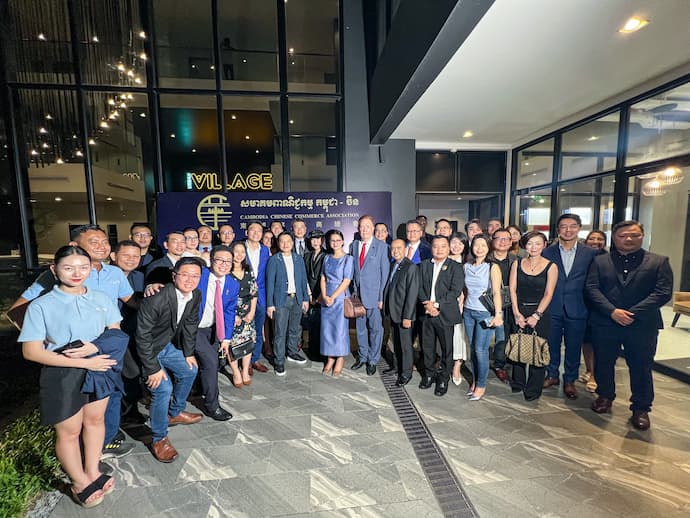 On opportunities, he feels that the greatest opportunities are for investors looking for high-potential growth counties and that Cambodia is a great choice. "Cambodia offers high capital growth and investment yield. We help to arrange investment tours and people are surprised at how far Cambodia has grown. In 2023, now that everything is fully open, we plan to activate foreign investors to visit and explore the opportunities here."
Dr Ben Li, Chairman of Urban Village said that CCCA assists and supports foreigners in the Kingdom as they look for investment opportunities, adding that "Cambodia is a good place for investment, a magical place."
Cambodia 2023 Economic Outlook
The World Bank projects that Cambodia's economic growth will rank third among other ASEAN countries, with a forecasted rate of 5.2% for 2023.
The Asian Development Bank (ADB) has said that Cambodia's GDP growth is expected at 5.5 per cent in 2023 and 6.0% in 2024.
Cambodia is ranked tied 2nd with Vietnam for regional GDP growth according to the International Monetary Fund (IMF) – they have projected 5.8 per cent growth in 2023.
Yahoo Finance indicates that Cambodia is the 14th Fastest Developing Country in 2023 with an expected GDP growth of 5.8%.
Chea Chanto, governor of the National Bank of Cambodia has set a 6 per cent target for 2023.