We recently sat down with Soreasmey Ke Bin, who is the founder and CEO of Confluences, as well as the Chairman of the French Cambodian Chamber of Commerce. 
Soreasmey moved his business to the Aquation Office Park in 2021 and has overseen an evolution of Confluences after facing challenges in the pandemic, but also undertaking a strategic internal review to improve the branding and structure of Confluences.
We found out more about the changes, the positivity in the local and regional market, and discussed the launch of the new corporate website.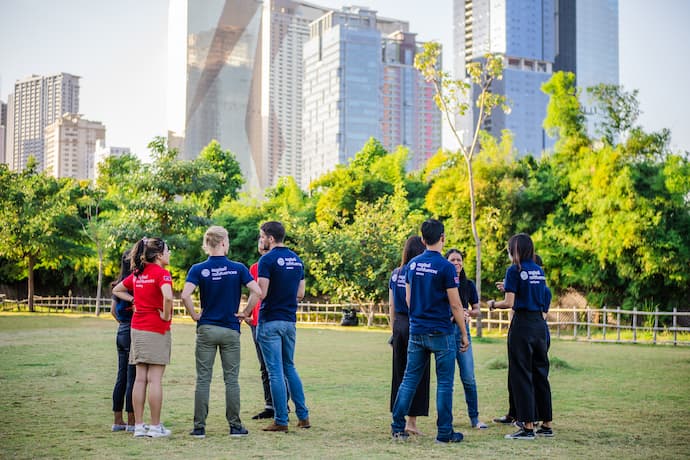 The move to Aquation Office Park
Can you tell us about your office move to Aquation Office Park and why you moved? How have you found the transition from being in busy BKK1?
We moved to Aquation Office Park on the 1st January 2021, just in the middle of COVID. Many people have told me that we were smart to make the investment and make the move at the time. But it was also a bold and daring change for us. 
We didn't really have a choice as we were forced to move out of our previous office in BKK1, which happens quite often in Cambodia, but we had been established there for some years.
At first, the team and I were quite worried about the situation, the office move and COVID. We spent a lot of time looking at office locations in Phnom Penh, at new office towers, and similar offices to what we had previously. I happened to meet the team leading the changes at Aquation at the time. 
They told me about their project so I came to visit with my team. It was not an easy decision at the time to make the move as the place was still a concept and barely under construction. We went for it though and we were among the first to move in. 
In hindsight, I can say it's the best decision I have made for Confluences. We are all very happy, but at the time it was a leap of faith as there wasn't much in the area. I wouldn't change and go back to the centre of the city though!
How would you explain the community hub and vibe that's formed there?
Our business model at Confluences means we are a business community already, but now we are a community within a business community which is cool. To be honest, we could and should have more interaction with the others in Aquation Office Park but that will come.
We used to have startups and freelancers based with us before at our old office. I would say the facilities we had then (in BKK), were ok but we have grown and have bigger companies on board now. It wasn't possible for us to host them previously but the facilities here are at a higher standard.
We made a giant leap from 200 square meters to 650 square meters and have as many as ten private offices with two meeting rooms.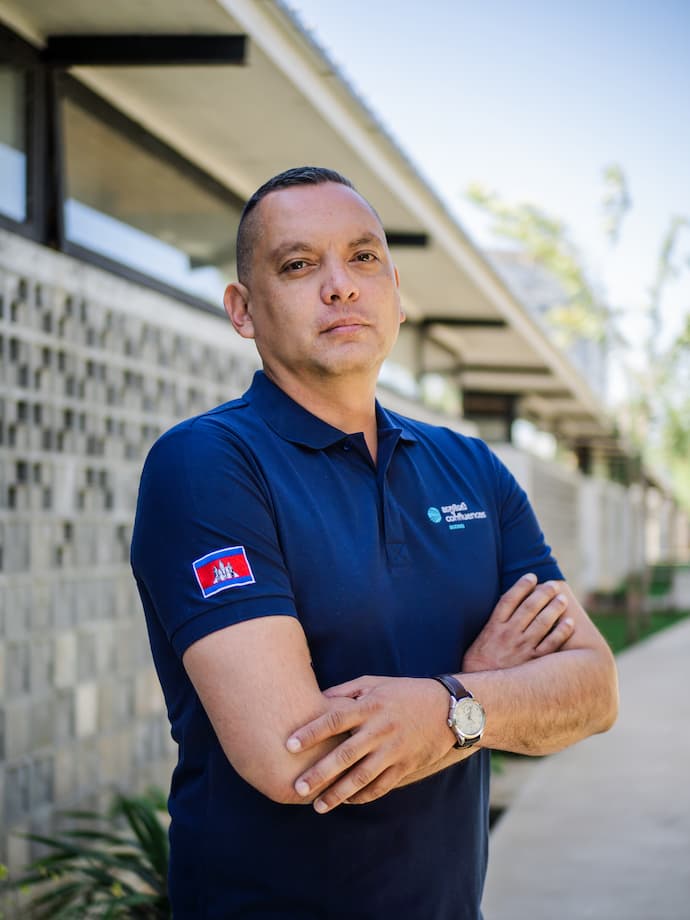 The evolution of Confluences
The reputation of Confluences previously has been of hosting smaller startups and a mix of some established companies and those in the tech space. Do you now have a bigger team and a more diverse range of companies?
There was always a misconception about us. The first one was the name, as we initially were called Confluences Incubator. And we wanted to fill the space at our offices so we offered free deskspace and office space to freelancers and startups – but we were always working with bigger companies too.
We will still continue to work with startups and hope to get more on board, but we work with much bigger corporations here too.
Our team now numbers around 18-19 staff, whereas we previously had seven employees. The quality of the team overall is also better – we take fresh graduates and we are a company that people want to work with. The big challenge is to make sure we are a company that staff want to stay with. We can be seen as a stepping stone and that is challenging.
Staff retention in Cambodia
This challenge of staff retention comes up often with business managers and directors in Cambodia. How are you able to find and keep good staff?
We are getting better at finding good staff – we are more well-known now and the brand is out there – we are active on LinkedIn and social media which helps. For the technical staff, it can be more of a challenge. 
It's not as hard to get people on board. To get them to stay with us, that is a good question. Some do leave as they get better-paid opportunities, but we are already competitive with salaries. I would say the younger generation of Cambodia also have a different mindset; they stay for maybe two years and move like a nomad between roles. 
The positive aspect is that many young graduates and professionals join us to gain invaluable experience, and then leave to join their family business or start their own business. I think this is something I am quietly proud and happy about. 
It's challenging, but we do offer the best conditions and atmosphere. I don't agree with what I've heard some people say – that Cambodian staff leave for a smaller amount of improved salary.
It's more a matter of family pressure, or they want to be an entrepreneur, which I can understand.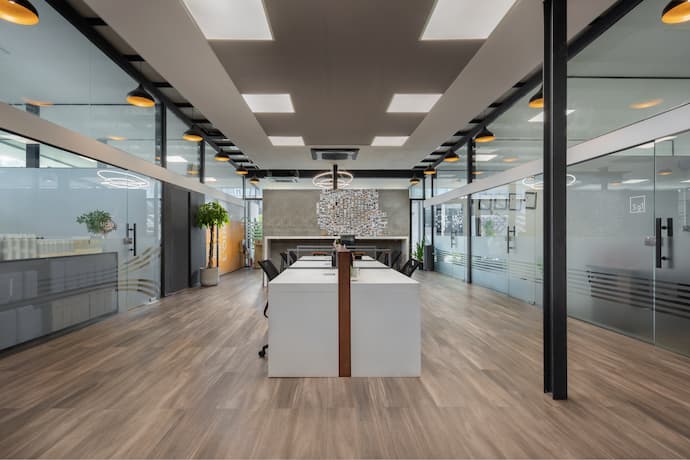 What projects are Confluences working on?
Can you tell us about the range of projects you are working on? Another misconception is that you only work with French companies?
We did a study (a snapshot) in 2021, and only 30% of the companies working with us are French. Maybe another 30% have a French connection (like a French manager) but that means 40% of the companies we work with are not French.
Most of our management are French-Cambodian and we have strong links to the French business community for sure.
But we have just signed on to do a project with the British Embassy, and we work with American partners, Chinese, Indonesian and Singaporeans. So it's a great mix of companies.
The Confluences CEO was also officially appointed as an OSCI delegate for the APAC zone in late 2021. OSCI is a federation of private companies dedicated to the international development of companies. This means he joined the board of directors of this federation which has a presence in 130 countries.
And Confluences has been restructured into four departments to better handle the variety of work. What was the decision behind that?
Only one department really changed, while the other three were already organised as they are now – but we didn't know how to present them externally. 
It was an issue for us before when people asked us what we do, it was hard to explain. Sometimes we just host companies, and sometimes we were distributors and we would get confused with the brands, or confused with the companies we were hosting. Sometimes we help companies enter the market. 
So we had to spend a lot of time building up our strategy and the way in which we present the four Departments; 
For the Ventures Department, potentially we find investors and financial partners but this is very motivating. We try to find projects we think will have an impact on the Cambodian market; to bring something new.
This might be developing a startup – we are not that technical – but we are good at seeing the opportunities and matching with local and regional partners,
We have been running Confluences for six years now, and I have been doing business here for 15 years. We made mistakes in the past and had some missteps which we are trying to avoid. We have learned a lot and have a clear idea of what to do and not to do.
Upcoming Projects – Confluences
Those learned mistakes in a rapidly changing environment such as in Cambodia are invaluable. How confident are you that we are seeing the back of the pandemic – maybe highlight some projects you are working on?
I would say I am very confident because I believe the Cambodian government did a great job with business management and managing public health. 
Over the past two months In 2022, we have hosted partners, clients, or suppliers nearly every two weeks from overseas. When I speak to others in Thailand or Vietnam it's not the same situation.
I do believe that when people come to Cambodia now they will see a difference. Somehow, Cambodia has always been seen as a hard sell. It's a smaller country, there is still a misconception about the history.
So it's up to everyone to try to show the business world that this country is open, there is a huge potential as we are based in the ASEAN market. 
It's not the same country anymore – like it was 15 years ago. You can't come to Cambodia with a few thousand dollars and start something. The local ecosystem is quite strong and you really do need to bring something new to be successful.
You may need to partner with locals to fast track things or work with us. I do believe this crisis can be a catalyst for the country.
Immersive Angkor
We have the Immersive Angkor Project which we have been talking about for some time. We have some big meetings with the Cambodian government at the end of March 2022 and that should secure land etc. 
it's the type of project we want. It won't drastically change the tourism scene but it will help people better understand the Khmer civilisation and history, and allow guests to really enjoy one hour in a very modern setup.
Confluences – Yangon Waterbus
We are discussing with Myanmar-based Yangon Waterbus a transport project – the idea is on how to better use the Mekong and Bassac Rivers for transportation. 
This has been ongoing for 7-8 months now and we are meeting this week. (Editor's note – they confirmed that the partnership has been confirmed and signed after our interview – see photo below).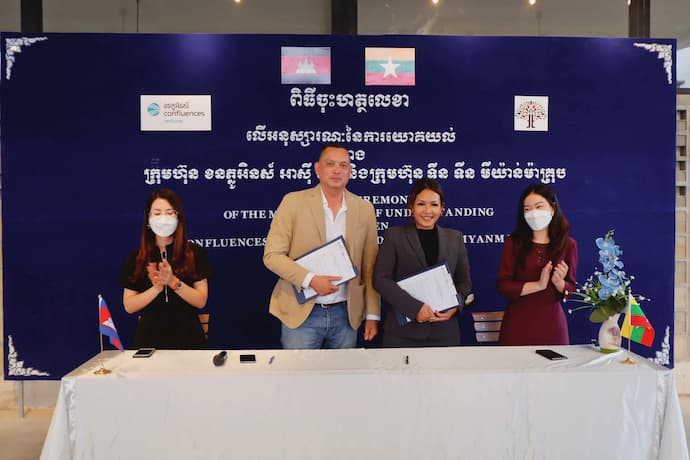 Agritech in Cambodia 
The other project involves edible insect production. This project works on sustainable protein agritech (we can't mention the potential partner name at this point). We have the authorisation to be the agent on this and it has a lot of potential as there is a tradition here of eating insects in the Kingdom – we hope to partner on this soon.
Entertainment Parks
Finally, we are talking to the leading French entertainment parks company which has the potential to expand throughout the region (Asia). 
Great Mekong Subregion
One of our strategic development plans is also to focus on the GMS (Great Mekong Subregion) business development. This means helping companies from the Mekong to enter the Cambodian market, but also helping Cambodian or Cambodia-based companies to enter the neighbouring markets.
Soreasmey is a Thai Institute of Directors (IOD) member – see more about his profile here.
New Confluences website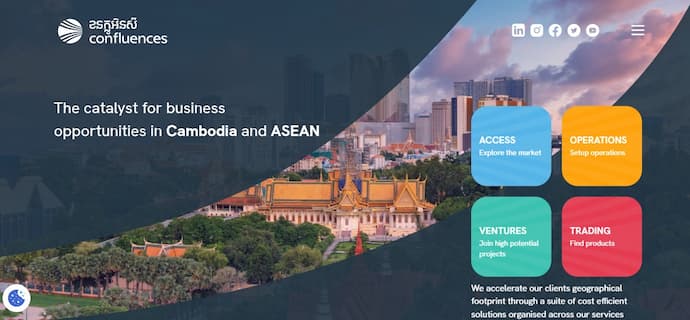 Finally, please tell us the new website Confluences has launched in March 2022.
Around nine months ago we hired a strategy firm to help with branding, and their survey found that most of the suppliers, partners, clients, and employees indicated that no one really knew what we were doing – except maybe me! (he says laughing).
This was scary and interesting. The idea of the strategic change and website was to better explain to everyone who we are and what we do, and for our team to be ambassadors and have a clear understanding of what we were about. 
We took our time and first we strategised, decided on branding, and the website. For two years I didn't clearly communicate the website with anyone as it wasn't quite what I wanted it to be, but the final product now – I don't think we could have done better. It really matches what we are doing very well.
We have been active on social media and getting trained to be more professional on how to effectively use it. Our messaging is more clear and we put in place some good strategies and it has been successful.
Now we can proudly use the site to close the deals and it can be a landing point for overseas-based companies that want to work with us.
We would like to thank Soreasmey for his time to conduct this interview. All photos supplied by Confluences.