We met with Karl Diederich, the General Manager of the Aquation Office Park – located in the (very much changed) Koh Pich in Phnom Penh. The area is unrecognisable for those who have lived in the rapidly developing capital,  and especially for those who may have been abroad over the past two years.
So what has spurred on the changes and with the succession of developments, which includes Coconut Park and its children-friendly facilities and F&B outlets, DIB Club, and there is the office park at Aquation with its leased businesses operating at Treellion Park. So, what does Aquation Office Park intend to be?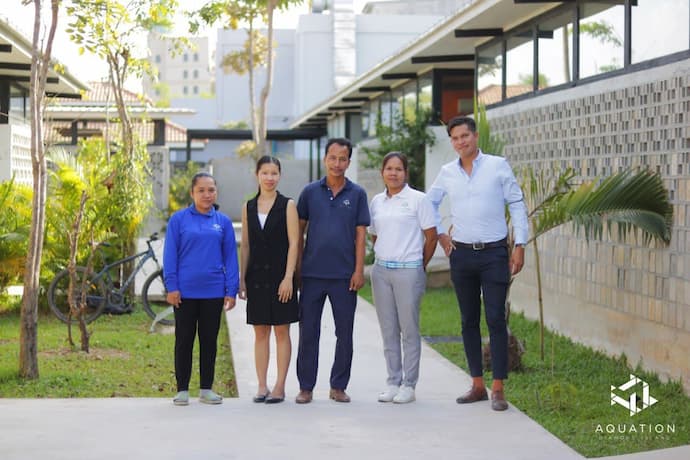 The Changes at Koh Pich – Phnom Penh
Koh Pich (Diamond Island) for a long period of time has been an enigma in Phnom Penh; the area is built on reclaimed land and until 2000 was mainly a swamp. Over the past two decades it has been developed but prior to the pandemic, was known for its exhibition centre, the Canadian International School of Phnom Penh, family-friendly entertainment areas, and affordable dining outlets along the edges of the island. 
The area was maybe best immortalised in the award-winning David Chou film, Diamond Island, a 2016 co-production between Cambodia, France, Germany, Thailand and Qatar.
The new retail and office developments in recent years also introduced fancier apartments, as well as the bemusing French-themed quarter and Elysee structure. Outdoor cinema screenings and concerts, artificial football pitches and dishevelled parks were also previous features of Koh Pich.
Aquation Office Park
Karl arrived in Cambodia five years ago and has a strong background in hospitality, and worked in Siem Reap before making the move to the capital. For nine months Karl has been working at Aquation Office Park in his capacity as GM and overseeing a rapid expansion and pivoting of the project which is backed by shareholders such as the MAADS Group.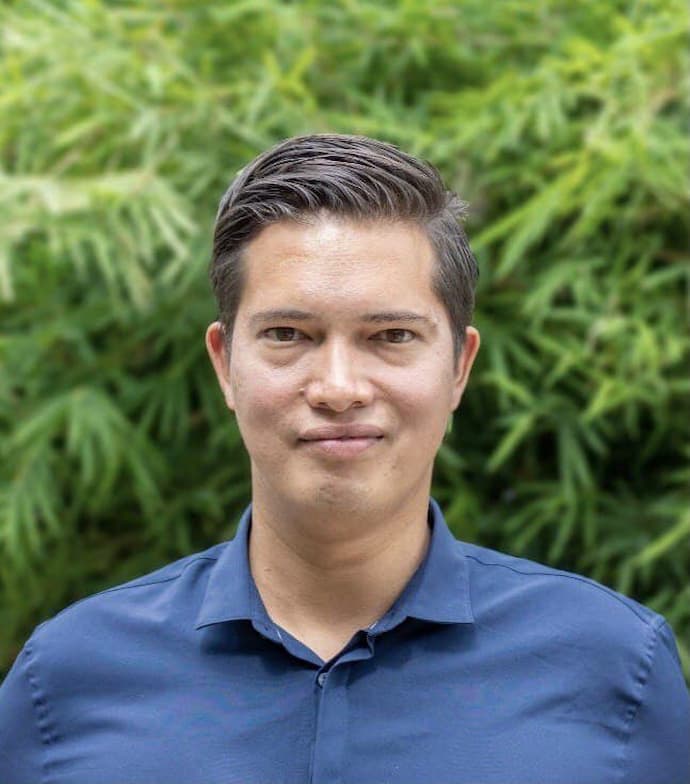 What is the goal of Aquation Office Park?
Karl: Aquation Office Park was the natural addition to the DIB Club, which opened back in 2017. This is an ongoing expanding project which covers about 5 hectares on Koh Pich. 
The idea of Aquation was to provide office space, but benefitting from large public areas and green space. The core concept is that on the land we use, 50% is greenery and 50% is office space (there are around 13,000 square meters) and 98% is ground floor-only office space.
What we offer is quite a contrast to the big office towers that are in Phnom Penh. We figured that after the recent years of coping with the COVID pandemic, people would want to be seeking more interaction with each other and develop business partnerships with those surrounding them. 
Aquation is the perfect layout for this interaction – you are not just engaging in an elevator in an office building for 10-20 seconds – you are able to really communicate with each other and stop for a coffee at the Aquation Cafe – and meet everyone else that is working onsite at Aquation Office Park.
We now have around 80 companies that choose Aquation Office Park as their home, and these vary from small startups with 1-3 people, to large businesses or international companies that have a branch here in Cambodia. So it's a very versatile environment with around 700 people working here every day.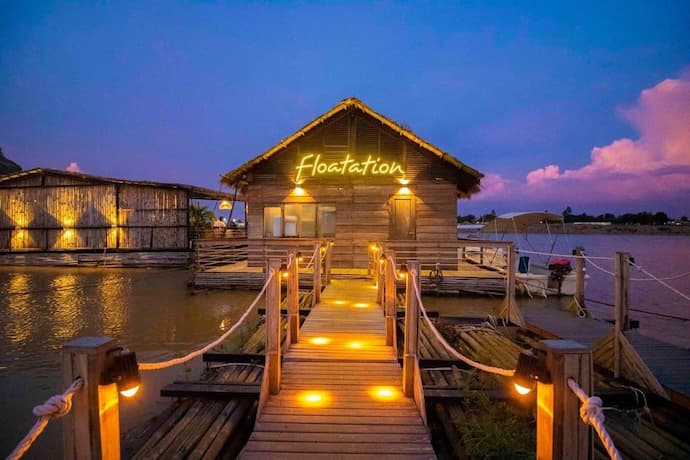 This has become the main core of the area. Of course, there is Coconut Park, DIB Club, Treellion Park and Floatation, and everything has been built surrounding Aquation and benefits those working here.
The on-site companies work as a community and we want everyone to benefit from special discounts at DIB, Floatation, The Bus, the retail shops etc. and they have access to the DIB pool when they want!
Aquation Office Park Design Space
Karl: Offices at Aquation are provided with a raw space, but clients can design their offices to suit their needs. The space comes with polished cement floors and air-conditioners and is well lit. The businesses can add the additional flooring, additional walls – it's very flexible.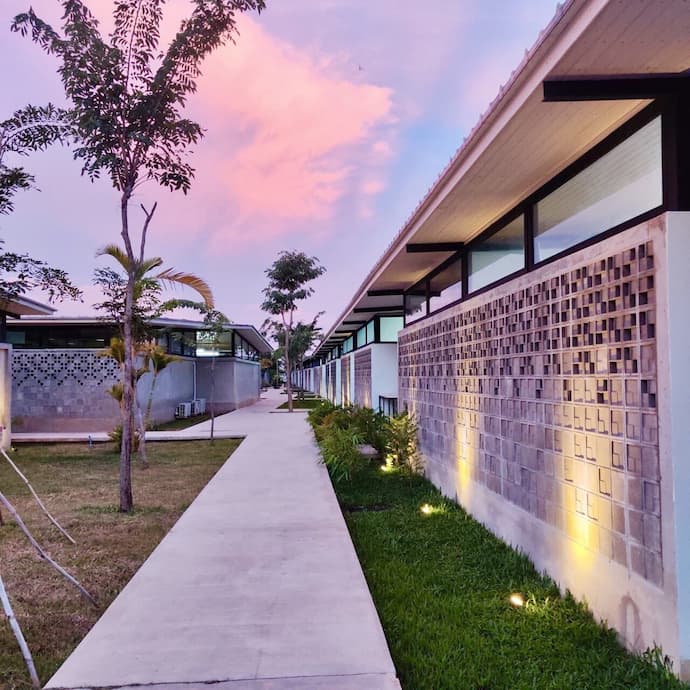 The Sustainable and Environmental Consideration
Aquation Office Park as a concept goes against the big high-rise office buildings trending in the city, where did the idea come from?
Karl:  The idea for the greenery and large public spaces was to ensure better health. When you are working in air-conditioned offices in the city, stuck in a small confined space with all that extra energy consumption and extra heat caused by the urban environment – we wanted to offer natural ventilation (although AC is available).
We get wind from the rivers and it's far less hot here than in BKK1 (Boeng Keng Kang) for example. This difference seriously impacts people's health and there are studies that support this with reliable data. 
This is not as well-known in Cambodia, and we didn't want to have 5-6 big towers which could have meant as many people – instead they come to a sustainable place offering the potential for better health and greenspace.
Other projects in the city have built up spaces and a community but they have the threat hanging over them of their space being demolished for more tower blocks. How long term is the Aquation Office Park project?
Karl: This is a long-term project; the DIB club is well established and the Mekong Bungalows – Floatation is here to stay even though it was initially meant to be a resort. So we extended the grounds to cover Treellion Park from March 2021 and we are developing that area too.
I am thankful to be working with Alexis de Suremain, our shareholders, OCIC (Overseas Cambodia Investment Corporation) and the local authorities to ensure that we build something sustainable and long term.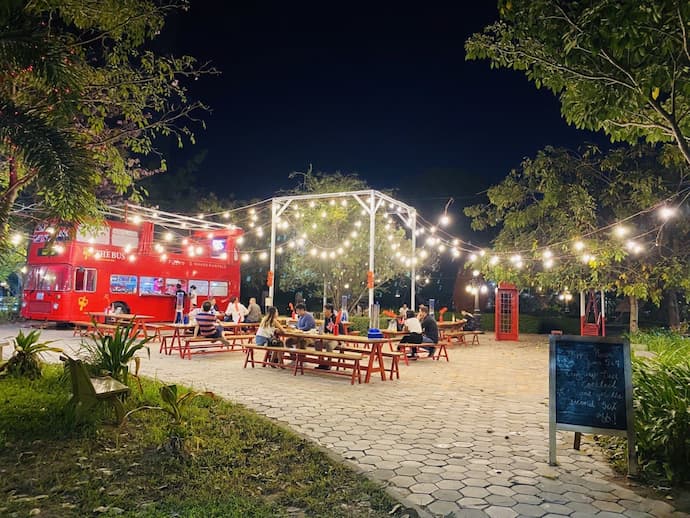 Businesses at Aquation Office Park
All of the businesses in Treellion Park lease their space from us and we ensure an overall view and that there is no direct competition between each of the tenants.
The Glasshouse for example is a food concept restaurant that offers healthy and nutritious food and meals and hosts events such as dance and sala. The Glasshouse also delivers to the offices at Aquation Office Park.

Birdies is a unique activity in Phnom Penh and the only mini golf in the city which covers 2480 square meters – so it's not small. 

The Bus just opened and is revamped concept to what it was on Bassac Lane and will offer fish and chips, variety of beers and drinks. (A music video was recently shot on location).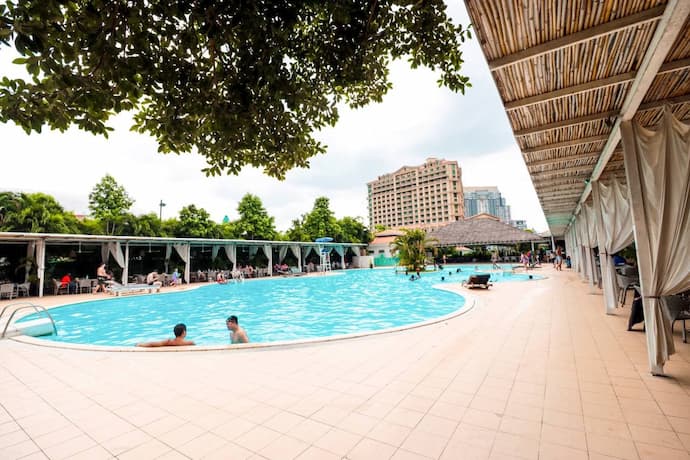 We are also building more kiosk food outlets and they will have their own unique particular type of food. It's developing as a food court with many activities – which is the goal.
We want to have a destination for people to come and discover Koh Pich and continue to work with all the businesses at Aquation Office PArk.
List of companies at Aquation Office Park:
With all these activities and new developments how positive are you about the future in Cambodia?
We believe this is the right time – Birdies opened in December 2021 and The Bus in February 2022, Aquation Golf in mid-February 2022 and we have a new Greenery fashion concept store that may be opening at the end of March 2022. 
Menaka just opened too so it's the right time to build a microcosm of a destination in Phnom Penh that will attract more people, businesses, tourists and investors interested in Cambodia.
If you want to contact Aquation Office Park, please use the following: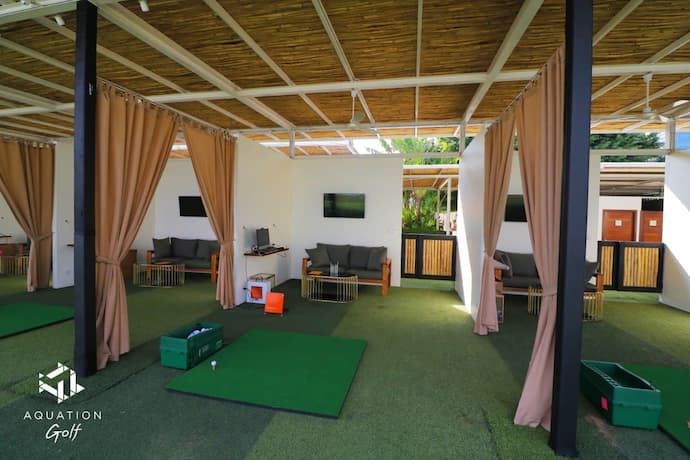 We would like to thank Karl for his time in speaking with us. All of the photos were supplied. We will publish more articles from other businesses in the area coming soon.