Cambodia has seen an explosion of new food delivery, grocery delivery apps and websites enter the market since 2018. We look at the best selection of food delivery apps in the Kingdom of Cambodia.
Although online (web-portal) food delivery services have been in operation since the early 2010s in cities like Phnom Penh, the rise in food delivery apps has seen more cities included and the ease of which to order has improved drastically, as well as the means by which to pay.
All of the apps or websites usually require you to register and create a profile. This allows for easier (safe) storage of personal information, payment methods and delivery addresses when ordering. In addition, apps are generally always available on Google Play (Android) and Apple (iOS).
Each food delivery app and website also has its own delivery fee which depends on the distance for the delivery. Keep an eye out for promotions and deals which may include free delivery or discounts of food, drink and grocery items.
It is also worth mentioning that although many restaurants can be found across a number of the services listed below, there is also a trend for some restaurants to introduce their own delivery service and online payment options, as more Cambodian companies embrace digital technology and have websites in addition to social media channels.
Updated June 2020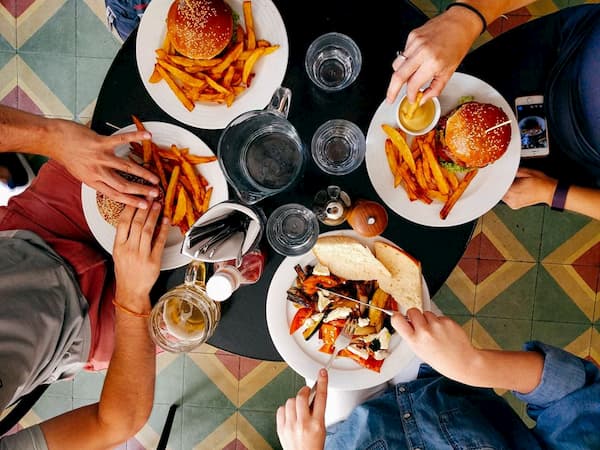 Food Delivery Apps Cambodia 
We look at some of the best food delivery services in Cambodia. These tend to be exclusive to the major cities like Phnom Penh, Kampot, Kep, Siem Reap etc.
For expats and business owners who have been operating in Cambodia since 2015 and longer, the app-based meal-delivery boom has made the ease of ordering food in 2020 endlessly easier. There are far fewer communication issues, much quicker deliveries, live tracking of the delivery, easier payment options and transparency in orders.
Cambodia is also ripe for these business models due to the high internet penetration and mobile phone usage.
Meal Temple
Meal Temple started in Cambodia in 2013 as a food delivery service via printed books, then a website and a mobile app. In 2018, Meal Temple raised a "six-figure figure" from private Australian and European investors and has since moved into the Kingdom of Bhutan, Laos and Myanmar. In 2019, they claim to be collectively making 10,000 monthly deliveries in Phnom Penh, Siem Reap and Sihanoukville.
Foodpanda
The international food delivery app Foodpanda entered the Cambodian market in 2019 and promises to offer a fast and convenient food delivery service. The app is slowly building a bigger selection of outlets to choose from. In 2020 they offer payments by cash or by debit/credit card and not through the many digital payment options some of the other popular apps do offer. This may well change over time. They do offer a live chat feature if there are any issues, however.
In March 2020, Foodpanda said it would start offering its services in Siem Reap in addition to Phnom Penh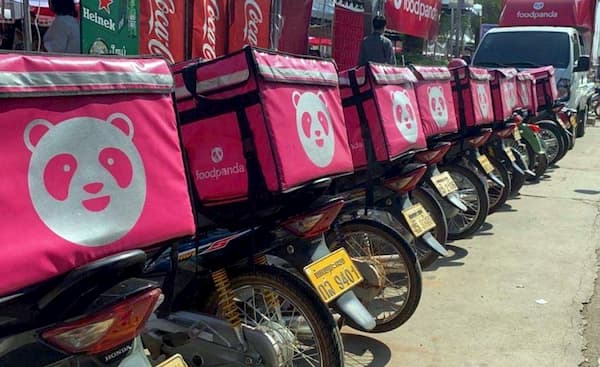 Nham24
Nham24 is self-claimed as "Cambodia's first super app". The app allows users to order food, drink and grocery deliveries from a huge ranger of outlets. There are also easy digital payment options or you can pay in cash. In 2018, Smart Axiata Digital Innovation Fund (SADIF) acquired a minority stake in Nham24. The app saw some big updates in 2019-2020 and is available in both Khmer and Engish languages.
The app also allows for in-app orders of flowers, from online shops, retail stores and express package deliveries (via a tuk-tuk or motorbike). The deliveries can be tracked live within the app. Users in Phnom Penh and Siem Reap can make use of Nham24.
E-GetS
E-GetS is a food and drinks delivery service platform founded in Cambodia in 2018. Customers can order deliveries through the E-GetS e-commerce app with a good selection of digital payment options or by cash on delivery. E-GetS also allows for live tracking of the delivery through the app. In addition, they have a selection of supermarkets, and phone top-up options through the mobile app. They offer a range of Khmer, English and Chinese options.
Muuve
Muuve is a food ordering and delivery service platform which was founded in 2018 by Cambodian entrepreneurs Panh Phanith (Muuve's CEO) and Chhoun Vathanak (Head of Business Development).
Customers can use Muuve app to order food or drinks and the app allow for the live tracking of the delivery driver to the final destination.
In 2020 Muuve signed partnerships with OOCTANE, a Cambodian venture capital firm.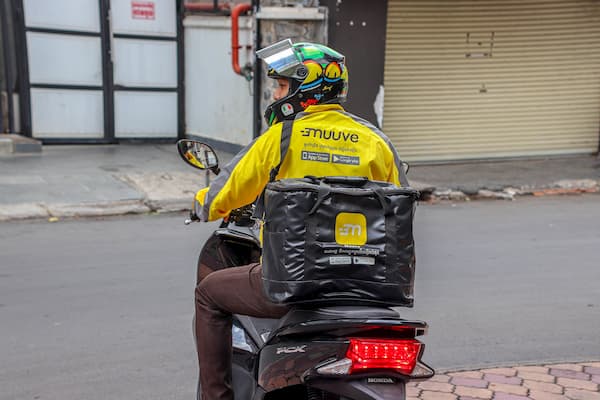 Your PhnomPenh
Phnom Penh's longest-running online food and beverage ordering service, Your PhnomPenh has been in operation since 2011. They also introduced YPP Express for mobile apps with cash, card and online payments. The web version also has a live chat feature.
Tuk Out
Tuk Out is a food delivery app service available in Kampot, Sihanoukville and Siem Reap and it has been in operation in Cambodia since 2016. They offer a wide range of digital and cash payment options via their TukOut mobile app and website.
BLOC
This Cambodian enterprise started in 2018 and although it also not exclusive to food deliveries, BLOC offers home deliveries and they say "We are not just a food delivery company, but we push beyond that by bringing your daily consumers goods to your door through our accessible app, and our hotline number." The app and services seem to be predominantly in Khmer.
Phnom Penh Grocery Delivery Apps
There are also now a handful of grocery delivery apps in Cambodia, all operating in Phnom Penh. They offer huge selections from delis, bakeries, supermarkets and more. Most of the services are available 7 days a week and the available services are via a website and mobile app.
Grocer Delivery Asia
Operating since 2017, Grocer Delivery Asia is an online supermarket in Phnom Penh with express & next day delivery. They also offer some discounts & promotions on online grocery shopping with free delivery on orders over $40. Customers can shop online for fresh groceries and household essentials with over 7 000 products available from more than 30 vendors.
The payment options include credit card or cash on delivery and shoppers can use the website or the app. Grocer Delivery Asia is from the same company as Meal Temple.
Delishop.Asia
Delishop.Asia offers a wide range of groceries from a number of retailers. By 2020 they claim to offer more than 9000 products in a wide range of categories via their website. Deliveries can be made at specific time requests and there is a minimum order of $10, and payment must be made in cash, in USD or Riels. Delishop.Asia delivers to all district in Phnom-Penh.
In 2019, OBOR Capital, leading venture capital fund, announced that it has closed an early-stage equity fundraising deal with Delishop.Asia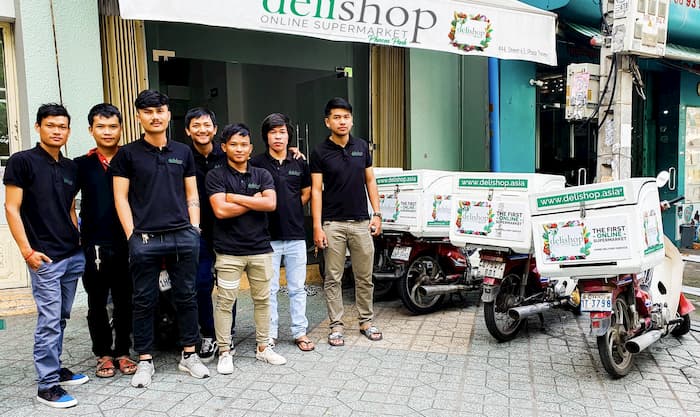 Grocerdel
Grocerdel launched in late 2019, and they say their Grocerdel mobile app "provides delivery of farm-fresh produce, locally made products, and wholesale goods right to the doorstep of customers at the time they choose." The company also says they use sustainable products and deliveries to make use of plastic-free and reusable packaging.
They are proud to be a female-led company and promote local Cambodia products, primarily "focusing our vendor-sourcing efforts towards local manufacturers."
They also deliver in the greater Phnom Penh area.
GrabMart
Grab announced the expansion of GrabMart into eight Southeast Asian countries, with Cambodia being the latest addition in late May 2020. Users can access the GrabMart through their Grab app, and use it to arrange for deliveries from some grocery service retails stores in the Kingdom. These include Kiwi Mart, Thai Huot, Ucare Pharmacy and some specialist stores.
Retail Home Delivery
Cambodia AEON Online
The Japanse brand is behind the two biggest malls in Cambodia (both in Phnom Penh, with a third on the way) and they have a limited grocery retail store presence. You can use their AEON Online website to order groceries online and have it delivered.
There are four simple steps and customers can choose to pay in cash or use their Visa or Mastercard online. Importantly there are four language options on the e-commerce site: Khmer, English, Japanese and Chinese.
Chip Mong Supermarkets
The expanding Chip Mong enterprise includes supermarkets and malls in Cambodia. Shoppers can complete their grocery shopping online from Chip Mong Supermarkets using the BLOC and NHAM24 delivery apps in the capital of Phnom Penh.
Prepared meal plan delivery service in Cambodia
There has been a spiked increase of independently home-cooked meal plan delivery services also operating in Cambodia, especially since 2019. These companies offer a selection of ready-meals, prepped and delivered to a customers home or place of work.
Customers can choose from a preprepared menu selection and how many meals a week they want to order. The meals often tend to be promoting a healthy lifestyle. These delivery services don't necessarily have apps or a website but are setup most commonly via a Facebook page or even use one of the apps mentioned above.
These include: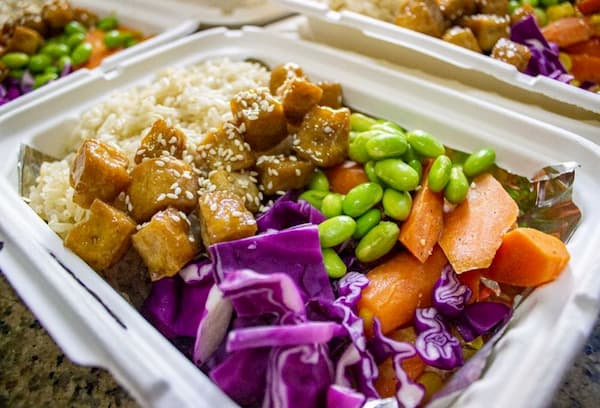 Homestyle baked goods
Although there was already a huge variety of bakers and cake speciality shops in the major cities in Cambodia, during COVID-19, a number of home bakers started offering the services which could be delivered too. The selection includes a huge variety of bread, cakes and customised orders for special occasions with payments often made possible using banking apps.
Some of the more popular choices in Phnom Penh include:
Popular digital payment methods in Cambodia
Since 2019, more digital payment options are available for in-app purchases in Cambodia. Notably:
Cash deliveries in USD or the Khmer Riel are of course still an option for all payments as well. PayPal does currently not officially operate in Cambodia.
Impact of Coronavirus (COVID-19) 
In 2020, the Coronavirus (COVID-19) outbreak has seen a surge in these apps being used as restrictions come into play in Cambodia and social distancing becomes more standardised to minimise the impact of the outbreak.
By the middle of March 2020, restaurants and bars could still operate freely but more have taken the decision to offer self-delivery or have signed up to the food delivery apps. This has also lead to delays in the deliveries and busier peak periods. Cambodia-Eats is providing updates on all the restaurants and venues that are offering their own deliveries.