The recently released Financial Stability Report 2021, from the National Bank of Cambodia (NBC), shows that Foreign Direct Investment (FDI) into Cambodia in 2021 was valued at $3.5 billion, a decline of 3.9 per cent year-on-year, while the economy is expected to grow by 5 per cent in 2022.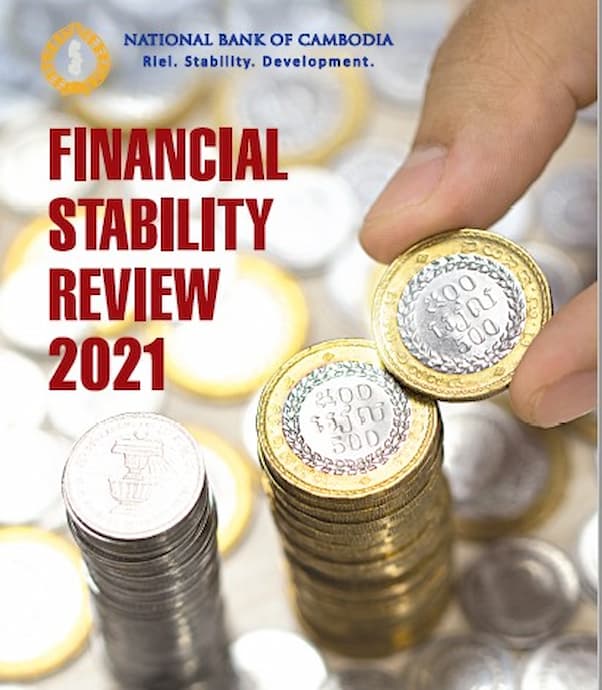 Cambodia GDP 2022
The NBC believes the GDP in 2022 will benefit from exports of agricultural products, transport, telecommunications and improved investment flows and remittances from overseas workers reported the Khmer Times, while the Regional Comprehensive Economic Partnership (RCEP) agreement, bilateral free trade agreements and the introduction of new investment law will also help boost the economy.
The manufacturing sector in Cambodia saw a recovery while exports of garments rose by 15.4 per cent in 2021, and exports of non-garment items (excluding gold)grew by 42 pe recent such as bicycles, electrical parts and agricultural products.
The Cambodian construction sector saw a slight recovery in 2021, with 1.1 per cent growth, the same increase was seen in the agricultural sector.
The key tourism sector was under severe pressure in 2021 (no surprise there), however, there has been some recovery since restrictions were lifted in November 2021.
Looking ahead, the Cambodian government has forecast that the economy will grow by 6.6 per cent in 2023.
What Are the Challenges to Cambodia's growth in 2022?
The report outlined the key conditions which could hamper economic growth in 2022, which are mostly the same ones all economic markets are facing
Russia-Ukraine war despite the Kingdom's limited macroeconomic exposure to the Russia-Ukraine region, the ongoing impacts on the global economy, particularly to the European Union which is one of Cambodia's main export destinations.
China's economic slowdown due to its strict COVID-19 strategy impacts Chinese investments and imported materials from Cambodia.
Global financial conditions caused by inflation may affect the flow of capital into emerging and developing countries.
The threat of the emergence of new COVID variants has a spillover effect on the Cambodian economy through a decline in remittances, tourism, investments and export channels.
Climate change still poses a significant risk to agricultural production, and Cambodia is vulnerable to extreme weather events.

Cambodia FDI 2021 – Sectors winners and losers
The report indicated that FDI into the financial sector decreased by 3 per cent while FDI into the non-financial sector declined by 4.4. per cent.
Other sectors which saw big drops of Foreign Direct Investment in the Kingdom during a year hard-hit by the COVID pandemic were:
Accommodations FDI was down 43 per cent
Agriculture FDI was down 22.3 per cent
Telecoms FDI was down 11.1 per cent.
The sector in Cambodia which saw an increase in FDI in 2021 were:
Manufacturing FDI increased by 21.1 per cent
Construction FDI increased by 1.1 per cent
Hydropower and energy sector increased by x 2.6 times
You can read more about the breakdown of FDI investors in Cambodia in this report from April 2022.
Where did Cambodia's FDI Come From in 2021?
China accounted for nearly 50 per cent of the total foreign direct investments into Cambodia in 2021 with the financial, construction, real estate and accommodations, and manufacturing sectors the biggest beneficiaries.
China accounted for 50 per cent FDI
Singapore accounted for 8.3 per cent FDI
The Republic of Korea accounted for 8.1 per cent FDI
Japan accounted for 5.9 per cent FDI
Thailand accounted for4.4 per cent FDI
Malaysia accounted for 3.8 per cent FDI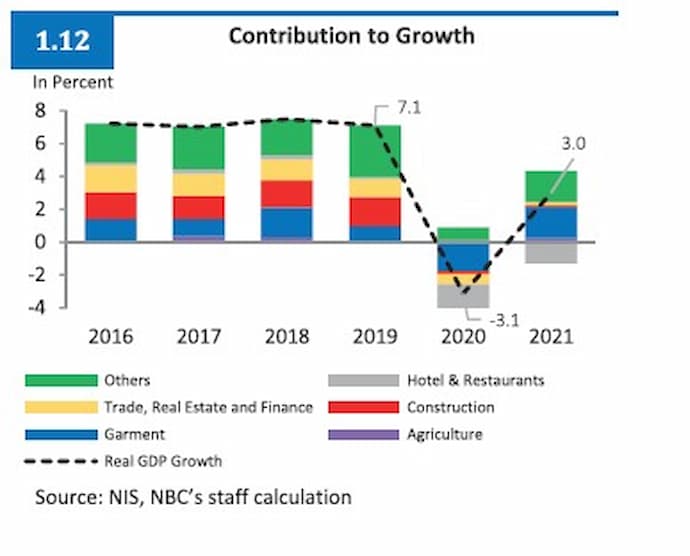 Cambodia FDI 2022 & 2023
A statement from the Cambodian government on June 21, 2022, as reported by the Khmer Times, suggests that the foreign direct investment for 2022 and 2023 will "recover around 12 per cent and 11.6 per cent of Gross Domestic Product (GDP) respectively.
Other key Cambodian industry projections by the government for 2023 include:
Agriculture is projected to rise by 1.1 per cent with increased demand and improvement in animal raising, plantation and fisheries while mixed and agro-industrial commodities are expected to rise.
Industry is expected to grow 9.2 per cent in 2023 due to improved external demand. The garment sector is expected to grow by 8.1 per cent due to expected increased demand in the US, EU and the region.
Construction is forecast to grow by 7.2 per cent in 2023 buoyed by the rising inflow of FDI for construction. Low-and medium-price housing development demand is expected to improve, and condominiums and apartments are expected to grow amid domestic investments. Real estate is expected to rise by 5.2 per cent in 2023.
The service sector is forecast to recover gradually by 6.6 per cent in 2023 – hotels and restaurants are expected to see increased business
Transportation and communications to see increased business in 2023.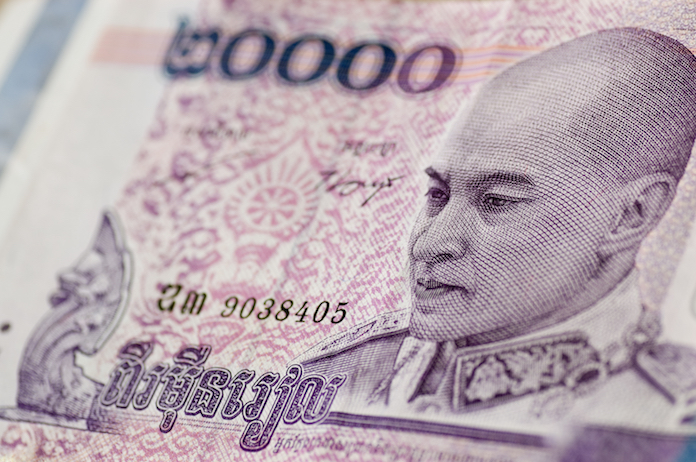 Cambodia Banking Sector & Dollarisation
The NBC reported that during 2021, the assets and deposits of the banking system increased by 18 per cent and 17.7 per cent, respectively. In addition, loans increased by 23.5 per cent (which is no surprise if people and businesses were struggling financially during the pandemic.)
The NBC assistant governor and Director-General Chea Serey said "the asset quality remained healthy and liquidity levels well above the regulatory requirement. At the same time, banks and MFIs continued to comfortably meet NBC's capital adequacy benchmark. Moreover, in line with the NBC's policy, banks and MFIs were able to restructure loans worth KHR 20 trillion to 310, 7746 accounts since the outbreak of COVID-19."
NBC had also embarked on a campaign to promote the use of riel (KHR), however, the level of dollarisation in Cambodia was over 80%. Deposits with banks also remained in USD, accounting for 91.4% of total deposits in 2021, while the share of riel deposits, did rise from 6.1 per cent in 2018 to around 9% in 2021.