The latest report from the International Schools Database which has compared the costs of international schools in 2022 to 2020 reveals that the Cambodian capital of Phnom Penh is the second cheapest city across Asia for international schools.
Feature Photo Credit: ISPP
The report assesses both regional and global costs of international schools, and we have previously published their findings in 2021 and in 2020.
International Schools Database – 2022 Report Key Findings
The comparable findings were started in 2019, and the latest analysis compares price data from 24 cities in 13 Asian countries.
The report concluded that the majority of Asian cities have median prices of under USD$15,000 per year, making it relatively affordable (excluding China) compared to other regions across the globe.
China again is the most expensive country in Asia for international schools, and the top four most expensive cities are; Beijing, Shanghai, Shenzhen, and Guangzhou (a repeat of last year's findings – and median prices have increased in all four Chinese cities. Prices range from above USD $10,000 to almost $40,000 per year.
Across Asia, Malaysia and Thailand were among the least expensive countries in Asia for international schools, with 7 of the 10 least expensive cities located in the two Southeast Asian countries.
Phnom Penh was 2021's least expensive city in Asia for international schools and in 2022 is the second least expensive. The latest results indicate that the median prices for international schools in the capital of Cambodia are USD $4,908, with highs of USD $20,340 per annum.
Some of the key points coming out of the research in 2022 are:
The Malaysian city of Ipoh – Perak was the least expensive destination in Asia when it comes to international school costs at a median price of USD $2,632 per year – the lowest globally too.
Phnom Penh is the 2nd cheapest city in Asia for international schools in 2022.
China was the most expensive country in Asia for international education. Four Chinese cities are included in the top 10 most expensive locations in Asia.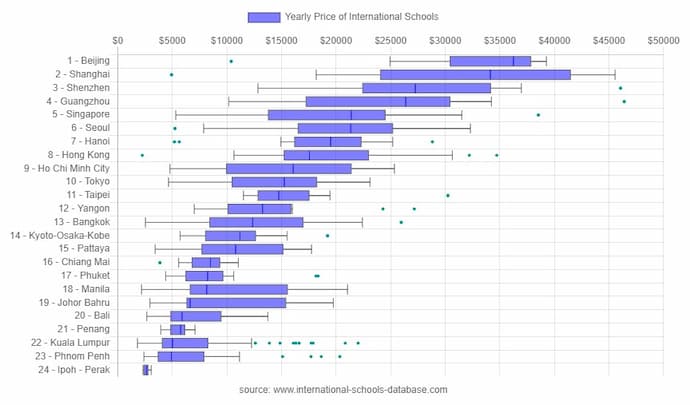 Shrewsbury International School was the latest of a growing number of international schools to open in the Cambodian capital in 2022. Other well-known international schools include ISPP, AISPP, Northbridge, Lycée Français René Descartes, Canadian International School, and Invictus International School.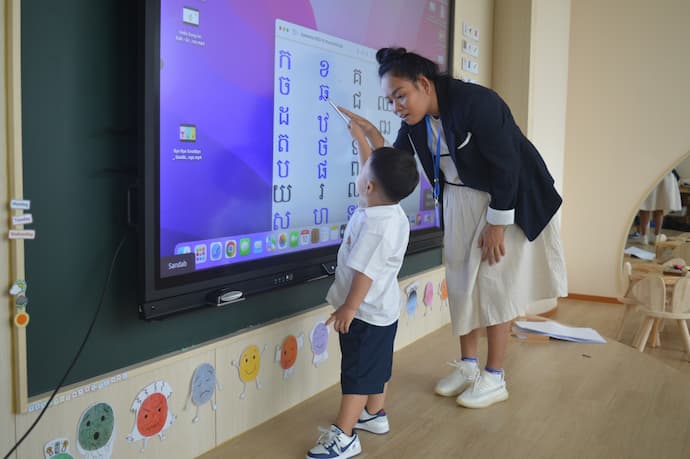 Prices Of International Schools
Of the 24 cities included in the analysis of international schools in Asia, 14 had a median price of under $15,000 per year, while Phnom Penh was USD $4,908.
In total, worldwide price data from 76 cities in 50 countries were analysed and globally, only four countries – USA, China, Switzerland, and the UK featured in the top 10 list of most expensive cities. The median costs were between $21,000-43,000 per year for the top ten most expensive schools.
New York City was again the most expensive metropolis in the world for international schooling and maximum prices topped $60,000 per year for the first time in 2022.
43 international schools showed an increase in median price since 2021.
Of the top 10 least expensive cities for international school costs, the median cost was slightly reduced in 8 of these including in Phnom Penh. The others were Valencia, Penang, Johannesburg, Kampala, Kuala Lumpur, Copenhagen, Casablanca and Cape Town.
Education in Cambodia
Cambodian Prime Minister Hun Sen said in January 2023, that "Some 3 million students were on online learning during the pandemic and now, trade transactions are made via mobile phone, not in cash on hand anymore."
The pandemic forced a shift to online learning but it was not an easy transition for all learners and schools and those in rural areas and with poor connectivity suffered the most. A number of government and private-led initiatives were launched dover recent years to boost online learning and make free and accessible education apps and tools available to assist learners of all ages.
There have also been efforts to promote STEM (science, technology, engineering and mathematics) abilities in Cambodia as well as digital financial literacy.
However, the recently published 2022 E-commerce Report from Profitence indicated that online education has a "lack of unique data in Cambodia, and still in a nascent stage with limited local choices for consumers."