The German Agency for International Cooperation (GIZ) and the Council for the Development of Cambodia (CDC) held the 'Investment Promotion Conference 2023' on October 3 at the Sokha Siem Reap Resort and Convention Centre to promote investment for sustainable economic and social development, particularly in three of Cambodia's northwestern provinces.
Organised under the GIZ-implemented ICONE program, the 'Investment Promotion Conference 2023' provided a platform for over 120 participants – comprised of provincial leaders and administration staff, members of chambers of commerce and business associations, representatives of the CDC-Cambodian Investment Board (CIB), as well as investors and business providers – to gather and exchange ideas on how investment into Cambodia's rural provinces can be further promoted.
Watch B2B Cambodia's interview with Chhoeung Chhiv Ean, President of the Banteay Meanchey Chamber of Commerce, and Tip Piseth, Director of the Siem Reap Provincial Administration:
Cambodia is undergoing a process of transformation, seeking to modernise and diversify its economy to ensure continued high growth rates, which would allow the Kingdom to successfully meet its goal of becoming a higher-middle-income country by 2030, and a high-income country by 2050.
Developing new business sectors and industries – such as in electronics, automotive components, and food production – are a key strategy to achieving this goal. Cambodia is working to showcase its broad investment potential by highlighting certain key strategic areas in the country, one of which is its northwestern region bordering Thailand.
The ICONE program is currently operating in three northwestern provinces – Siem Reap, Banteay Meanchey and Battambang. These locations were especially highlighted for their investment potential during the October 3 conference. 
Why Invest In Cambodia's Northwestern Provinces?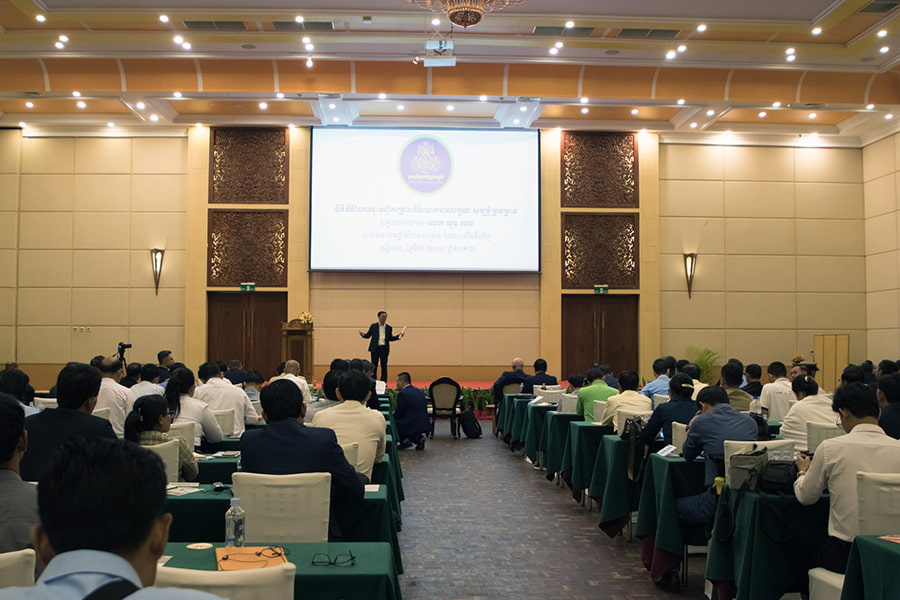 Chhoeung Chhiv Ean, the President of the Banteay Meanchey Chamber of Commerce, spoke with B2B Cambodia about what he believes are the three main reasons why investors should be interested in northwestern Cambodia.
"First, in the northwestern part of Cambodia, Siem Reap, Banteay Meanchey, Battambang, and Oddar Meanchey border Thailand, so some businesses, especially those related to commerce, see an economic flow over the Thai border," said Chhiv Ean. 
"Second, the north of Cambodia is an agricultural area, and people export their agricultural products through the north to other neighbouring countries," he added.
"Third, business is now easier in this region since a new airport was just built in Siem Reap, so investing in the northwest is a good choice," concluded Chhiv Ean.
On the subject of the new airport, Tip Piseth, the Director of the Siem Reap Provincial Administration, also mentioned a few resulting benefits he is hopeful for.
"We sincerely hope that the new international airport will attract more tourists, as well as more arrivals to Siem Reap, as it will be able to accommodate larger aircraft and provide more tourists the opportunity to come directly to Siem Reap, which can help tourism in the province return to its previous levels, and we believe this will also help to attract new investors," said Piseth.
He foresees the airport enhancing Siem Reap's potential as a major point of connection for Cambodia to other countries in the region and across the world, as both transportation and logistics in the province will considerably improve.
In this regard, Piseth also spoke of the proposed Phnom Penh-Siem Reap-Poipet expressway project that is currently undergoing a feasibility study, which would greatly help to boost Siem Reap's investment potential, and to make Cambodia's northwest region far more attractive and accessible as a whole.
National Policies Promoting Investment
The conference highlighted a number of national laws and policies which support the overarching goal of attracting and promoting investment across Cambodia. A presentation given by H.E. Suon Sophal, Director of the Public Relations and Investment Promotion Department of the CDC-CIB, highlighted two pillars ('pentagons') from the new Pentagonal Strategy-Phase 1 launched by the Cambodian government in August 2023:
The 2nd Pentagon: Economic Diversification and Competitiveness Enhancement  – focused on enhancing connectivity, developing key sectors, improving the business and investment environment, strengthening efficiency of special economic zones (SEZs), and making financial innovations;

The 3rd Pentagon: Development of Private Sector and Employment – focused on strengthening public-private partnerships (PPPs), promoting competition and strengthening the banking and non-banking financial sectors.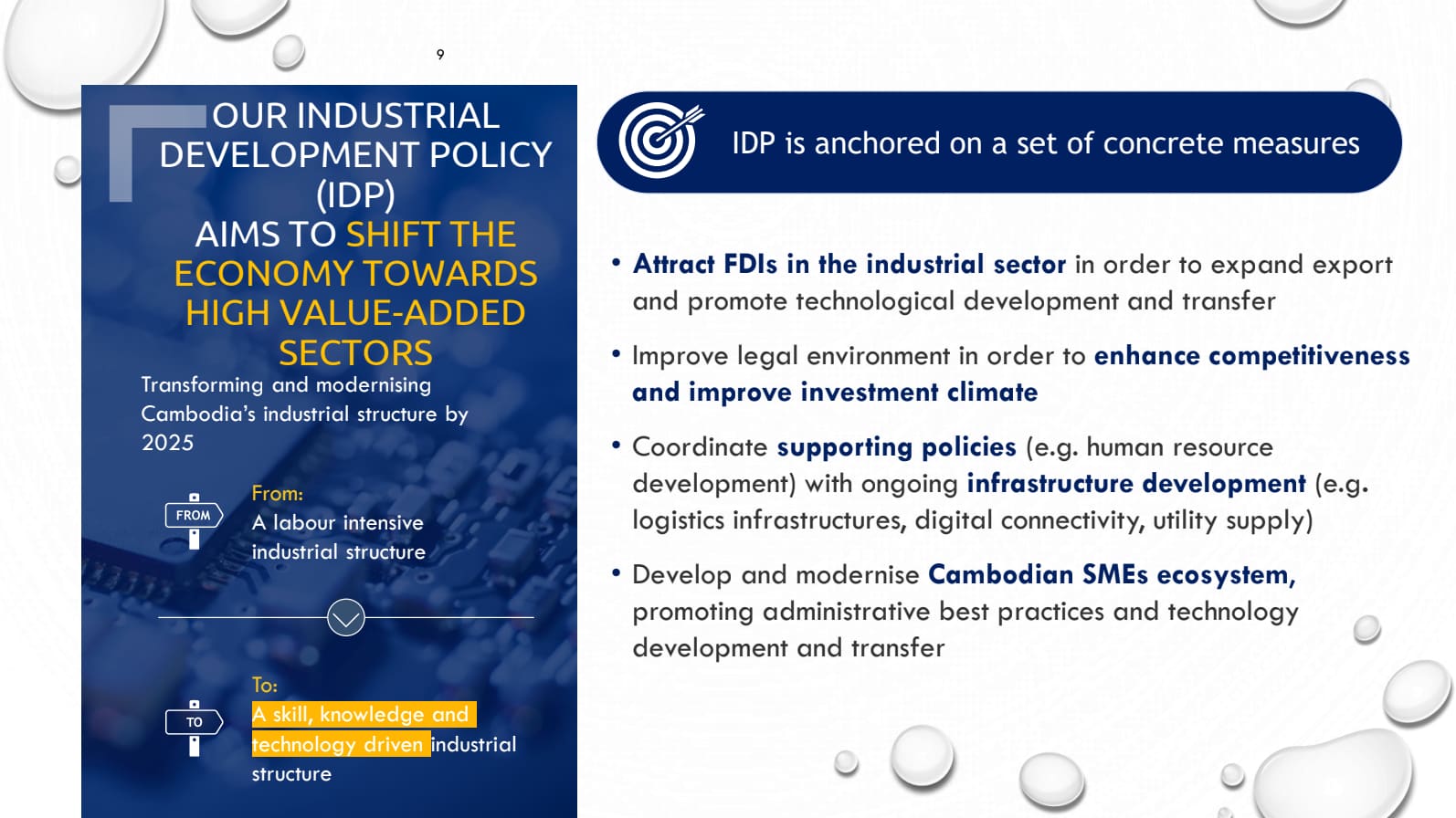 Sophal's presentation also outlined the Industrial Development Policy (IDP) 2015-2025, which aims to shift Cambodia's economy towards high-value added sectors by 2025. Specifically, the policy seeks to shift Cambodia from "a labour intensive industrial structure" to "a skill, knowledge and technology driven industrial structure". 
To achieve this goal, the IDP lists a number of measures to be taken, including attracting more foreign direct investment (FDI) in the industrial sector, improving the legal environment to enhance competitiveness and improve the investment climate, coordinating supporting policies with ongoing infrastructure development, and further developing and modernising Cambodia's small- and medium-enterprise (SME) ecosystem. 
Law On Investment Supports Provincial-Administrations
Cambodia promulgated a new Law on Investment in October 2021, and adopted Sub-Decree 139 on June 26, 2023, establishing a comprehensive legal framework for the law's implementation. 
The Investment Promotion Conference, however, also drew attention to Sub-Decree 120, adopted on June 20, 2022, on the management and implementation of Capital-Provincial Investment Sub-Committees, as it delegates provincial administrations more authority to approve investment projects, offer incentives, support mergers or acquisitions, and settle commercial conflicts on their own. 
The new law and its relevant sub-decrees are said to reflect the Kingdom's commitment to becoming a desirable location for businesses, while the provision of decision-making authority on the management and implementation of investments to the provincial-level also reflects Cambodia's broader efforts towards decentralisation reforms. 
"I think the adoption of the new investment law and other related regulations and sub-decrees, especially the new ones, have given sub-national authorities more opportunities, and Siem Reap is one province that has benefited from this," said Tep Piseth. 
"Under this new law, the delegation of power to the sub-national level has given authorities the capacity to attract investors in their own individual administrations," he further affirmed.
Read More On Cambodia's Investment Landscape: