Singapore business delegates who are in Cambodia on a week-long fact-finding mission to look at investment opportunities have expressed optimism about the potential.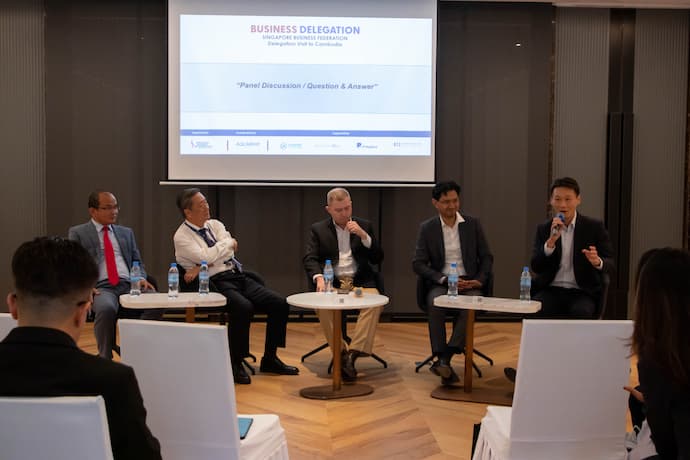 Aquarii BD Cambodia has organised the visit of the SBF delegation of Singaporean investors to Cambodia from 21st July to 5th August 2023 and the trip started by meeting established leading businesses in the Cambodian capital.
Mr. Jason Wong, one of the Singaporean delegates, said thus far in Cambodia, he has had the opportunity to network with key business leaders and learned much more about Cambodia's business landscape and growth.
"I think it's pretty fantastic. We have networked with the business fraternity and today met the deputy prime ministers to learn about Cambodian economic growth and their aspirations for the next three years," Mr. Wong told B2B Cambodia.
"I think that it has been a very fruitful session. I have a very different view from before when I visited Cambodia," he added. 
He said that there were visibly a lot more skyscrapers with more being constructed in Phnom Penh and he feels there are more opportunities across all kinds of industries such as the digital service line and in the property sector.
What Are the Challenges And Opportunities for Investors in Cambodia?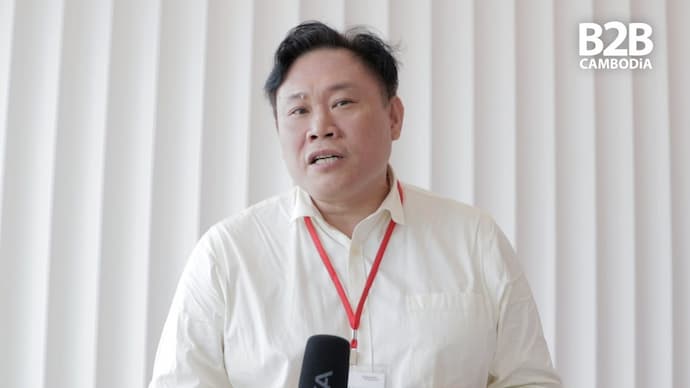 Mr. Wong feels that the laws governing business are a priority, adding "I think there are a lot of things to be learned". He stressed that understanding the legal and financial implications of market entry is key but so is better understanding the Kingdom's culture.
Mr. Michael Tan, CEO of Aquarii BD, told B2B Cambodia that the delegation will have a better understanding of the Cambodian economy as well as the challenges and opportunities in doing business in Cambodia by the end of the trip.
They had already heard more about Cambodian economic growth and how it is doing through the lens of the real estate market. The delegation would still be visiting other locations such as Sihanoukville.
Mr. Tan added that they would also be explained the longer-term potential. "Quite a few of the delegation members have found the input to be quite insightful. It has really helped them to better understand Cambodia today, and update some of the old perspectives that they had about Cambodia."
Some of the key areas he highlighted which had seen significant improvements were e-payment systems. food delivery and ride-hailing apps, QR code payment and more.
On the digital economy, he added, "I think there was a recent report that suggested total e-payment transactions in Cambodia reached USD $272 billion in 2022. That's more than nine times the official GDP. So that's something that you cannot underestimate. I think digital innovation technology is something that will continue to help Cambodia to leapfrog others, and that will be where the growth is."
How Can Cambodia Attract More Singaporean Investors?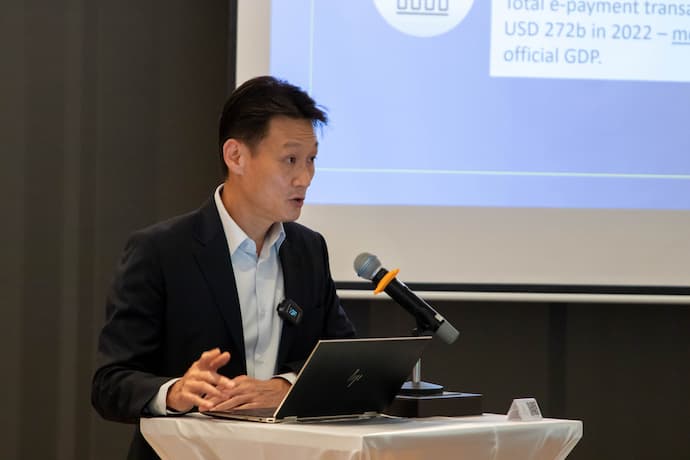 Mr Tan said that it was important to let the visitors know what a good job the government had done during the pandemic and that the country has a very positive economic outlook according to several financial institutions. The National Bank of Cambodia's adjusted estimated GDP growth for 2023, announced this week, is 5.5 per cent.
The successful recently hosted SEA Games was also another feather in Cambodia's cap and he said. "we can see the SEA Games also helped put Cambodia on the roadmap."
Mr. Wong also feels that there are opportunities for Singaporeans to bring expertise and export products to Cambodia. "I believe that is something that we want to explore – companies that want to export out of Singapore to Cambodia. We also believe that among ASEAN, Cambodia is one of the up-and-coming destinations to watch."
Benefits Of Being A Frontier Market And Political Stability
With the coming change of the new Cambodian government, Mr. Tan had no concerns and added that the transition to new members in the Cambodian government held high expectations and anticipation that more good things will come.
"The new government will be better educated, younger and more progressive-minded policymakers. So there's this expectation among the international investors to see what else Cambodia will do to bring it to the forefront, " said Tan.
As a frontier economy, Cambodia is attractive for the range of business potential. He concluded, "That's the beauty of Cambodia right now. You not only have political stability but you have political continuity. And to those in the business cycle, it is music to all our ears."