B2B Cambodia interviewed Mr. Tom O'Sullivan, CEO of Realestate.com.kh on the upcoming Home & Lifestyle EXPO 2023 which runs this weekend from August 12 & 13 at Koh Pich Exhibition Centre in Phnom Penh.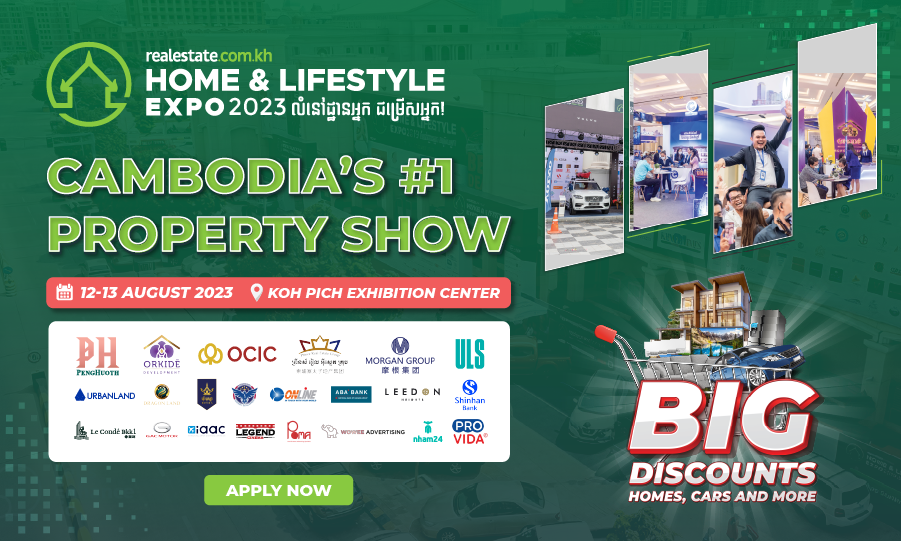 The Home & Lifestyle EXPO is organised by the leading online property portal in Cambodia (Realestate.com.kh). The EXPO in 2023 is not just about property as the name suggests, and offers attendees the opportunity to secure the best deals within the Cambodian market on a range of property-related services.
Visitors also have the chance to engage with industry-leading banks, insurance providers, and real estate experts as well as companies working in the wider property sector.
Watch the video below to hear more about the Cambodia Home & Lifestyle EXPO 2023, what is new, what to expect and Tom O'Sullivan's summary of the Cambodian property market in 2023.
Click here to register for express entry or inquire about being an exhibitor!
Top 5 Reasons To Come To Home & Lifestyle EXPO 2023
Convenience For Property Buyers and Investors – As O'Sullivan says, they "bring the leading property developers and property-related companies in Cambodia to one place which is very convenient". You can engage with the best developments, the leading experts and property and related consultations.
It's More Than Just Property – Whereas the first EXPO since the pandemic took place in 2022 and focussed on property, the Home & Lifestyle EXPO 2023 is so much more! "Not only will people be able to come and survey the real estate market, but they can see the latest in the car brand market, and enjoy the Nham24 Food Hall for F&B (local and international), as well as furniture brand," said O'Sullivan.
The Whole Family Is Welcome (Plus Secret Performances) – The Home & Lifestyle EXPO 2023 is for everyone, and in addition to a dedicated SCIA Kids Play Area, there will be some secret performances from some of the most popular and beloved Cambodian singers (watch the video as Tom reveals one performer).
Its The Largest EXPO Of the Year – There are more than 50 property exhibitors and more than 50 property-related exhibitors in 2023 – including lifestyle brands.
Resale Property Corner – For the first time there is a resale property corner – visitors can see the best Cambodian properties at under-market value!
Visitors come from across the Cambodian capital and nationwide, as well as international attendees will be at the EXPO.
In 2022, more than USD $30 million in property sales were completed at the EXPO and some of the best deals all year round are saved by developers for the Home & Lifestyle EXPO 2023, so don't miss out.
Home & Lifestyle EXPO 2023: Cambodia's Finest Properties, Cars, Lifestyle Brands