In a flurry of excitement in mid-October 2021, local Cambodian media and websites have published a number of articles based on the government's change of direction for travel rules that came into effect on October 18 2021. 
We look at what has officially been announced and try to make sense of the new directives and how it impacts business in the Kingdom.
In the rush to break the news, local media actually contributed to the confusion of what has changed in the changes to inbound travel requirements, the choice of hotels, and the length of stay for quarantine.
Notably, the Khmer Times jumped the gun and shared this directive prematurely which added to the confusion. The government too needs to take some accountability as it caught just about everyone off guard, as decisions were not expected until closer to the end of October 2021.
The announcement refers to No.453.SOC dated October 16, 2021, from the Ministry of Health on the conditions of travel, implementation of health rules for travellers entering Cambodia.
There are also several versions of the documents outlining the directive, some are unofficial English translations so we caution to try and follow the changes as it unfolds. We apologise for any potential mistakes in this article and will update this as information is released.
You can also read the updated regulations on Realestate.com.kh
What were the previous Quarantine restrictions?
For some period of time, inbound travellers to Cambodia have had to go through two weeks of quarantine, with a number of changes put in place throughout 2021. This still required necessary COVID testing, proof of an existing business visa, deposits for quarantine etc.
More recently, travellers could select from Cambodian Alternative State Quarantine (ASQ) – which provide better quality hotels and food (which had been one of the biggest recurring complaints) but at a higher fee.
Regardless, it was still 14 days of quarantine which put off potential business and investor visitors to Cambodia, and no tourist visas have been issued for the better part of 15 months, so international inbound tourism was near to non-existent.
What are the changes from October 18 2021?
We have seen several summaries of the directive interpreted by local businesses and media outlets. We still find the FB group (Cambodia Visa and Work Permit Group) to be one of the most useful resources and we thank them for the additional clarity on the changes.
In summary, the changes are:
Quarantine length for Cambodian officials returning from overseas missions, foreign diplomats, technical experts, cooperation project managers and coordinators, as well as business people and investors with a guarantor or invitation letter has been reduced from two weeks to just 3 days.
General inbound passengers, both Cambodians and foreign nationals will now undergo quarantine for just 7 days.
Unvaccinated travellers or those who have not been fully vaccinated must go through a 14-day quarantine.
Inbound visors are still required to have:
Vaccination Card/Certificate (if vaccinated)
Forte COVID-19 Insurance
Pre-flight PCR test
Deposit or ASQ Hotel booking
It was also noted by the moderators of the Cambodia Visa and Work Permit Group, that there is was specific mention of E-type Visas or the different E-type Visa Extension of Stay categories ie. EB, ER, EG, ES, etc. in the directive.
All arrivals will be tested on arrival into Cambodia, either with a rapid antigen or PCR test.
3 Day Quarantine – PCR Test on arrival only
7 Day Quarantine – Rapid Antigen Test on arrival / PCR Test on day 6.
14 Day Quarantine – Rapid Antigen Test on arrival / PCR Test on day 13.
This is quite a good summary table (but some grey areas still exist):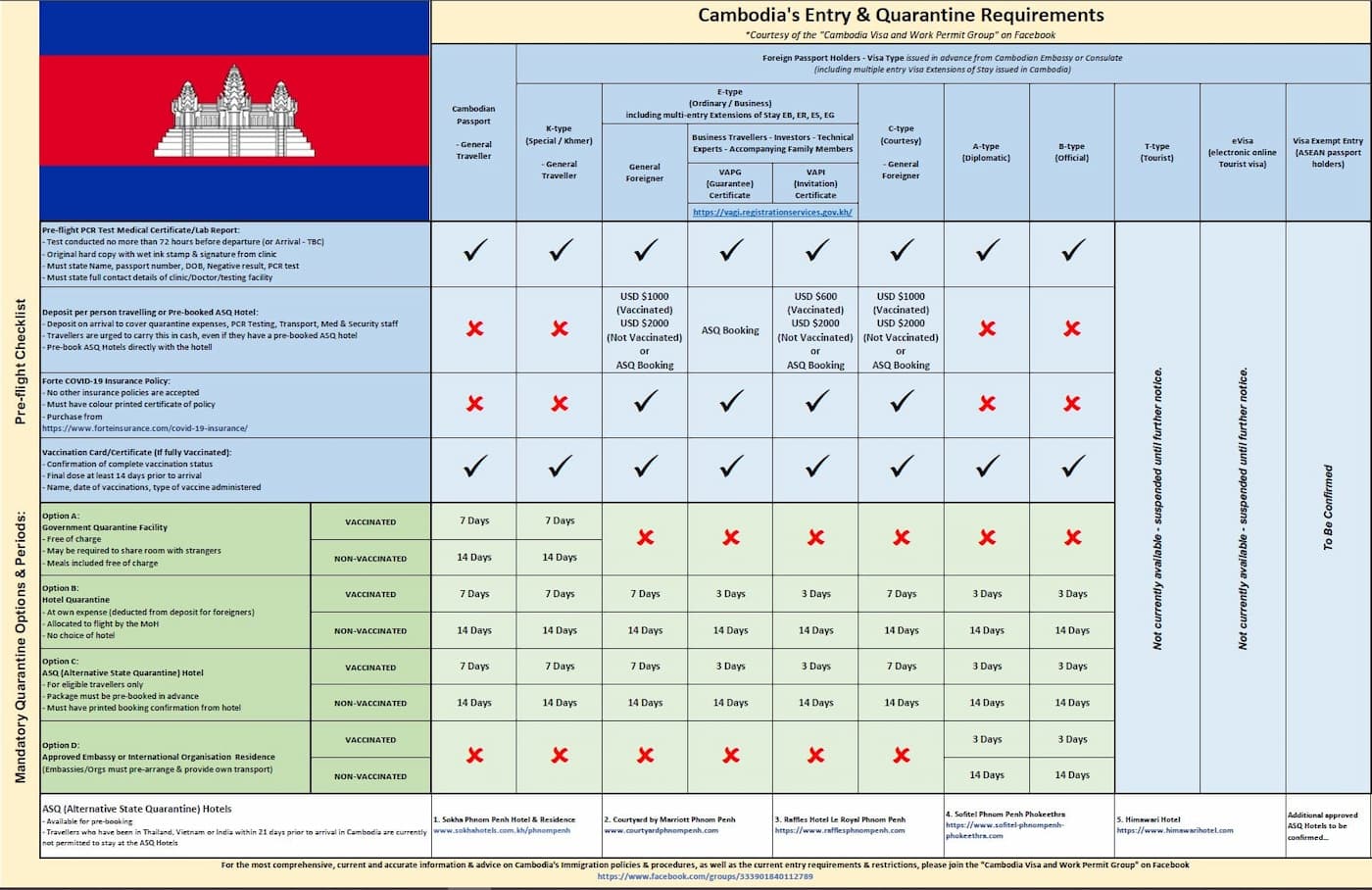 What vaccines does Cambodia accept?
The Khmer Times suggested that "Cambodia will recognise all vaccinations administered to inbound travellers irrespective of whether it has been approved by the World Health Organization or not." (This still requires confirmation).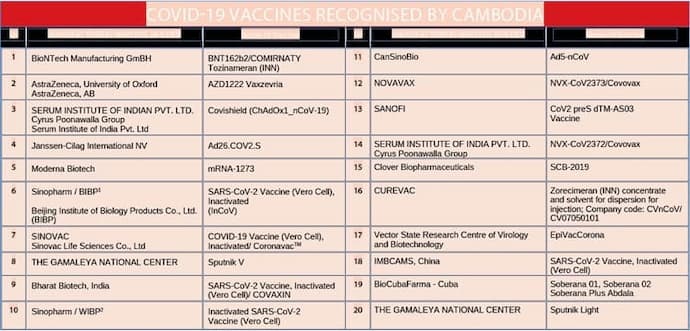 For business visitors & investors to Cambodia:
Although business visitors to Cambodia now could face reduced quarantine, the process still needs some clarification from the respective government bodies.
American Chamber of Commerce (AmCham) President Anthony Galliano said: "There is clear bias given to business travellers with priority given to spurring the economy, a continuation of stalled projects, and to stimulate faltering Foreign Direct Investment."
EuroCham chairman Tassilo Brinzer also told the KT, "It seems a bit overly detailed and regulated – let's face it, Cambodia has one of the most successful records in fighting Covid-19, including vaccination rates, and should proudly be opening again, equally for everyone with the respective safety certificate."
(ASQ) Alternative State Quarantine Hotels Cambodia
There is a list of approved hotels accredited as ASQ by the Cambodian Ministry of Health:
Sokha Phnom Penh Residence
Courtyard by Marriott
Raffles Hotel Le Royal
Sofitel Phnom Penh Phokeethra
Himawari
Toyoko Inn with Dara
Olympia City Hotel By Dara
We have seen other hotels claim they will be added shortly. There is an older article with ASQ prices but the hotels are all updating their pricing to match the new requirements.
VAPG and VAPI Cambodia
It appears as if the companies have invited an inbound business visitor to Cambodia, that company will need to apply for a VAPG/VAPI Certificate to confirm "a technical expert or consultant".  Then an E-type (Ordinary/Business) Visa from the Cambodian Embassy needs to be applied for and if successful they could potentially only need to stay 3 days in quarantine in the Kingdom.
If an assistant or family members are able to join, will depend on whether the company inviting the "technical expert or consultant" is willing to apply for VAPG/VAPI Certificates for them too.
It was also reported on 19 October 2021 by the Khmer Times that the "Ministry of Economy and Finance has officially launched a system for requesting certificates of guarantee and invitations for travellers, investors and technical staff" for the new measures.
The guarantee and invitation mechanism (Validation Application On Guarantee/Invitation) is based on the Cambodia Data Exchange (CamDX) and is available online.
Certificates are valid for 30 days.
Can be used only once.
VAGI Travellers can download the digital form and print it via the above website before travelling to Cambodia.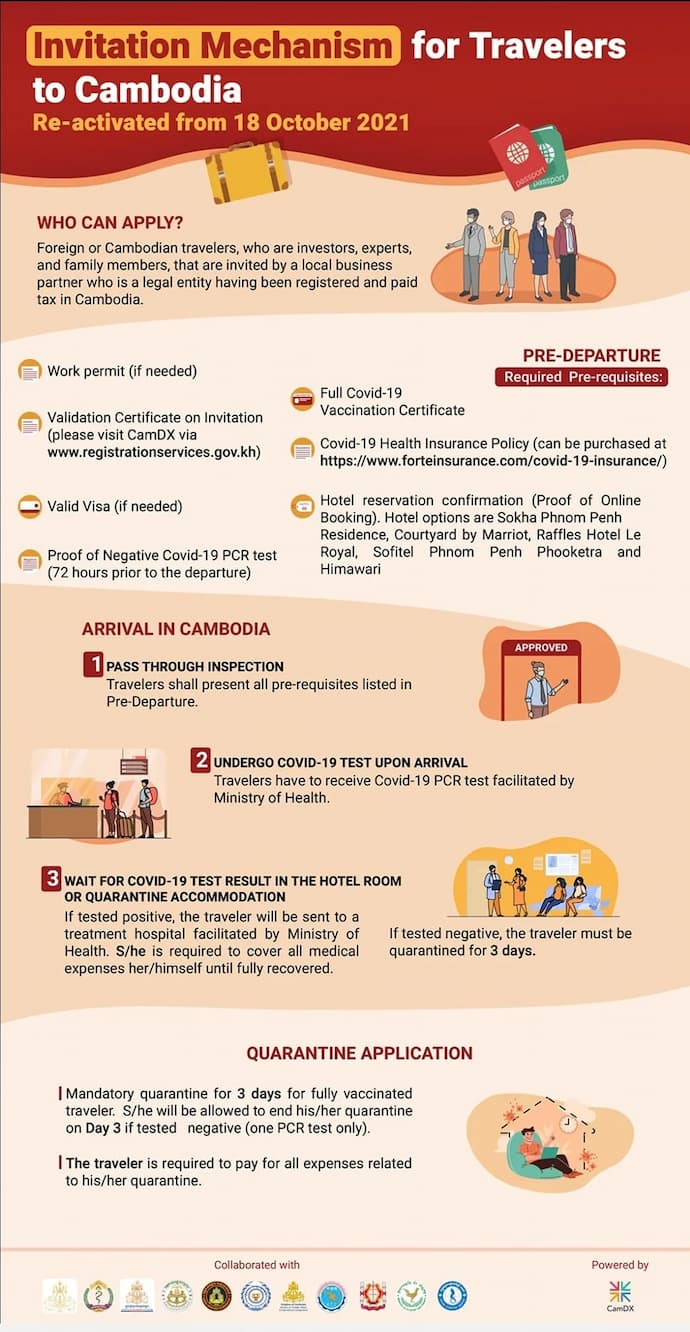 Work Permits for Cambodia
The Cambodia Visa and Work Permit Group (Facebook) also discovered that a newly added feature in the WP application portal has been added, intended to allow for the application of a Cambodian Work Permit from overseas and costs KHR 520,000 (appx. USD $130). This is a direct result of the new directive on entry to Cambodia from October 18 2021.
Not all EB EOS holders are required to have a WP, ie. non-working dependent spouse/children, non-working foreigners married in Cambodia to a Cambodian citizen.
Cambodia Tourist e-Visas 2021
It's been less than an ideal week in terms of managing the rollout of changes. Literally while researching and writing this article, news confirmed on October 19 2021 that Cambodia had also reintroduced the e-VISA (Electronic Online Tourist Visa).
Fee: USD $30 + $6 processing fee
Validity for use to enter Cambodia: 3 months
Period of Stay granted upon arrival: 30 Days
Application Processing Time: 3 Days
Quarantine for e-Visa holders Q4 2021
Must have a pre-booked ASQ hotel to apply (so no deposit)
7 days if fully vaccinated
14 days if not fully vaccinated or unvaccinated
Must have Vaccination Card/Certificate if fully vaccinated
T-type (Tourist Visas)
On the 20th of October, the Royal Government of Cambodia announced it had eased visa conditions and quarantine requirements by resuming the issuance of a Tourist Visa. The T-type (Tourist Visas) can now be applied for in advance from Cambodian Embassies/Consulates.
The government had resumed the Visa Exemption programme.
Visa on Arrival remains closed.
Visa Exempt Entry (ASEAN passport holders) permitted.
Certain Nationalities are currently not eligible in the online drop-down box. These include US passport holders. (At time of publishing).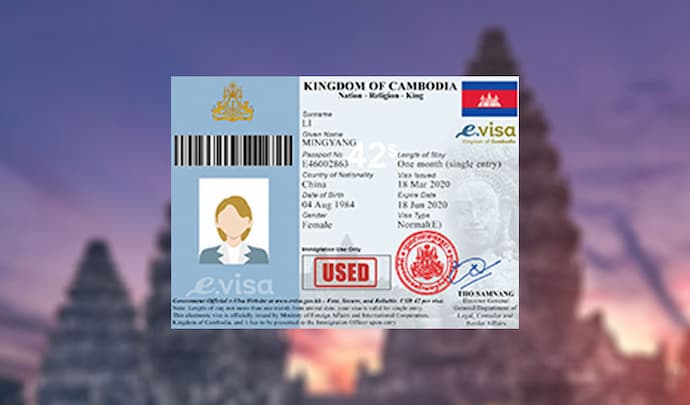 International Flights to Cambodia.
One of the effects of these rushed announcements is the airlines not having routes and flights ready to facilitate any increased demand for travel to Cambodia. Most flights out and into Cambodia have been via cities in China, Singapore, Seoul (Korea) or Taipei (Taiwan), with several independent regulations and restrictions of travel for each transit hub.
No flights, for example, were operating between Thailand or Malaysia and Cambodia at the time of the changes, which traditionally would be two of the popular transit hubs for international flights.
State Secretariat of Civil Aviation (SSCA) spokesman Chea Aun said in the short time since the directive, "there is still no change in the number of flights bringing potential visitors to the country." He added "Moreover, most airlines are not ready to fly unless the number of passengers is high enough to justify the flights" reported the Khmer Times.
Although the directive is a positive move for Cambodia, with both Australia and Thailand announcing from November 1, 2021, they will be scrapping quarantine for visitors from various countries,  Singapore no longer requires quarantine for vaccinated travellers from an approved list of countries and Bali in Indonesia has reduced quarantine to 5 days, the nation will still be far less attractive to potential visitors in the short term.
UPDATE:
On October 24th, 2021, Cambodia lifted a ban on all flights from Malaysia, Indonesia and the Philippines.
The Cambodian prime minister also confirmed that Cambodia will allow Thai and foreign travellers in Thailand to fly into Cambodia without quarantine.