The Asian Development Bank (ADB) has reiterated its forecast for the Kingdom's economic growth at 5.3 per cent in 2022, however, it slightly dropped the 2023 forecast to 6.2 per cent from the earlier prediction of 6.5 per cent.
The change in the forecast for 2023 since April 2022 is due to weaker global growth, the ADB reported on 21 September 2022.
On the positive side, Cambodia's garments, travel goods, and footwear outputs remained strong, registering 39.8 per cent year-on-year growth in the first half of 2022.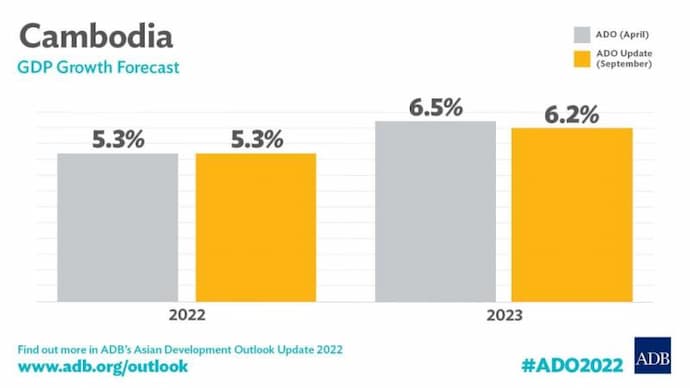 The Kingdom's non-garment manufacturing sector also showed strong growth in 2022 and the ADB highlighted the signs of recovery in the construction sector. Imports of construction materials have risen 22.8 per cent in 2022.
ADB Country Director for Cambodia Jyotsana Varma said "An increase in Cambodia's manufactured product exports, and a gradual recovery in the construction and service sectors, have supported economic growth in 2022 despite the drop in agricultural growth caused by surging fuel and fertilizer prices and heavy rains,"
The government's socioeconomic interventions such as the Cash Transfer Program for Poor and Vulnerable Households have been effective in lessening the impacts of the global surges in commodity prices on the poor."
In 2021, Cambodia received $18.4M from ADB trust funds.