The tourist numbers heading to Angkor Archaeological Park, usually the jewel in the crown for the Kingdom's tourism, are down nearly 99 per cent in the first six months of 2021.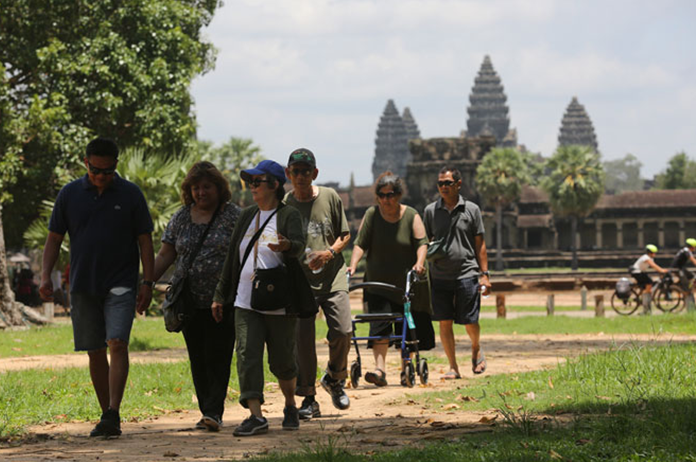 The latest data from the Angkor Enterprise revealed that the world-renowned archaeological site and tourist attraction generated $219,218 in the first half of 2021,a drop of 98.79 per cent year-on-year.
International visitors purchased 5,329 tickets between January and June 2021 reported the state-owned enterprise.
Minister of Tourism Thong Khon said, "Tourist destinations in coastal areas – especially Kampot, Kep and Sihanoukville – as well as ecotourism, nature tourism and agro-tourism sites have been the main destinations, attracting a lot of domestic tourists".
There has been a push from the private sector for the government to allow fully vaccinated foreign tourists to enter Cambodia without the need for quarantine from the fourth quarter of 2021.
With the "Phuket Sandbox" having started on July 1 2021, Cambodia Association of Travel Agents (CATA) president Chhay Sivlin said Cambodian authorities and businesses were assessing the progress. "We should learn how Thailand can monitor and control the risk of the pandemic in Phuket so that we can open up our tourism sector step by step the same as Thailand," she told the Khmer Times.
The Phuket trial allows foreign travellers to not quarantine in Phuket, but if they want to travel to any other part of Thailand, they must stay in Phuket for at least 14 days and will then be allowed to visit other destinations in Thailand. The travellers also need to provide proof of vaccination before they arrive and fulfil a number of other requirements.
According to data in Cambodia, the Kingdom's hotel and restaurant sector were down by 36 per cent in 2020.
Arnaud Darc, president of the Cambodia Restaurants Association and the founder of the Thalias Hospitality Group added that a number of the changes made to acclimatise to the pandemic will persevere through the pandemic, particularly technological innovations such as contactless payments and online ordering.
There are plans to open the first immersive 3D museum in Siem Reap in 2022, dedicated to Khmer heritage, called Immersive Angkor.