Thailand-based grocery and convenience retailer Big C has opened its first branch in Phnom Penh in September 2021, to enter a very competitive retail market.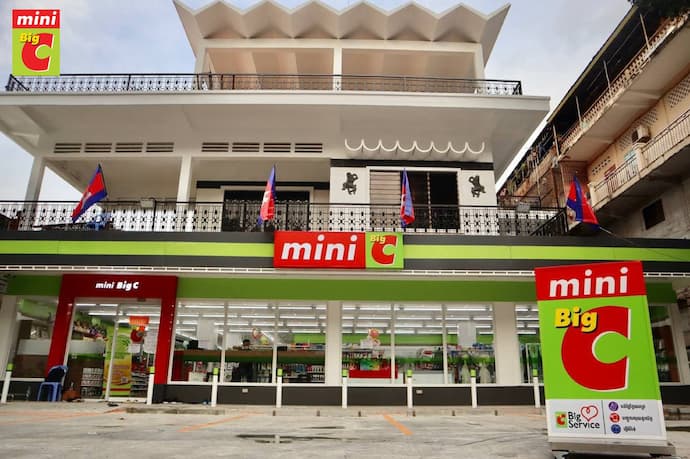 The retailer has been operating in Cambodia at the border town of Bavet sinc 2019, but the first Mini Big C Depo store opening in the capital comes within a week of giant franchise 7-Eleven also launching in Phnom Penh.
Big C is aggressively expanding in Southeast Asia, with plans to spend approximately $250 million on business expansion in 2021. The budget retailer sells a variety of goods similar to other corner stores in Cambodia, such as Panda Mart, Smile Mart, K-Mart, Angkor MArt, Royal Mart etc These goods include produce & grocery items as well as cosmetics and household items.
The Khmer Times reported that a majority of Big C's products are made in Thailand, while 20 per cent of products in the Phnom Penh store are made in Cambodia.
The company aims to open more stores in Phnom Penh and in other Cambodian provinces.
Gary Hardy, Big C chief operating officer told the Bangkok Post: "With our five-year plan, we aim to become the No.1 retailer in Cambodia in terms of value, size and perception among Cambodian customers." The article suggests the company is due to open hundreds of Big C stores across Cambodia, from Phnom Penh to Siem Reap and Battambang. The store formats include hypermarkets, supermarkets and Mini Big Cs.
Hardy added, "We expect the expansion of Big C in Cambodia will not only bring retail knowledge there but also create thousands of new jobs over five years."
The company was founded by Central Group in 1993 and there are 1,572 retail stores which include 1,215 Mini Big C, 152 Big C hypermarkets and 61 Big C markets in the country. The retail chain operates in Malaysia, Vietnam and Laos in addition to Thailand and Cambodia.