Cambodian authorities have reported a rise in rubber exports between January-April 2021 compared to 2020, while milled rice exports are down.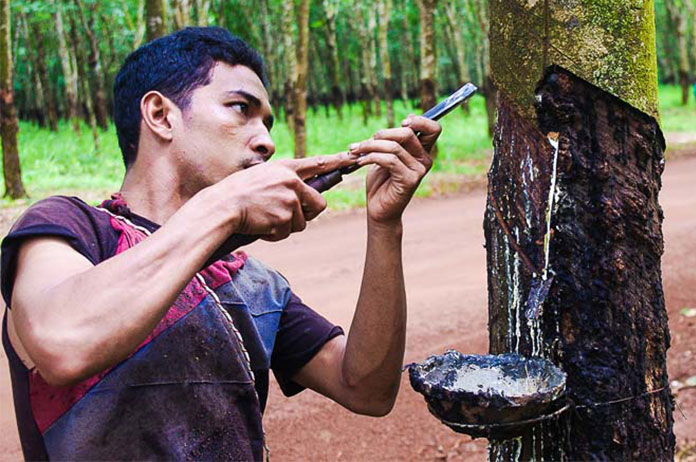 Cambodia's Minister of Agriculture, Forestry and Fisheries Veng Sakhon reportedly told local media that the Kingdom had exported $2.09 billion of agricultural products to the international market in the first quarter of 2021.
The Cambodian Ministry of Agriculture, Forestry and Fisheries (MAFF) claims that $99.87 million of natural rubber exports were made in Q1 of 2021 first four months of 2021, which represents an increase of 2.5 per cent.
However, the Phnom Penh Post does indicate that overall tonnage was down and the rubber prices had increased in this period. In 2020 rubber exports from Cambodia reached 340,000 tonnes (generating $459 million).
Cambodia Rice Exports 2021
Meanwhile, the Ministry said that Cambodia's milled rice exports in Q1 2021 were down 36 per cent. In total 192,495 tonnes of milled rice were shipped, generating more than USD $161.69 million.
The biggest export market was China with 54.42 per cent of the total shipped rice heading there. The next biggest export markets for Cambodia's rice were 20 countries in Europe, four countries in ASEAN.
Cambodia exported 1,529,280 tonnes of paddy rice to neighbouring Vietnam, which represented a year-on-year increase of some 73 per cent, and generated more than USD $221 million.
The Cambodian Minister of Agriculture, Forestry and Fisheries announced that the Kingdom exported $4.037 billion in agricultural products in 2020.
The Khmer Times reported that the agriculture minister said "the free trade agreement (FTA) with China and the soon to be ratified FTA with South Korea are signs that trade volume will increase in the sector and open up even more opportunities for exports."