With data for Cambodia in 2020 filtering through, in what was an unsettled and disrupted year for all global economies, the Kingdom confirmed it saw an increase in agri-exports and total exports also on the rise.
Chinese FDI into Cambodia also has increased in 2020 compared to 2019.
(We will update this article as more official data is released in Q1 2021)
Cambodia Exports 2020
Cambodia's main exports include garments, textiles, footwear, milled rice and bicycles, while it imports raw materials for the garment and automotive sectors, fuel and construction materials.
Cambodian Prime Minister Hun Sen said in late 2020 that the Kingdom's trade volume with other countries stood at $32 billion, which was down from 2019 ($36.7 billion). The total value of Cambodian international trade in 2020 rose by 2.54 per cent to reach USD $35.80585 billion.
However, Cambodia's total exports reached USD $17.21537 in 2020, which is an increase of more than 16 per cent compared to 2019.
Cambodia's export of industrial products, including garment products, were valued at $6.37 billion in 2020 (a decrease of 43 per cent compared to 2019).
Bicycle exports rose again and according to the Ministry of Commerce, Cambodia is the top-ranked ASEAN nation, and fifth globally, for bicycle exports. The Kingdom remains the leading supplier of bicycles to the EU, which it has been since 2017.
Garment and footwear exports: 10 per cent down in 2020 (based on Jan-October 2020 data), reaching $7.42028 billion.
Bicycle exports: Increased by 27% in 2020 compared to 2019, worth $527 million (See here for more information – by the end of Q3 2020, exports had generated USD $400 million in revenue.)
Travel goods: Reached $964.7 million down 10.58 per cent.
Rubber exports: 340,000 tonnes (generating $459 million). In 2019 – 282,071 tonnes of Cambodian rubber were exported from Cambodia.
Iron and Steel exports: In 2020, the country exported $6.20 million worth which is a massive increase of 351 per cent from $1.37 million in 2019. The Kingdom still imported iron and steel worth $281.06 million though, a drop of 41.11 per cent from 2019.
Cambodia and ASEAN bilateral trade were valued at USD$ 11,330 million in 2020, a year-on-year increase of 22.42 per cent.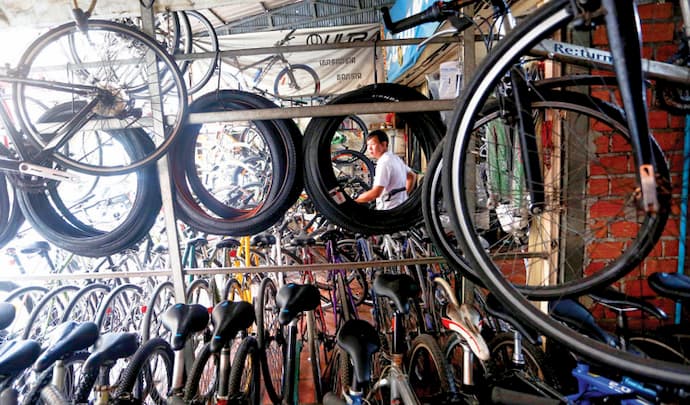 Cambodia Agri-Exports 2020
The Cambodian Minister of Agriculture, Forestry and Fisheries announced that the Kingdom exported $4.037 billion in agricultural products in 2020.
In addition, it was noted that of Cambodia's approximate 3.4 million hectares of paddy fields, more than 3.26 million hectares were in harvest, yielding 3.34 tonnes average/hectare.
Animal production exports: USD$61.30 million (includes cattle, pork and poultry as well as chicken and duck eggs and other animals).
Fishery product exports: USD$8.33 million (see more information on overall production here). This represents 3,590 tonnes of fisheries products which is 74.5 per cent in lower in volume from the 14,100 tonnes in 2019.
Forestry product exports: USD$44.08 million.
Subsidiary crop exports: USD$2.17 billion in (cassava, cashew nuts, mangoes, banana, Pailin longan, pepper and other crops).
Milled rice exports: USD$468.58 million, up 11.53 per cent.
Chilli exports: Increased by 27.08 per cent from 55,513 tonnes in 2019 to 70,546 tonnes in 2020.
Tobacco exports: 5.8 thousand tonnes, a decrease of 14 per cent compared to 2019.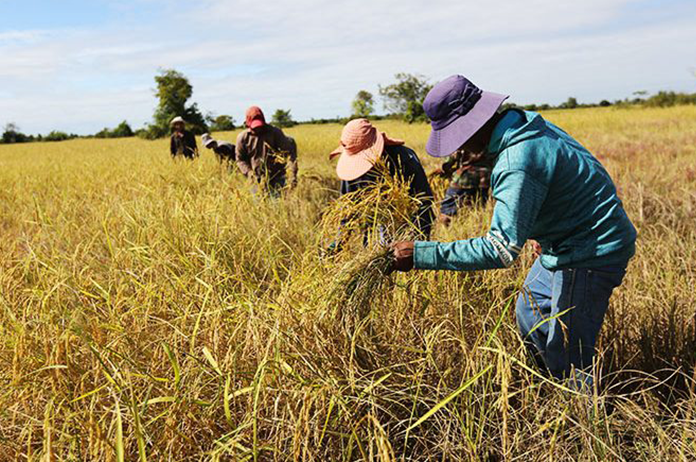 Manufacturing and Factories
In total, 221 new factories opened in the Kingdom of Cambodia in 2020 according to the Ministry of Industry, Science, Technology and Innovation.
However, 100 factories also closed down due to the impact of the COVID-19 pandemic.
It's thought the total number of factories in Cambodia by the close if 2020 was 1,853 employing 900,000 Cambodian workers.
Cambodia Tourism 2020
Cambodia's three international airports received 2.13 million passengers (international, domestic and transit) in 2020.
The number of international visitors was 1.306 million reported the Khmer Times. This number is 79 per cent lower than in 2019 and is directly a result of the global COVID-19 pandemic which decimated international air travel and tourism.
Phnom Penh International Airport: 1.30 million passengers, a decrease of 76 per cent compared with 2019.
Siem Reap International Airport: 618,663 passengers, a decrease of 83 per cent  compared with 2019.
Sihanouk International Airport: 214,969 passengers, a decrease of 86.3 per cent compared with 2019.
Top Ten visitors in 2020 by Nationality
China: 329,673
Thailand: 210,876
Vietnam: 182,199
United States: 55,973
Korea: 55,935
UK: 44,784
France: 43,174
Japan: 41,257
Laos: 34,352
Germany: 27,280
Tax Collection 2020
The Cambodian Minister of Economy and Finance's General Department of Taxation (GDT) confirmed $2.87 billion (11.70052 trillion riels) in tax revenue was collected in 2020. This is an increase of  3.73 per cent compared to 2019.
Cambodia Chamber of Commerce vice-president Lim Heng said tax revenue in 2021 is expected to increase further according to the Phnom Penh Post.
Foreign Direct Investment 2020 – Cambodia
The Khmer Times reported that the Chinese embassy in Phnom Penh announced on January 1, 2021, the Chinese FDI was worth $860 million in the first 11 months 2020 which is a 70 per cent increase from the same period in 2019.
The majority of the investment was in the construction, garments, electric and electronic components and agriculture sectors.
In addition, 178 new investment projects with an investment capital of USD $4.147 billion were approved by the Council for the Development of Cambodia.
Property in Cambodia
Realestate.com.kh reported that the construction and real estate sectors in Cambodia are expected to see renewed activity in 2021 in line with the entry of foreign direct investments, revenue recovery, and the overall economic growth to follow.
Economic watchdogs and monitoring groups are, across-the-board, optimistic about the Kingdom's gradual recovery in 2021. A few key developers have also expressed the same positive outlook for Cambodia's construction and property market.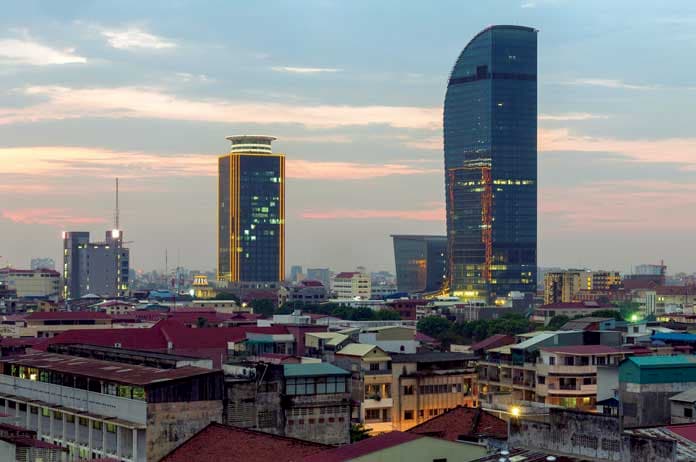 Cambodia's Economy 2021
Cambodia announced in December 2020 that it was now an oil producer after KrisEnergy Ltd. confirmed Cambodia's first offshore oil field had gone into production in the Gulf of Thailand. The development is expected to reach a peak rate of approximately 7,500 barrels of oil per day once the drilling program is completed in mid-February 2021.
The National Bank of Cambodia (NBC) has forecast that the Kingdom's estimated economic growth will be 4 per cent in 2021, according to its Macroeconomic and Banking Sector Update 2020 report, said the Khmer Times.
This mirrors the prediction from the World Bank which also projects the Kingdom's economy to contract by 2 per cent in 2020 but is expected to grow by 4 per cent in 2021.