The construction of the cable-stayed Cambodia-Korea Friendship Bridge is scheduled to start in December 2023, following the completion of its final project evaluation.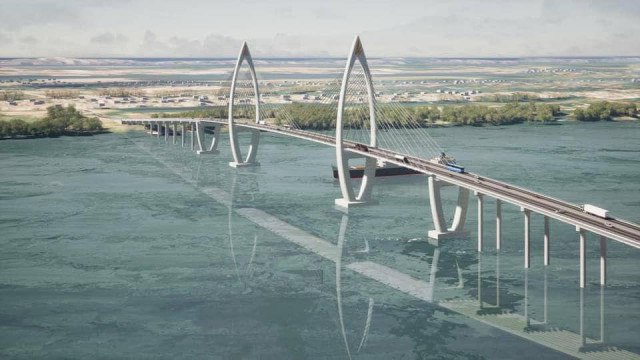 This update was shared by Kim Jin Pyo, Speaker of the National Assembly of the Republic of Korea, during his visit to Cambodia, while meeting with the Acting Head of State, Say Chhum, at the Senate Palace in Phnom Penh, as reported by AKP.
Speaker Kim Jin Pyo expressed hope that the bridge would contribute to Cambodia's development and symbolise the strong friendship between Cambodia and Korea. Senate President Say Chhum also expressed satisfaction with the growing relations between the two countries, conveying gratitude to the Korean government for its support of Cambodia's development.
The construction of the Cambodia-Korea Friendship Bridge will be divided into two sections:
The first section will connect the Night Market (Old Market area) to Chroy Changvar district.

The second section will link Chroy Changvar to the Arey Ksat area in Kandal province's Lovea Em city.
Financing for the project is being provided by the Government of the Republic of Korea – Cambodia and Korea signed a USD $245.9 million loan agreement on December 9, 2022, for the construction of the bridge. 
According to the Cambodian Ministry of Economy and Finance, this cable-stayed bridge will feature four lanes and have a width of 27.5 metres. The maximum speed limit for vehicles crossing the bridge will be 80 kilometres per hour.
Read More on Cambodia's Infrastructure: