The annual Cambodia Real Awards 2022 (CREA) were held on April 7, 2022, at the Sofitel Phnom Penh Phokeethra and recognised a number of agencies and developers in the Kingdom.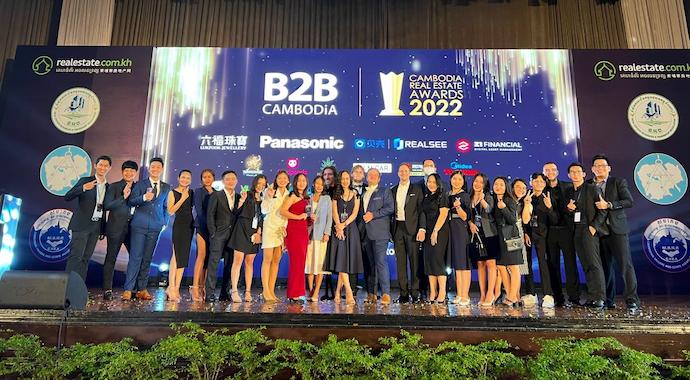 The CREA is a prestigious real estate awards ceremony organised by Realestate.com.kh in collaboration with the Real Estate & Pawnshop Regulator of Cambodia, The Ministry of Land Management & Urban Planning and the Cambodian Valuers and Estate Agents Association.
More than 500 guests were in attendance from the real estate sector, as well as partner industries to applaud those who have impacted the property and development sector over the past year.
There were more than 100 nominations this year, with over 50 entries. Tom O'Sullivan, CEO and Director of Realestate.com.kh said online: "On Thursday evening (, leaders of the Cambodian Real Estate Industry came together to celebrate the annual Cambodia Real Estate Awards. I was honoured to host over 550 leaders in the industry to share in the rewards for their leadership and first-class practices."
On realestate.com.kh, O'Sullivan added that in Q1 2022, the company had achieved record targets achieved for website traffic and lead generation through its online platform. "Not only is this promising and fruitful for the industry, but it also underlines the resurgence of confidence within the property market after the challenges posed by the global pandemic" he added.
Read more about the Realestate.com.kh 2022 Real Estate Survey here.
CREA 2022 Winners
Over 30 winners from the leading property developers and agencies in Cambodia were awarded on the evening in Phnom Penh.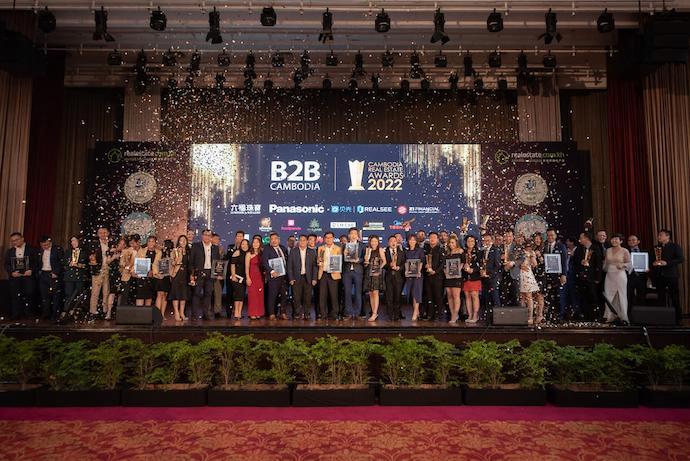 Some standouts include:
Urban Hub and their development Urban Village Phase Two were awarded the Developer and Development of the Year respectively.
TK Central, Borey Maha Boeng Trea, Wealth Mansion, Picasso City Garden, MSQM ZTH, and Prince Huan Yu were also major winners in the development and developer categories.
Golden Century Cambodia received 5 awards across their projects including Landed Property Developer of the Year for Borey Nadi as well as the Most Viewed Property for GC Orussey.
Morgan Group, received multiple awards representative of all of their projects including the recently completed Morgan Tower and Morgan EnMaison.
Agency of the Year was shared by IPS Cambodia, CBRE, Knight Frank, and Century 21 Advanced Property.
Pointer Property was awarded as the Employer of choice.
Cambodia Real Estate Awards – Hall of Fame 2022 went to Overseas Cambodian Investment Corporation (OCIC) and Lok Oknha Cheng Kheng, Chairman & CEO of Cambodia Properties Limited (CPL) was the first-ever individual inducted.
See here for the full story.
CREA 2022 Agency winners
CREA Hall of Fame 2022 – Lok Oknha Cheng Kheng, Cambodia Properties Limited (CPL)
Real Estate Agency of the Year (Enterprise) – CBRE Cambodia
Real Estate Agency of the Year (Enterprise) – Century 21 Advanced Property
Real Estate Agency of the Year (Corporate) – Knight Frank Cambodia
Regional Agency of the Year – IPS Cambodia
Property Management Firm of the Year – C-Herald Property Service
Property Management Firm of the Year – Pointer Property
Research & Valuation Firm of the Year – Knight Frank Cambodia
International Agency of the Year – IQI Cambodia
International Agency of the Year – Century 21 Fortuna Investment
Agency – Employer of Choice – Pointer Property
Agency of Choice – Century 21 Advanced Property
Agency of Choice – C-Herald Property Service
CREA 2022 Developer winners
CREA Hall of Fame 2022 – Overseas Cambodian Investment Corporation (OCIC)
Developer of the Year – Urban Hub Cambodia
CSR & Social Impact Developer of the Year – Prince Huan Yu Real Estate (Cambodia) Group
Borey (Landed) Property Developer of the Year – Golden Cambodia Century (GCC)
Commercial Developer of the Year – Morgan Group
Condominium Developer of the Year – MSQM ZTH
CREA 2022 Development winners
Development of the Year – Urban Village Phase 2
Commercial Development of the Year – Morgan Tower
Borey (Landed) Property Development of the Year – Borey Nadi
Condominium Development of the Year – Vue Aston
Serviced Apartment of the Year – Picasso City Garden
Mixed-use Development of the Year – TK Central
Retail Development of the Year – Prince Golden Bay
Office Development of the Year – Morgan Tower
New City Development of the Year – Borey Nadi
Borey (Landed) Property Development of the Year (Southern) – Borey Maha Boeng Trea
Affordable Housing Development of the Year – Borey Maha Boeng Trea
Mid-Range Housing Development of the Year – La Palm Residences
Luxury Housing Development of the Year – Borey Nadi
Premium Condominium of the Year – Picasso City Garden
Condominium Design of the Year – Picasso City Garden
Waterfront Condominium of the Year – Wealth Mansion
Waterfront Condominium of the Year – Morgan EnMaison
Most Viewed Property 2022 – GC Orussey Market
Special Recognition – World Bridge Sport Village