In 2020, the Kingdom of Cambodia exported more than 5.8 thousand tonnes of dried tobacco leaves, valued at more than USD $17 million, which represents a 28% drop in value compared to 2019.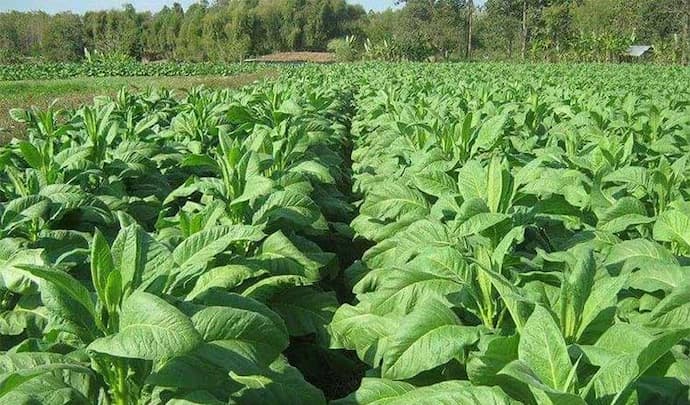 The 5.8 thousand tonnes exported also was a 14 per cent dip compared to 2019. The data was released by the Minister of Agriculture, Forestry and Fisheries in March 2021.
Which provinces produce tobacco in Cambodia?
The tobacco harvest in Cambodia usually takes place from early March to late April. every year.
Tbong Khmum province has the largest tobacco growing area in the Kingdom (680ha and yielding an average of 1.70 tonnes per hectare in 2021), followed by Kampong Cham, Kratie, and Kandal province. The overall area under tobacco cultivation in Cambodia is believed to be around 5,175ha.
The average wholesale price for high-quality tobacco ranges from USD $2.10-2.47 per kilogramme in 2021 reports the Phnom Penh Post.
The volume of tobacco produced in Cambodia for the past few years has been declining:
2020: 6,132 tonnes of tobacco
2019: 6,070 tonnes of tobacco (approximate)
2018: 7,454 tonnes of tobacco
2017: 9,089 tonnes of tobacco
Which countries import Cambodian tobacco?
The exports from Cambodia reached nine countries in 2020. In 2019, Cambodia only exported to 5 countries; Vietnam, Greece, Belgium, Indonesia and Hungary.
Vietnam
Indonesia
Hungary
United Arab Emirates
Belgium
South Africa
Greece
Singapore
Germany
In 2016, Cambodia and Vietnam agreed on preferential duties for agriculture products crossing their shared border which allows Cambodia to export 3,000 tonnes of dried tobacco to Vietnam duty-free annually.
Some of the major tobacco companies operating in Cambodia include British American Tobacco Cambodia and JTI. Japan Tobacco International (JTI) in Cambodia was recognised in early 2021 for its HR best practices as a Global Top Employer.
You can see more about Cambodia's economy in 2020 and predictions for 2021 here.