Cellcard has announced its launching Education Hub, an online portal which offers edutainment and free online education tools for its users in Cambodia.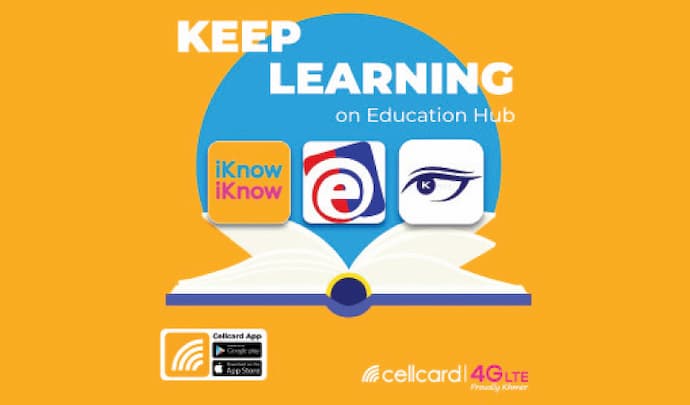 Cellcard CEO Ian Watson said the Education hub was part of the Cellcard and Royal Group's objective to increase digital literacy and capacity of the nation's youth and to ensure quality education during these uncertain times.
"The Education Hub is part of our commitment to ensure the continued development of Cambodia. The online tools are a fantastic supplementary resource to aid students digital learning and develop Cambodian youths' mindsets", added Watson.
Cellcard is one of the biggest telco providers in the Kingdom, and the Education Hub will allow its customers to access "unlimited online educational content and edutainment" through three online platforms.
The digital E-Learning products available on Education Hub include:
E-School: Offer 12 VOD (Video On Demand) sessions focusing on English Diploma classes. This will be free for one month to Cellcard subscribers using a promotion code. A range of subjects based on the Cambodia Education Standards from the Ministry of Education, Youths and Sports for all levels from pre-school to high school students will also be available.
Khim Sok Heng: Offers VDO learning content to subscribers with daily, weekly and monthly plans available. The online content includes sessions on leadership; family relationships, business skills, self-motivation and improvement and others.
iKnow iKnow: The iKnow iKnow educational App was launched in 2020 and is aimed at towards school students from Grade 6 – 12. It is available nationwide for as little as 1200 Riels per week.
Cellcard subscribers interested in using the Education Hub can access the content via the Cellcard App.
Cellcard was recently recognised by Silicon Review magazine as one of the world's most trusted online and print communities for business and technology professionals.
The Cambodian government also signed an MOU with MKI Media AS Norway for the firm to produce educational entertainment ("Edutainment") for the Cambodian market from 2021-2023.