A new Ecothon Cambodia 2020 is being organised by ASEIC (ASEM SMEs Eco-Innovation Center) and Underdogs, which will host the virtual event in October for Sustainable Consumption and Production (SCP) in Cambodia, Lao PDR, and Myanmar.
What is Ecothon Cambodia?
The Ecothon is a hacking eco (environmental) competition aimed at supporting entrepreneurs who contribute to UN SDGs (Sustainable Development Goals) by coming up with a sustainable and innovative business idea.
In Cambodia, the event will run from October 13-16 online, due to the COVID-19 restrictions. The participants "will network with the mentors/other participants as well as develop their own business model sustainably" according to the organisers.
The competition is open to anyone who lives in Cambodia or if you are planning on running a business in the Kingdom in the near future. You can read more about the eligibility and registration process here.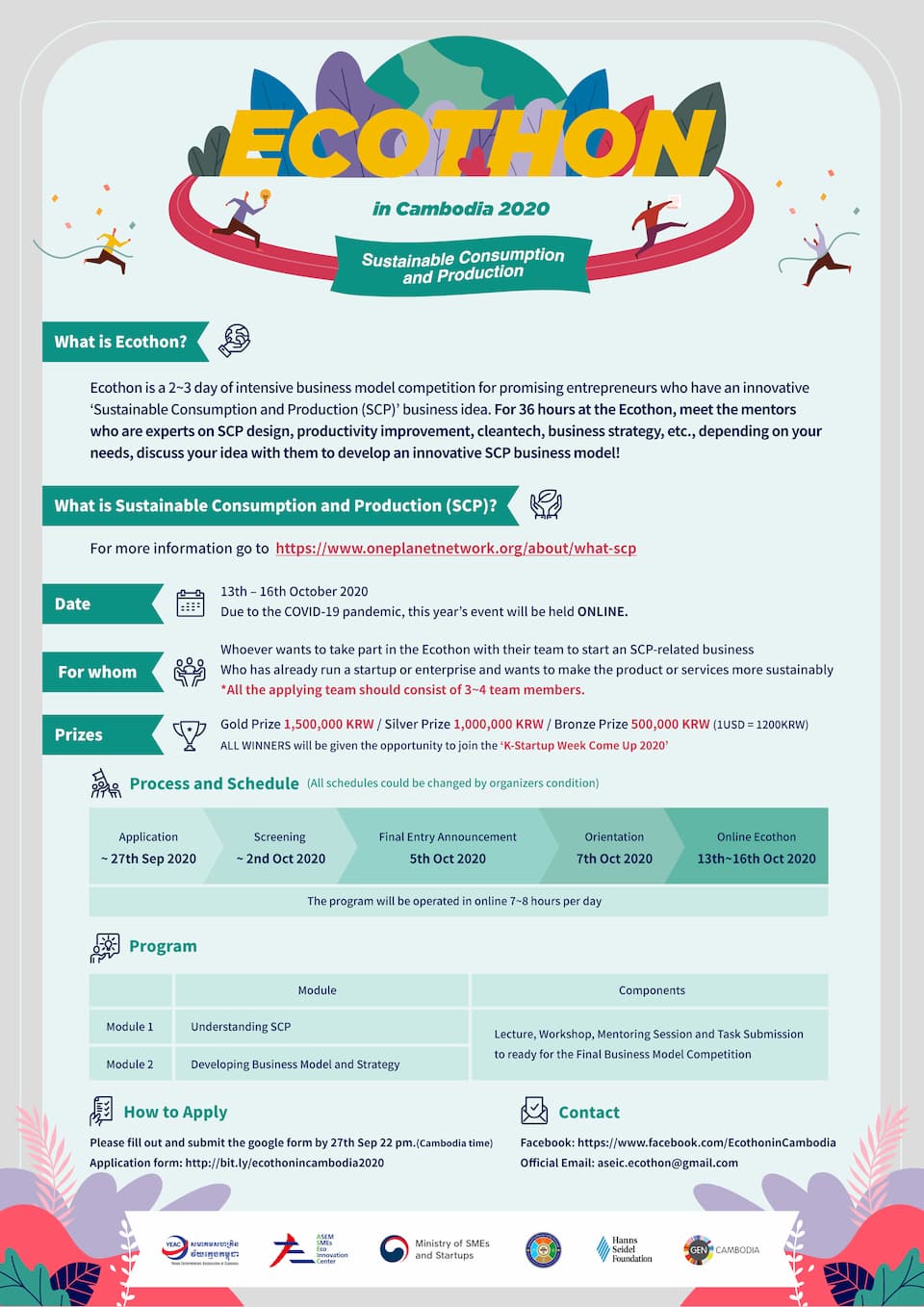 Ecothon Cambodia Schedule
Application: 27th September 2020
Final Entry Announcement: 5th October 2020
Orientation: 7th October 2020
Ecothon 2020 in Cambodia: 13-16th October 2020
K-Startup Comeup 2020: 19-21st November 2020 (For the winners – attend one of the biggest startup festivals in Korea).
The Gold Prize winner could take around $1250 (1,500,000 KRW), the Silver Prize is worth around $860 (1,000,000 KRW) and the Bronze Prize $430 (500,000 KRW). Find out more about the Ecothon Cambodia here.
What is Sustainable Consumption and Production?
The initial definition, which was coined in 1994, has evolved and now "Sustainable Consumption and Production is about systemic change, decoupling economic growth from environmental degradation and applying a lifecycle thinking approach, taking into account all phases of resource use in order to do more and better with less."
In September 2015, UN members agreed to a new, sustainable development roadmap for the next 15 years with a list of 17 Sustainable Development Goals (SDGs).
Sustainable Cambodia
Cambodia has tried to take steps in recent years with targeting sustainability. This included startups and government initiatives developing sustainable projects which focus on Cambodia key economic pillars such as agriculture and tourism.
There have also been increased efforts in supporting renewable energies in Cambodia, with solar farms and wind farms being set up or proposed.