De Montfort University Cambodia, the first British university to open in the Kingdom, held its official launch ceremony on September 25, 2023 at the Sofitel Phokeethra Phnom Penh.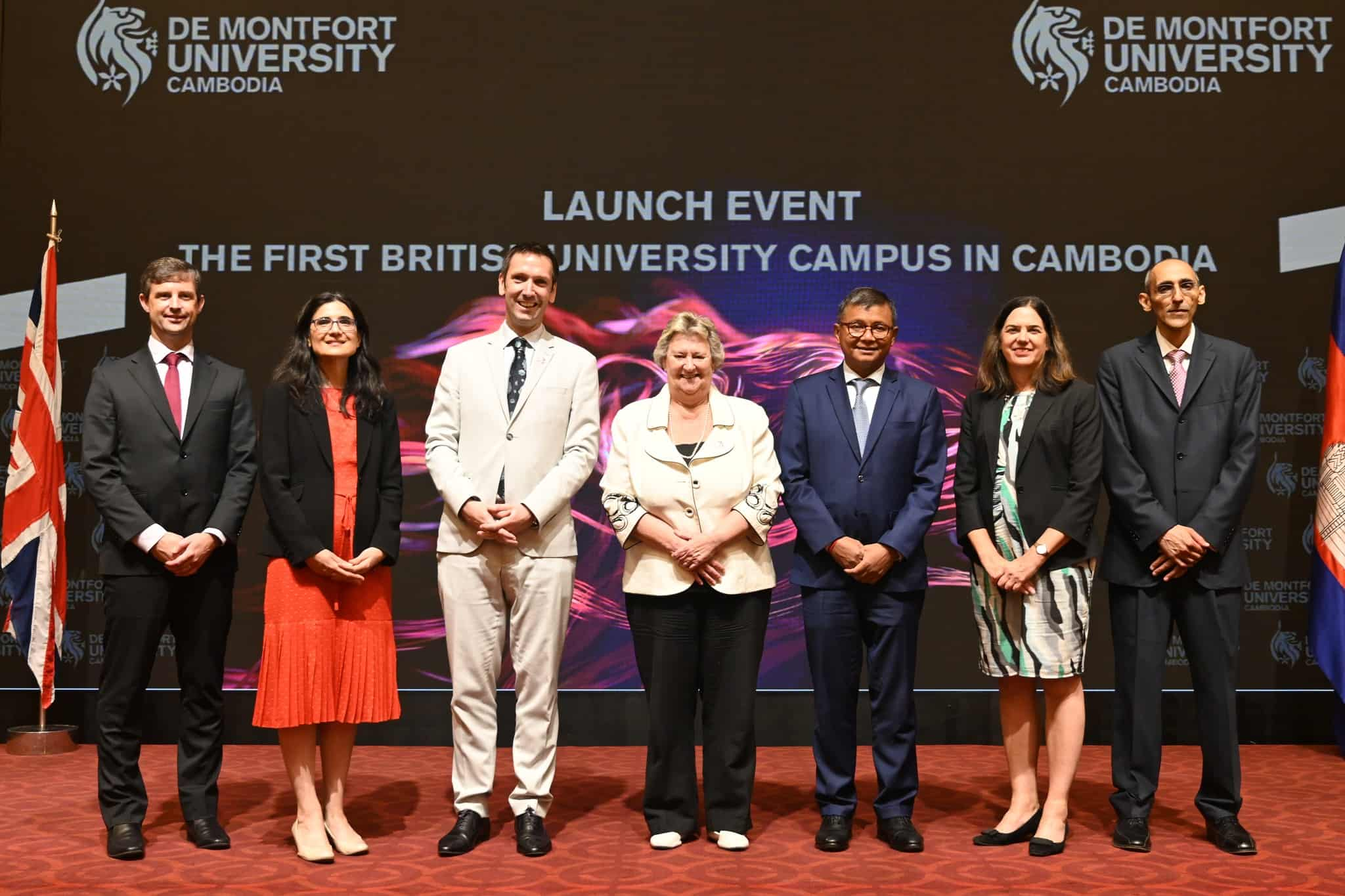 The launch was attended by H.E Dr. Hang Chuon Naron, Deputy Prime Minister and Minister of Education, Youth and Sport, Heather Wheeler MP, the UK Prime Minister's Trade Envoy, Dominic Williams, the British Ambassador to Cambodia, and other distinguished guests.
De Montfort University (DMU) is a public university located in Leicester, United Kingdom. Originally established in 1870, the university also has international campuses established in Dubai, United Arab Emirates, and Almaty, Kazakhstan.
According to a press release issued by the British Embassy in Phnom Penh, the launch of DMU Cambodia also kicks off 'Great British Education Month', a campaign to celebrate, promote and grow the link between the UK and Cambodia in the field of education.
Growing Demand For International Higher Education
The press release quotes Dominic Williams saying that education will be a key factor in enabling Cambodia to make a successful transition to Middle Income Status, as it allows for the attainment of much-needed skills that contribute to the country's economic development.
"Every young Cambodian who studies in the UK or in a UK institution in Cambodia has a special understanding and connection to the UK that will last a lifetime," said Williams. "So I am delighted that increasing numbers of Cambodians are choosing to study at world-class UK universities and institutions."
The establishment of the first British university in Cambodia is expected to help serve this growing need for international higher education in the Kingdom.
"While there are numerous international schools in Phnom Penh, there is a huge gap in the higher education space," said Ross Wheble, Country Head of Knight Frank Cambodia, the firm which helped secure the new campus location for DMU in Phnom Penh, through his social media page.
"It's great to have the first internationally recognised degree qualification from the UK here in this magical Kingdom of Cambodia."
What To Expect From DMU Cambodia
DMU Cambodia will begin offering its first undergraduate programs in 2024 and postgraduate programs in 2025. Undergraduate programs the university offers include accounting finance, business and marketing, business management, business entrepreneurship and innovation, finance and investment, and computer science and cyber security.
All courses will be taught by an international academic team in line with British academic standards, and degrees will be awarded by DMU in the UK.
DMU Cambodia has partnered with EdPeritus, a provider of educational services, to deliver and manage the campus, including its student experience and teaching and learning services.
The DMU Cambodia campus is located on Koh Pich (Diamond Island) in Phnom Penh. All undergraduate degree programs have a course fee of USD $10,000 per academic year, however, there is a special 20 per cent welcome discount for all students who enrol by March 1, 2024.
Read More On Education In Cambodia: