The final data for the number of international travellers to the Kingdom of Cambodia dropped by as much as 80 per cent in 2020 due to the COVID-19 global pandemic, according to local reports.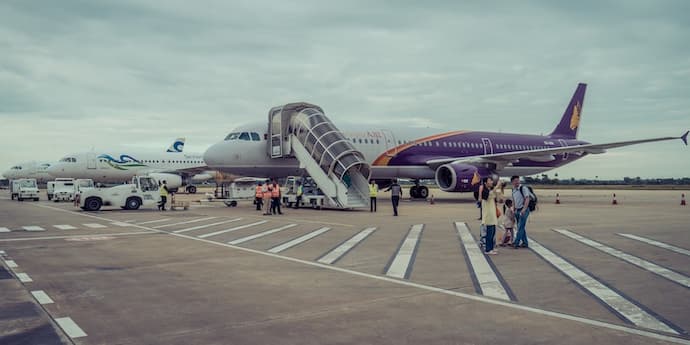 The Phnom Penh Post and Khmer Times both released articles on the massive, albeit, unsurprising drop in international tourism to Cambodia in 2020. The Post states international visitors plummeted by 81.3 per cent but the KT reported a 79 per cent drop compared to 2019.
Khek Norinda, communications and public relations director at Cambodia Airports said "Having an accurate outlook is challenging as the Covid-19 situation is constantly and rapidly evolving. We currently rely on a handful of flights to and from a few Chinese cities, Singapore and South Korea and we don't expect many changes in the next three months."
The three Cambodian airports have routes to more than 55 destinations and managed 700 regular flights per week before COVID-19.
There are also no current international flights to Siem Reap International Airport due to a lack of demand.
The two news outlets also differed on the exact date on the drop in cargo traffic for 2020. Norinda added that the Kingdom currently has six cargo carriers that operate routes to and from Hong Kong, Islamabad, Hyderabad, Dubai, Doha, Dubai, the UAE and Bangkok.
The Phnom Penh Post claimed "Passenger traffic at Cambodia's three international airports took an 81.3 per cent nosedive last year from 2019, while cargo traffic dropped 29.9 per", while the Khmer Times wrote that "Cambodia's three international airports welcomed 2.13 million passengers (international, domestic and transit) in 2020, a 79 per cent drop compared with 2019….SSCA data showed Cambodia handling 49,983 tonnes of cargo at the nation's three international airports. This represented a 31 per cent drop from 2019's figures"
The passenger figures per each of the three international Cambodian airports in 2020 are:
Phnom Penh International Airport: 1.30 million passengers, a decrease of 76 per cent, compared with the 5.49 million arrivals in 2019.
Siem Reap International Airport: 618,663 passengers, down 83 per cent from the 3.57 million landing in 2019.
Sihanouk International Airport: 214,969 passengers, a drop of 86.3 per cent from the 1.57million passengers received in 2019.
In January 2021, some of the domestic Cambodian airlines started to promote flights between Phnom Penh and Siem Reap to try and take advantage of the Lunar New Year celebrations.